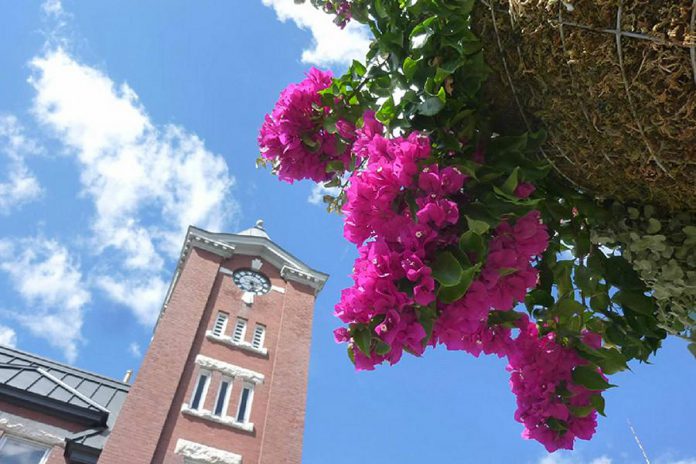 ---
Board Executive elected
Congratulations to the Chamber's 2017-18 Board Executive who were elected at the March Board Meeting:
Board President, Cindy Windover, Windover Plumbing
1st Vice President, Tonya Kraan, STREXER
2nd Vice President, Tom LaBranche, Village Pet Food & Supply
Treasurer, Kevan Herod, Herod Financial Services
Watch for full introductions of the Board of Directors next week.
The Chamber is hiring summer staff
Do you know a college or university student looking for a great summer job?
Marketing & Tourism Assistant (Lakefield)
Special Event & Tourism Assistant (Lakefield & Other Communities)
Tourism Outreach Assistant (Buckhorn)
Visit kawarthachamber.ca/jobs for full details. Application deadline is Monday, April 10th.
Last Call! B.O.S.S. Business Owners Sharing Solutions – March 30th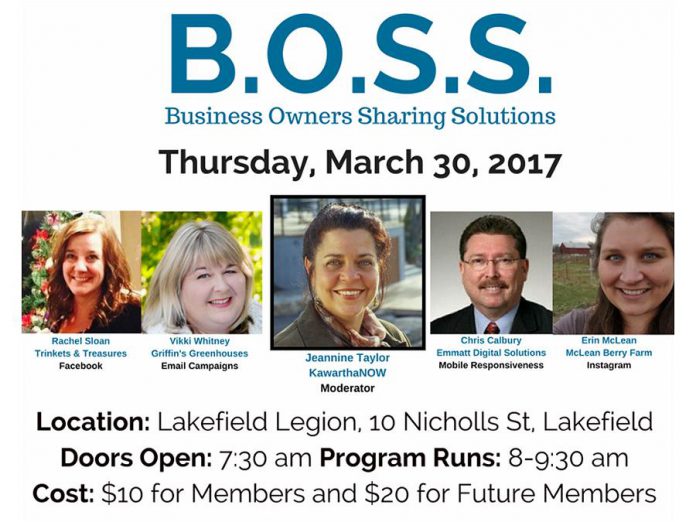 Moderator Jeannine Taylor of kawarthaNOW.com will speak with a panel of Chamber Members who will share practical tips and strategies for websites and effectively using social media for business. A light breakfast will be served.
Thanks to Chamber Professional Development Sponsor Lynn Woodcroft, Sales Representative, Royal LePage Frank Real Estate Brokerage.
Volunteer Appreciation Breakfast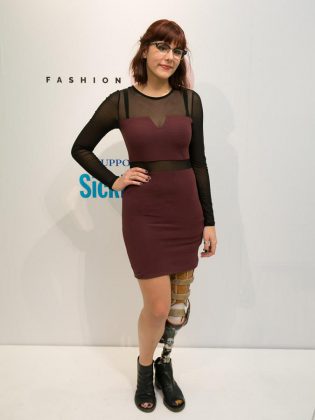 The guest speaker for this year's Volunteer Appreciation Breakfast is Tessa Smith of Omemee.
Tessa is a published journalist, motivational speaker, model and poet.
At only 18 years of age, she is a two-time cancer survivor, which has resulted in the loss of her right eye and left leg. Tessa was named the Canadian Terry Fox Foundation Ambassador for 2016 and continues to inspire others daily.
The Volunteer Breakfast is being held at Beachwood Resort.
Click here to register!. All welcome to attend.
Thanks to Chamber Networking Sponsor Blue Diamond Siding & Window Cleaning.
5 Minutes for Business: Budget 2017 – Let's Not "Wait & See"
In this edition of 5 Minutes for Business, Hendrik Brakel, Canadian Chamber of Commerce Senior Director, Economic, Financial and Tax Policy, addresses all the hype — or lack thereof — surrounding the release of the 2017 Federal Budget. It seems all the buildup fostered by the Liberals did not exceed our expectations and if anything, the lackluster document did very little to address the innovation agenda.
Read 5 Minutes for Business to find out why the "wait and see" approach we've taken to the U.S. tax reform won't improve Canadian competitiveness and why we must take action now.
The Canadian Chamber of Commerce releases 5 Minutes for Business, a publication written by Hendrik Brakel, the Senior Director of Enconomic, Financial and Tax Policy. In these publication, Hendrik briefly describes current issues that affect the Canadian economy and provides insight on what it will mean for Canadians today and the future.
Canadian Chamber of Commerce – Budget 2017 A Time For Caution
The government's first budget centred on campaign promises: the middle class, growth, climate change. But, a lot of the critical details were put off to later: the infrastructure plan with "export corridors," the innovation agenda, health spending, the tax expenditure review. Of course, the government had only been in office for 100 days, and it needed to consult on many of these items.
Budget 2017 is completely different-big deficits and economic uncertainty mean there is not much money for new programs or big announcements. But, there is far more detail around previously announced policies and programs.
Click here to read the Canadian Chamber's analysis of Budget 2017.
Ontario Chamber of Commerce Budget Analysis
The Ontario Chamber of Commerce (OCC) welcomes the Government of Canada's decision to focus on skills and innovation, announced in the 2017 Federal Budget.
Overall, with the budget delivering underwhelming implications for Ontario's business community, the OCC is calling on the federal government to enhance investment in trade-enabling infrastructure.
Click here for the Ontario Chamber's analysis on the 2017 Federal Budget.
Job Posting – Selwyn Public Library
Calling All Employers – Our Community Needs You!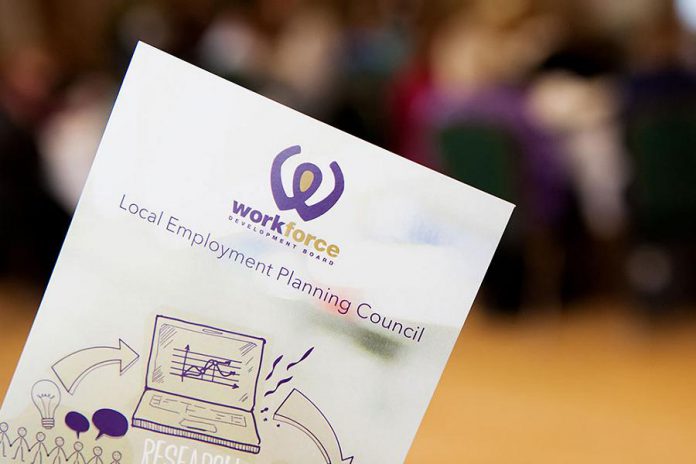 The Workforce Development Board (WDB) – Local Employment Planning Council (LEPC) wants to continue to strengthen the local labour market but they can't do it alone!
WDB is asking you, the heroes of our communities, to tell them what you need. Just complete this survey.
WDB-LEPC is a not-for-profit organization based in Peterborough and serving Northumberland, Peterborough, Kawartha Lakes and Haliburton. The WDB-LEPC provides labour market information, coordinates employment and training services, and engages employer communities. For more information visit wdb.ca.
County of Peterborough 2017 Bursary Awards
The County of Peterborough annually recognizes eligible students residing in the County of Peterborough (excluding the City of Peterborough) who have successfully completed Grade 12 and are continuing with post-secondary education. Bursaries are awarded to eligible students who meet the criteria based on the weighted ranking as established by County Council being the relative financial need of the individual, the grade point average of the applicant, and the amount of other bursaries received. Read more.
Awards include the Land of Shining Waters Bursary and 4-H Agriculture Scholarship Bursary. Click the links to download the applications.
Create Your Dream Job This Summer
Peterborough Economic Development's Business Advisory Centre is now accepting applications to the Summer Company program for 2017.
Summer Company is a youth entrepreneurship program that connects youth ages 15-29 with training, mentorship and funding to start a summer business. This year, 13 grants up to $3,000 are available for students between the ages of 15-29 from the City and County of Peterborough. Read more.
The deadline for applications is May 6, 2017. This highly sought-after program is first-come, first-served and spaces fill quickly. Visit www.peterboroughed.ca/summer for details.
Support Lakefield Horticultural Society for Canada 150 Beautification
As we celebrate Canada's 150th Anniversary, we anticipate even more visitors to the area.
With the cancellation of the Annual Antique Sale and Flower show, a major fundraiser for the Lakefield Horticultural Society, the organization has a limited budget for the quality and quantity of baskets that add so much to the village streetscape.
The Horticultural Society would be most grateful for any contributions you can make toward the efforts to beautify the village. To make a contribution or for more information, please contact Emma Murphy at 705-740-4676 or email puffin12@gmail.com.
Upcoming Events
Free Income Tax Clinic at Community Care, Lakefield – April 6th
Douro & District Optimist Club Annual Euchre Tournament – April 8th
Taste of Canada at the Buckhorn Community Centre – April 8th
For more information about the businesses and events listed above, please visit the Kawartha Chamber of Commerce & Tourism website at kawarthachamber.ca.
All photos supplied by Kawartha Chamber of Commerce except where noted.