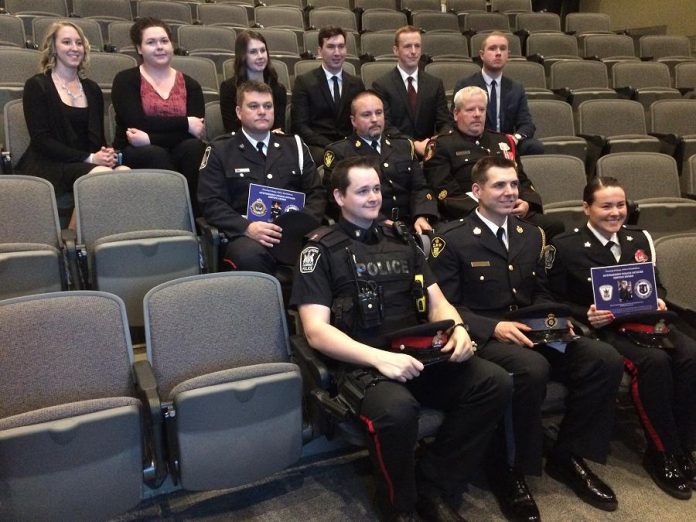 Fleming College held its third annual Outstanding Police Officer Service Award ceremony at the Sutherland Campus today (April 10).
This year, the following seven police officers were chosen to receive the award:
Police Constable Cam Kenny – Peterborough Police Service. Officer Kenny received the award for outstanding contributions in the field of traffic enforcement and Special Olympics.
Detective Constable Jason Clarke – Peterborough County OPP. Detective Constable Clarke was acknowledged for his many successes in investigating and preventing property crimes and his involvement and commitment to Pedal for Hope.
Provincial Constable Jennifer Quigley – City of Kawartha Lakes OPP. Officer Quigley was recognized for her care and compassion for those in the vulnerable sector.
Police Constable Morgan Stout and Dana Barr – Port Hope Police. Officers Stout and Barr received the award for successfully de-escalating a situation that involved a suicidal subject with a knife.
Sergeant Michael Richardson – Cobourg Police Service. Sergeant Richardson received the award for his demonstrated leadership in coordinating community events and his distinguished military service.
Provincial Constable Tim Negus – Haliburton Highlands OPP. Officer Negus was acknowledged for his leadership in organizing "Push for Change" and assisting a Syrian family adjust to a new life in Haliburton Highlands.
Students and faculty of Fleming College's Police Foundations program created the award in 2014, following the tragic loss of three Moncton RCMP officers who were killed in the line of duty. Students not only expressed their sadness over the loss of life, but dismay related to negative comments being made about police and the policing profession through various social media. The award was create to counter the negativity and recognize the contributions and sacrifices of local police officers.
For this year's award, Fleming College invited six local police services to nominate a police officer from their service. The nominees must have demonstrated one or several qualities consistent with superior policing and service to their community. These qualities included, but were not limited to, professionalism and integrity, commitment to community, leadership, valour, sacrifice and determination in the face of adversity.
In addition to the award winners and their invited guests, the event was attended by many senior police leaders as well as faculty, staff and students from the Police Foundations program.
Fourth-semester students from the Police Foundations program described each officer's contributions and handed each a plaque acknowledging their outstanding service.
In addition, Kyle VanBorhorst — a fourth-semester Police Foundations student at Fleming College — received the Greg Riddle Award at the end of the ceremony. This award is voted on by the recipients' peers and acknowledges their volunteerism, dedication to a career in policing, and willingness to help and encourage their fellow students.