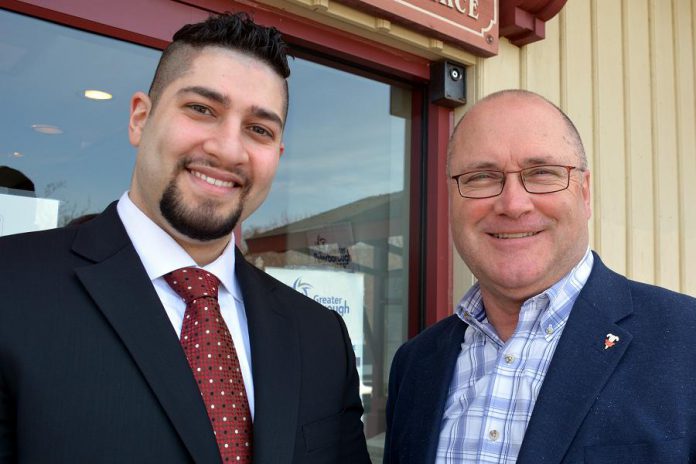 Hampton Financial is a game changer in the payment processing business. This international company gives customers free point of sale terminals with no contract, they offer competitive rates, and an arm of their business just moved to Peterborough.
Waleed Dabbah of Hampton Financial chose to bring a piece of the business to Peterborough for two reasons.
"One, because we settled here. We want to start a family and move forward. Two, because there's a lot of potential in this community."
Having met his wife Amber at Trent University, Waleed (who also goes by Walid) knew Peterborough would be a good community to raise a family — and that there were a wealth of small businesses here who might be interested in lower rates for payment processing.
Waleed is passionate about saving money for small businesses.
"The one thing I'd like to get out to small to medium businesses is that you come first. When you're working 10 to 12 hours a day at your own business, it's hard-earned money. I want to save you that money."
Low fees, no contract, and a free point of sale terminal
In the business of payment processing, a few percentage points difference in fees can make a huge difference over time. But anyone who uses a payment processor in their business knows that it's more than the percentage fees that show up on your bill.
Terminal rental charges and other fees can really add up. Waleed has had conversations with many fed-up small business owners.
"I spoke to a convenience store owner who's paying $30 a month just to rent the machine. Plus plus plus. He's paying over $100 for little tiny things. There's a fee for this, there's a fee for that. It's not right."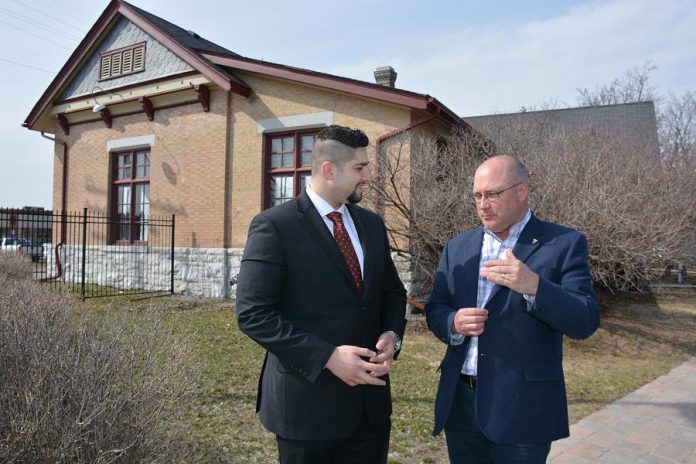 In addition to offering low fees, Hampton Financial has no contract, and they actually give their customers a free terminal. Waleed acknowledges that this is a risk.
"It's $900 US a pop, so we are taking a major risk by saying you don't have a contract. But here's a machine, and it's free, and we hope you are satisfied with our service."
Big clients are key to the success of this model. For example, both Match.com and Tinder use Hampton Financial's services.
"We have a very solid book of business, with thousands of clients, and we're quite comfortable doing things this way."
With clients in 180 countries, Hampton Financial can afford to take a risk on smaller companies.
Their comfort with risk has made them strong in the ecommerce sector.
"The thing that people don't realize is that if you're selling a product on a website, you're considered to be high risk because a card is not present," Waleed explains. "It's an unqualified card. So the percentage charged is higher. You can be charged 3 to 4 percent. Some people can pay up to 6 percent — it just depends where you go. We make sure that you're not paying that much."
Hampton Financial offers ecommerce services to small and large clients with no setup fee, an anomaly in a market where Waleed says that fees can range from $250 to over $1,000.
Think you don't need an ecommerce platform at the Farmers' Market? Think again.
VIDEO: Waleed Dabbah – Hampton Financial

Waleed suggests that businesses who currently use a mobile payment processor try using an ecommerce platform instead to cut costs.
"It is so expensive at 2.65 percent. They say it's because you just plug it into the phone and swipe. That's great, but it's not right to charge that much."
Clients can instead pull up an ecommerce site when they're selling on the go.
Above all, Waleed wants people to do their research when choosing a payment processor. Saving money at the point of sale can empower businesses to grow and thrive.
"I'm not here to sell a product. I'm not here to say take this machine and make me money. That's not the way I look at it. I truly believe in our product and I truly believe that you can save some money, and you can grow, and you can do a lot of things by making the right choices. We have so many options available: you just have to pick the right one."
Ecommerce is for the dogs … and cats … and rabbits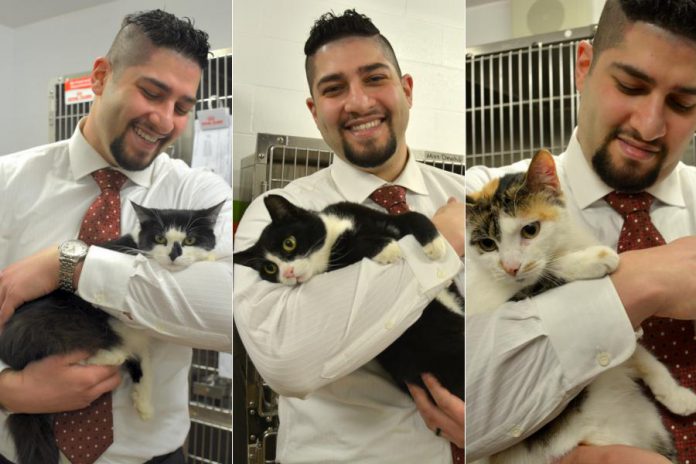 Waleed is particularly passionate about saving charitable businesses money.
"If you're a charity you want to use that money towards what really matters, not towards admin fees for banks."
An animal lover who has adopted several cats from the Peterborough Humane Society, he saw an opportunity to help when he and wife Amber were trying to make a donation on the shelter's website.
"We went to the website and tried to donate some money and we couldn't find a tab that said donate. It hit me right then and there. I love helping the shelter, I love being there, there's a new shelter coming … how about I set up an ecommerce website for free?"
An ecommerce website would normally cost the shelter a few thousand dollars, but Waleed saw it as an opportunity to make his donation have more impact.
"If I donate a couple of thousand bucks that's great, but I want to make it easy for other people to do it too."
Susan Dunkley, Manager of Development and Outreach at the Peterborough Humane Society, says that she is looking forward to finding out more about what Hampton Financial has to offer.
"Waleed and I are meeting to discuss how he can help our shelter to cut our costs for our online transaction," Susan says. "I am excited at his offer of support and am grateful to people like he and Amber who are amazing 'pet parents' and who believe in the good work that we do."
To inquire about payment processing for your business, contact Waleed Dabbah, Business Development Specialist at Hampton Financial – Powered by Lefebvre International (1769 St. Laurent Blvd, Suite #324, Ottawa, Ontario K1G 5X7). You can reach Waleed by phone at 844-392-5538 Ext 715 or 705-761-2672, on Skype at waleed.dabbah, or by email at waleed@LefebvreInternational.com.
On social media, you can follow him on Instagram @wdabbah and on Twitter @WaleedDabbah.
For more information about Hampton Financial, visit www.hamptonfinancialcanada.com.