It was in July 2014 when 4th Line Theatre's creative director Robert Winslow first mentioned The History of Drinking in Cavan to me. It was my first time writing a review for kawarthaNOW at 4th Line Theatre, and my first time meeting Robert, who I was interviewing about the restaging of Doctor Barnardo's Children and the premiere of Wounded Soldiers.
I asked Robert "What are you working on now?", a standard question I often use in interviews, and he mentioned a play about the history of drinking. The idea seemed a bit vague to me and I admit I didn't immediately take to it. As someone who rarely drinks, stories of drinking and comical drunks have never much appealed to me.
Now, three years later, Robert is staging The History of Drinking of Cavan until August 26th at 4th Line Theatre in Milbrook. Looking back at my initial disinterest, I could have never imagined just how profound and emotional this show would be.
The History of Drinking in Cavan features Robert as you have never seen him before. He opens up to the audience in the rawest way possible, allowing us to look into his most personal sadness. He reenacts painful memories in a way that exorcises the shadows from his past. It's a brave and daring performance from a local artistic icon, and reveals a very potent side to Robert that many of us never knew before.
Robert first began developing The History of Drinking in Cavan in 2011, when he invited people from the surrounding area to the Millbrook Legion to reminisce about local stories and legends about drinking and alcoholics in the area.
The session was an important moment in the development of the production, as many of the characters and stories reenacted in the show come from it. In fact, much of the first act has the company retelling stories verbatim from that session.
Robert has also painstakingly researched Cavan Township's and Millbrook's relationship with alcohol from 1820 until the present, although the history lesson seems to peter out around the mid 1980s. Nonetheless, it's an impressive history lesson told in an entertaining and interesting way through song and dance, storytelling, confessionals, puppetry, and even a dramatic performance of Timothy Shay Arthur's 1854 novel Ten Nights in a Bar-room and What I Saw There.
It's all here: the relationship between the area's mills and brewing, town drunks, temperance, prohibition, bootlegging, drunk driving, and other colourful stories.
However, as interesting as the history lesson is, it's Robert's personal family drama that is the hook of the show and affects the audience the most (more on that later).
The History of Drinking in Cavan is unique even by 4th Line Theatre's already unconventional standards. First of all, the show is non-linear and doesn't have any real plot or narrative. Instead, it is a collection of historical anecdotes, comedic and dramatic vignettes, musical numbers, and performances featuring Robert Winslow's comical town drunk character King as your guide. Making the show even more unconventional is the fact that the actors are just that: actors who know they are putting on a show.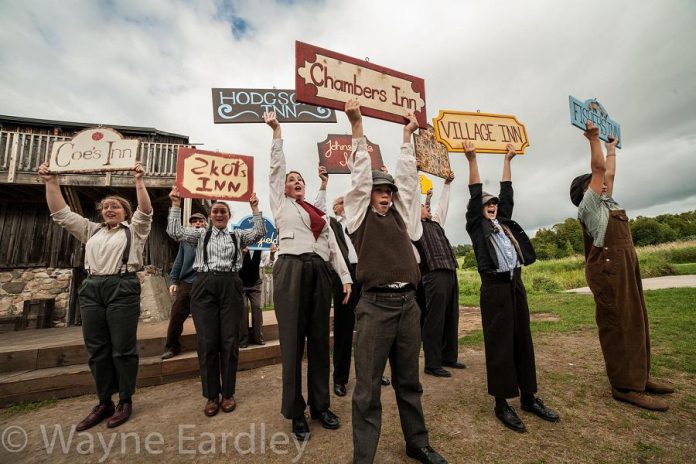 With only 11 actors (including three children) in the cast, The History of Drinking in Cavan has a distinctively smaller company than most 4th Line productions we are used to. Sharing the stage with Robert in various roles is Shelly Simester, Edward Belanger, Cyndi Carleton, Mark Hiscox, Justin Hiscox (who also acts as musical director and composed all the original music to accompany Robert's lyrics), Gary Reker, and junior performers Kiana Bromley, Emma Khaimovich, and Maude Rose Craig.
By keeping the company so small, Robert creates a more intimate production that allows him to maintain control of the personal material he presents to the audience.
The History of Drinking in Cavan is far more than a show filled with funny drinking stories and comical drunks. It also takes a responsible and realistic look at alcoholism and its effects on families and the community at large. The essence of the play is Robert's often difficult relationship with his father Lawrence and, most importantly, his mother Jean.
Robert reveals his story of living with an alcoholic parent, and the difficulty, guilt, and shame that came with it. He reopens old wounds and, during these moments, demonstrates his masterful approach to performance. During one haunting moment in the second act, Robert is able to take the audience down to a dead silence, where the only sounds you hear are Robert's footsteps and the swallows flying through the barn yard.
These moments — the ones that take the breath right out of you — make The History of Drinking in Cavan a potent production. The realism of Robert's story will strike at the heart of anyone in the audience who has experienced alcoholism in their life.
Although the show rarely changes the focus from Robert, there are a few other notable performances to mention. Mark Hiscox gives a rousing performance as Canadian temperance movement leader Letita Youmans, and Edward Belenger exercises perfect comedic timing throughout the show with his loud witticisms interspersed during various scenes.
Emma Khaimovich performs as this crazy chicken character who really tickled my funny bone, especially during a drunken brawl from 1921 where she literally runs around like a chicken with her head cut off, and Maude Rose Craig gives my brand new favourite theatrical death scene when she kicks the bucket in the dramatization of Ten Nights in a Bar-room and What I Saw There. Her final moment is priceless.
A special mention goes to Shelly Simester who takes on the heavy role of Robert's mother Jean, creating some of the most heartfelt moments of the show.
I also want to give a huge thumbs up to the many references to classic horror films injected into the play. Also, Doctor Who fans will be delighted to see not one but two clever references to the classic sci-fi series. The geek in me was surprised and delighted by these references.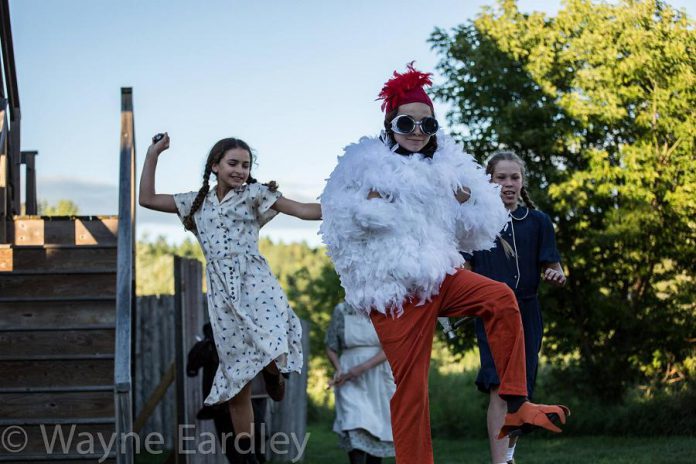 Don't let the title of the show mislead you like it misled me when I first heard of it. The History of Drinking in Cavan is so much more than what the title implies. Yes, there are history lessons and they are engaging and interesting. Yes, there are drinking stories but, while often comical in nature, they don't shy away from the bleak reality of alcoholism.
Most of all, this is Robert Winslow's personal family drama. The fact that he shares such a deep and painful part of his life with the audience is a true gift.
The History of Drinking in Cavan runs Monday to Saturday until August 26th at the Winslow Farm in Millbrook, with all performances at 6 p.m. Tickets can be purchased by phone at 705-932-4445, online at www.4thlinetheatre.ca, or at 4th Line's box office in Millbrook at 4 Tupper Street and in Peterborough at the Peterborough Museum and Archives (300 Hunter Street East, atop Armour Hill).