When Igor Stravinsky's orchestral ballet "The Rite of Spring" premiered in Paris in 1913, it was so ahead of its time that it created scandal and provoked a near-riot in the audience.
Don't expect either a scandal or a near-riot this Thursday and Friday when Public Energy presents "Nogojiwanong Rite of Spring", but you can certainly expect something equally unique.
The free outdoor dance performance, choreographed by performance artist Brian Solomon, will bring together more than 20 members of the local community along with professional dance artists, for an Indigenous re-imagining of Stravinsky's notorious ballet. There are two performances of "Nogojiwanong Rite of Spring", one on Thursday, October 19th and one on Friday, October 20th, and both begin at 6 p.m.
And what makes "Nogojiwanong Rite of Spring" even more special is that it takes place at a little-known Anishinaabe burial site in downtown Peterborough, near the Brock Street parking lot.
Solomon, who is of Anishinaabe and Irish descent, is a graduate of the School of Toronto Dance Theatre and holds an MA of performance from the Laban Centre in the U.K. Nominated for multiple Gemini and Dora Awards, Solomon has presented his works across Canada, Berlin, Ingolstadt, Bamberg, Amsterdam, and London U.K. He has also taught for several arts institutions and companies, including one of Europe's foremost universities for acting, H.F.S. Ernst Busch (Berlin).
For the past six weeks, Solomon has been artist in residence at Public Energy in partnership with Trent University. During that time, he has been leading workshops for local community organizations (including Nogojiwanong Friendship Centre, YES Shelter for Youth and Families, LOFT Downtown Youth Space, and New Canadians Centre) and, through the Chanie Wenjack School for Indigenous Studies, giving workshops for Trent University students.
He has also been working with more than 20 members of the community — ranging in age from three to over 70 years old — to develop the choreography of "Nogojiwanong Rite of Spring", with space for weekly workshops and rehearsals being donated by Artspace and Chanie Wenjack School for Indigenous Studies.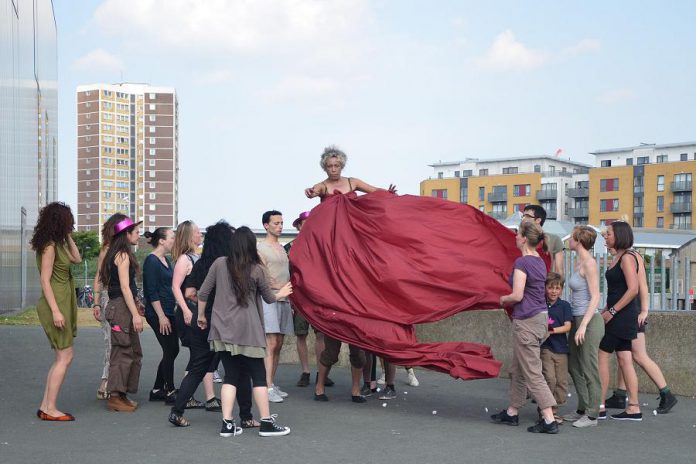 "It's very unique to have a dance artist come and spend six weeks in the community developing a performance like this," says Public Energy's performance curator Victoria Mohr-Blakeney. "Brian has such a gentle and open teaching style. It really makes people feel comfortable and helps them get into their bodies."
For his part, Solomon says he's "passionate about community-engaged arts and helping people relearn about their forgotten bodies, and take back the space those bodies occupy."
In addition to members of the community, Solomon has also been working with dance artists Mariana Meinke and Whitney Hewitt as well as other performance professionals who will perform in "Nogojiwanong Rite of Spring".
As for the performance itself, it takes place in the area of the Brock Street Parking Lot, on Brock Street near George Street in downtown Peterborough — on the site of an Anishinaabe burial site.
Through "Nogojiwanong Rite of Spring", Solomon hopes to both raise awareness about the significance of the site and to honour the site, creating an opportunity to build knowledge and understanding around the history and significance of this place.
The performance will re-envision Stravinsky's "The Rite of Spring" through a contemporary Indigenous lens, with Stravinsky's score re-imagined and performed by Melody McKiver (a Two-Spirit Anishinaabe violist, composer, powwow dancer and media artist and member of Obishikokaang Lac Seul First Nation in the Treaty #3 territories in Sioux Lookout).
"The Rite of Spring" is a ballet and orchestral concert choreographed by Vaslav Nijinsky and composed by Stravinsky, who was virtually unknown at the time, for the 1913 Paris season of Sergei Diaghilev's Ballets Russes company. When it premiered at the Théâtre des Champs-Élysées in Paris on May 29, 1913, its avant-garde music and choreography provoked outrage and a near-riot in the audience.
It is now widely considered to be one of the most seminal musical works of the 20th century, influencing jazz, miminalism, and other contemporary movements.
This is not the first time Solomon has staged a community dance re-interpreting "The Rite of Spring". In 2013, he mounted a similar production, called "South London's Rite of Spring", in London, U.K. — on the centenary of the London premiere of the original "The Rite of Spring".
"I felt that this primordial piece really demanded a cast of all ages and abilities to create a fuller atmosphere for the brutal story of death and sacrifice," Solomon said of the London performance.
"By bringing together professionals and members of the local community with no prior experience to train together, we have been able to generate something much more powerful and strikingly real."