On Saturday, December 9th Globus Theatre launches its annual Christmas pantomime with their presentation of the classic story of Snow White and the Seven Dwarfs.
Written and directed by Sarah Quick, the show features Toronto-based actors Katherine Cappellacci as Snow White and Ceasare Scarpone as Prince Roger, as well as Globus' artistic producer James Barrett as Dame Wobbley Botham, in a production that turns the classic tale on its head with a sense of humour that both children and adults can enjoy.
Now I have a confession. Traditionally, I have always avoided pantomimes believing them to be overacted children's fare I wouldn't enjoy.
However, last year Sarah and James promised me they would change my mind and invited me to their production of Little Red Riding Hood.
Always enjoying my visits to the Lakeview Arts Barn, I accepted their challenge and discovered I had a misconception of what pantomimes are all about.
Little Red Riding Hood showed me why these productions have become such an important part of the holiday tradition for families all over the world. The kids in the audience really got into the colourful and high-energy spirit of the show, but it was clever enough with its double entendres and rowdy humour for the adults to enjoy it too. A wonderful experience, James and Sarah's production changed my mind on pantomimes forever.
Sarah, who originally hails from Britain, grew up on pantomines as part of her childhood Christmases.
"It's a phenomenon in England," Sarah says. "At Christmastime every child goes and sees a panto, without exception. You have two-thousand-seat theatres packed every day for six weeks with kids and families. They get top stars to star in them. It's so much fun, and it's the Holy Grail as far as theatre is concerned because its bums in seats.
"It's a guaranteed sell, so you can afford to pay these big celebrities because people are buying the tickets. But they're not expensive tickets, because it is very much a family thing."
Katherine Cappallacci, who is making her Globus debut in the iconic role of Snow White, grew up on the tradition as well through Ross Petty's annual Christmas panto in Toronto.
"I'd go to the Ross Petty shows every year," Katherine says. "They always have a celebrity come in. Ross Petty always played the evil villain and booing the bad guy was always a big thing. It's an outlet for kids to see theatre, because it's hard to get little ones in seats.
"So panto was something that my family and friends would always take me to see. It was a gateway to theatre. It solidified theatrical stereotypes and made them so real. It was hilarious and wonderful."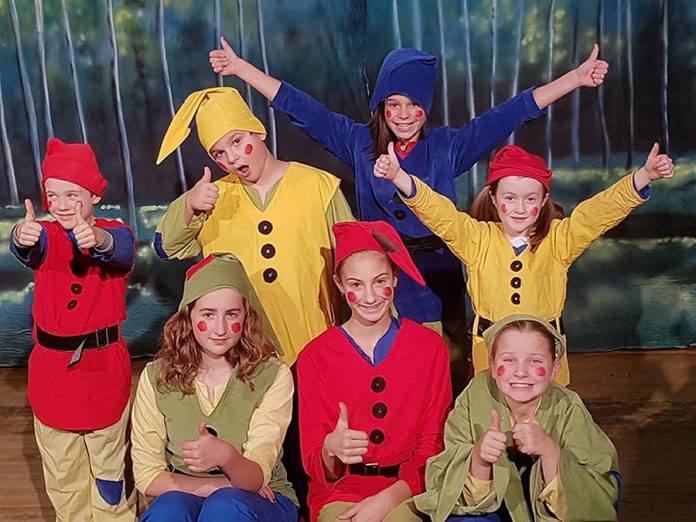 Sarah's version of Snow White and the Seven Dwarfs is a restaging of Globus' first-ever panto 12 years ago. Every year since, Sarah has written a new panto for the theatre. It has become a local tradition not only for the Lakeview Arts Barn but for area families as well.
"When we first acquired a venue that was our own, we wanted to start traditions and pantos seemed like the obvious one to do," Sarah says. "We hammer it home to people in the summer that we are a professional theatre and that we use professional actors, but I wanted to have that one show a year where we did include kids and give them the chance to be on stage.
"This version of Snow White was the one we did twelve years ago. The script has changed, because I do tailor it to each person, but it is the same version."
This year Sarah has 30 children involved in the show, split up into two different cast of characters that perform with the adult actors.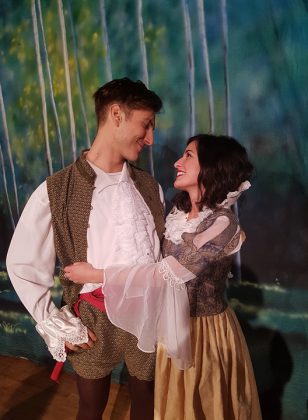 "The reason for the two casts is to give more kids opportunities to do things," Sarah explains. "We could have one cast, with fifteen kids having parts and the other fifteen in the chorus and in the back and not doing much, but I want to give each kid that wants to do it a decent enough role — something to work on and get their teeth into.
"The kids do come and have fun, which is the most important thing, but they are also learning the process, the discipline, the little things about facing an audience and projecting … all these little technical things. It's a lot like hockey practice and about being part of a team. And we have more and more boys coming out each year, because we've had a few of the hockey players come out and really enjoy it."
One of the key elements of a pantomime is the role of "the Dame", which is always a male actor dressed up as a woman, as the comedic narrator of the show.
"It's traditional in England that the same actors plays the Dame each year," Sarah says. "But you'll have different Dames. Some will be glamorous and flirty, and others will be more matronly. "
For the annual Globus panto, the Dame is always played by James.
"I had never seen a panto before our first one," James recalls. "When we were planning our first one, Sarah says 'This is what happens: you dress up as a woman.' I said, 'What?!'
"But each year I feel I get better and better at being the Dame and talking to people, because the Dame crosses that line and talks to the audience. We all do to a certain respect, but the Dame can take liberties to stop acting and talk to the audience. "
When Sarah and James first told me about their pantomimes, they expressed how much the kids in the audience really get into the show. With my misconceptions of pantomimes, I was skeptical of this claim at first. However, part of the magic of the experience for me was seeing how the audience, both the kids and the adults, got into the action on stage.
A panto is filled with audience participation and chances for kids in the audience to even join the show, and James and Sarah know how to craft a fun interactive theatre experience. The result is that Globus' pantomime has become a yearly tradition for entire families, on top of an average of 10 school performances per year.
"I don't often get a chance to answer the phones and sell tickets," says James. "But the other day I took a call and a woman said 'Last year my son got up on stage, and he's still talking about it now. You better pick him again this year!'"
For Ceasare Scarpone, who plays Prince Roger, having children in the audience is one reason he's excited to perform in the show.
"Recently when I was in England was the first time I got to perform for children," Ceasare says. "They are just the best audience. They just give so much. They give you so much energy, and it's just a fun time for both you and them. It's fantastic."
I found it interesting that, despite this show being a family event, Sarah writes a lot of material in the show for adults — including jokes filled with innuendo and double meanings the parents get but that fly right over the heads of the children in the audience.
Sarah explains that, while many pantos change their script for the ever popular "adult pantos", these types of pantos are not commonly done in England.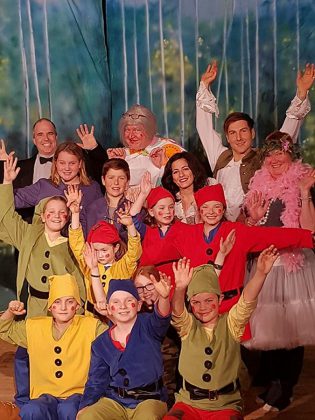 "That's not the traditional way to do a panto," she says. "It's super popular, and we could probably get more people in if we did that, but you should be able to do the same show for a whole group of adults and a whole group of kids. It'll be just as energetic and exciting, and have just a little bit of innuendo for the adults. It should be a bit filthy, but no kids should be able to get it."
For adults who are worried about a family show containing this type of humour, there is no need to fret. Although it might be a bit risqué, it is funny and harmless and such an intricate part of the ridiculous yet warm tradition of the pantomime. When I questioned James and Sarah about a risqué joke they used in the show, they cleverly asked if they really said what I claimed they said or did my mind take it somewhere else.
For people who are as skeptical as I used to be, there is a good chance you just don't understand what a good traditional pantomime is. I can honestly tell you that was the case for me.
"I really feel that people who don't enjoy pantomime don't understand what they are getting into," Katherine points out. "But if you understand the nature of the beast and you know what is happening, it's impossible not to be completely swept up in it. I got swept up myself during rehearsal today. There is nothing more endearing then these little kids, and especially the kids in the cast, that are getting so into it."
But one of the best things about the Globus panto is the warm and inviting space created by James and Sarah, their staff, and their players. With its small space and intimate shows, the Lakeview Arts Barn is one of the prettiest and most welcoming theatres in the Kawarthas.
"This space where we perform is such an intimate theatre that, as an audience member, you are part of the whole experience," Sarah says. "Your reactions change how the show progresses. It's a wonderful thing for a kid to sit down and be taken into this world of imagination and fairy tales and princes and you are so immersed into it. I'm sure there are pantos that are far superior to ours but, if you are sitting in the balcony surrounded by a thousand people, I'm sure you are not getting that same interactive experience."
Although I would never have ever believed it years ago, the Globus Theatre pantomime is now part of my holiday tradition. Just like the kids who look forward to coming back each Christmas, I've been waiting for a whole year for the next pantomime. Sarah and James has made me a believer in the holiday magic of a good pantomime.
If you've known all along how fun these shows are, it's worth the trip to Bobcaygeon this season. If you've never seen one, pack up the kids and bring them to this fun show. If you don't think you will like pantomimes, come to the show and have your mind changed. Take it from me: it can happen.
Snow White and the Seven Dwarfs will be performed on December 9th, 15th, and 16th at 8 p.m., and on December 9th, 10th, 16th and 17th at 2 p.m. Tickets are $22.50 for adults and $15.50 for students for the show only, or $52.50 if you want the dinner and the show. For tickets, visit the box office at Lakeview Arts Barn or call 705-738-2037.