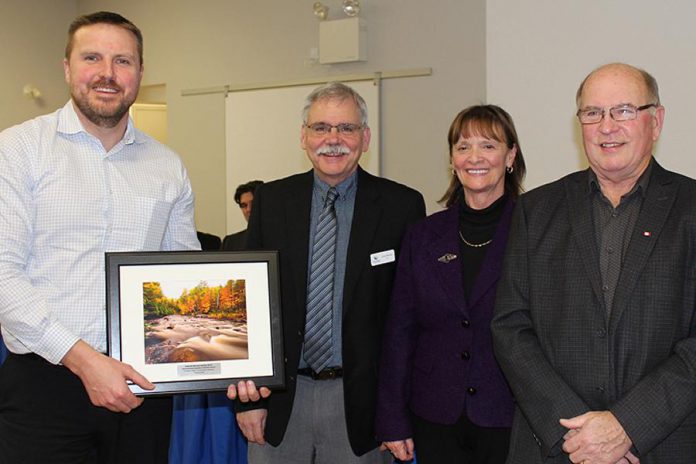 This week we feature an environmental award from Otonabee Conservation for Winslow Gerolamy Motors, the first intake of 2018 for the Starter Company Plus at Peterborough & the Kawarthas Business Advisory Centre, the new board of the Greater Peterborough Chamber of Commerce, Horizon Plastics International of Cobourg being acquired by an American company, and upcoming business events including the nomination deadline for the Haliburton Highlands Chamber of Commerce annual business awards.
If you have business news or events you want us to share with our readers, email business@kawarthanow.com.
---
Ontonabee Conservation presents local automotive business Winslow Gerolamy Motors Limited with environmental award
Winslow Gerolamy Motors Limited (1018 Lansdowne St, W., Peterborough) received the Environmental Excellence Business Award from Otonabee Conservation at its 59th annual meeting in Keene on Thursday, January 18th.
Dealer principal Andrew Winslow accepted the award on behalf of the company.
For a number of years now, Winslow Gerolamy has donated the use of a cube van enabling Otonabee Conservation staff to pick up, store, and deliver thousands of tree seedlings to various planting sites throughout the watershed. Having the use of the van lessened Otonabee Conservation's carbon footprint by reducing the number of trips it would otherwise take to transport the trees. The logistics were also simplified, helping the program to run more smoothly and efficiently.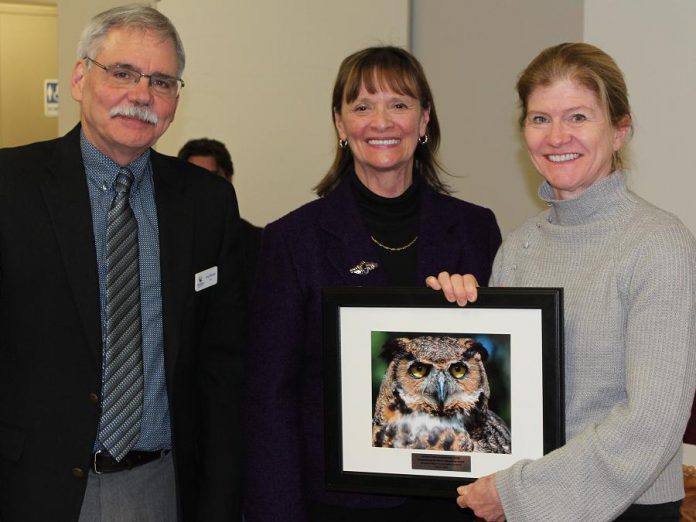 Also honoured were Meaghen Thompson and Olivia Handley of Ennismore Guides, who received the Environmental Excellence Conservationist Award for demonstrate leadershiping and inspire others to understand and become engaged citizens within our natural environment, and the Ontario Turtle Conservation Centre, which received the Environmental Excellence Stewardship Award for the organization's dedication to the protection and conservation of Ontario's native turtles.
"The awards recognize the conservation efforts of those who are very passionate about conservation but remain quite humble about their involvement and accomplishments," says Otonabee Conservation chair Andy Mitchell. "It's our way of saying thank you and sharing their success with the watershed community."
Applications now open for Starter Company Plus program's first intake of 2018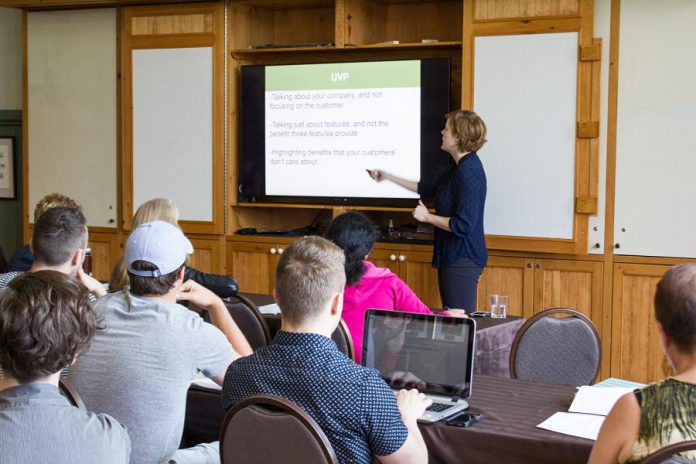 If you're looking to start or expand a business in Peterborough and the Kawarthas, are over 18 and no longer enrolled in full-time studies, applications are now being accepted for the first intake of the Starter Company Plus program.
The program is funded by the Government of Ontario and administered locally by Peterborough & the Kawarthas Economic Development's Business Advisory Centre,
The five-week program, which has three upcoming intakes in 2018, is designed to provide business training for aspiring and established entrepreneurs, aged 18 and over in the City and County of Peterborough who are launching a business or expanding an existing venture that has been in operation for five years or less.
There are four intake sessions taking place on Thursdays in February. The first "Starting Point" session starts Thursday, February 1st from 2:30 p.m. to 4 p.m. in the VentureNorth boardroom just down the stairs from Peterborough & the Kawarthas Economic Development office at 270 George St N, Peterborough.
Attendance at one of these sessions is a mandatory first step to applying for Starter Company Plus. Sessions will take place on February 1st, 8th, 15th and 22nd from 2:30 to 4:30 p.m.
For full eligibility criteria, please download the Eligibility Requirements for Starter Company Plus.
For more information on Starter Company Plus, visit peterboroughed.ca/small-business/starter-company-plus/ or call 705-743-0777.
Greater Peterborough Chamber of Commerce announces 2018 Board of Directors
On Tuesday, January 16th, the Greater Peterborough Chamber of Commerce held the inaugural meeting of the 2018 Board of Directors.
The new chair of the board is Jim Hill of James F. Hill Financial Management Services, along with vice-chair Ben vanVeen (Century 21 United Realty Inc., Brokerage), treasurer Dawn Hennessey (Business Development Bank of Canada), secretary Stuart Harrison (Greater Peterborough Chamber of Commerce), and directors at large Joe Grant (LLF Lawyers LLP) and Allison Seiderer (Living Well Home Medical Equipment).
Directors are Sofie Andreou, Tim Barrie, Chris Calbury, Gwyneth James, Mary McGee, Lorrie McMullen, Neil Morton, Amy Simpson, and Morgan Smith.
Appointees to the 2018 board are Mayor Daryl Bennett (representing the City of Peterborough), Selwyn Township Deputy Mayor Sherry Senis, (representing the County of Peterborough), Lorie Gill (representing the Women's Business Network of Peterborough) and Paul Glenn (representing the Peterborough County Federation of Agriculture).
American company acquires Horizon Plastics International Inc. in Cobourg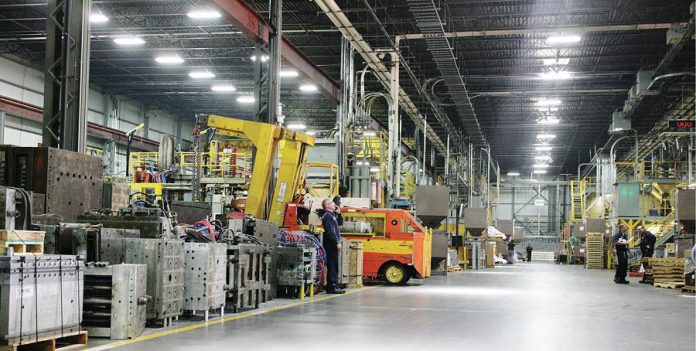 Ohio-based Core Molding Technologies Inc., a leading North American compounder of custom sheet molding compound and molder of fiberglass reinforced plastics, has acquired Horizon Plastics International Inc. (HPI) of Cobourg for $63 million U.S.
HIP, which will operate as a wholly owned subsidiary of Core Molding Technologies Inc., was founded in 1972. The company is a custom low-pressure structural plastic molder with 250 employees at the head office and manufacturing facility in Cobourg and its second manufacturing facility in Mexico. The company had annual sales last year of around $60 million U.S.
HPI owner and CEO Brian Read says he was looking for a new owner for the company, and Core Molding Technologies was a good fit.
"As I looked to transition ownership of HPI, it was important to find the right partner," Read says in a media release. "As a long-term Cobourg resident and business owner, future stability of the organization and support of our outstanding technical and production teams was a high priority. I also favoured a strategic partner with the scale and technology foundation to continue growing these specialized processes into expanded applications."
Core Molding Technologies Inc. states it plans to continue all operations at HPI and "does not expect any significant restructuring, shut-down or employee severance costs."
Kawartha Chamber of Commerce & Tourism Business After Hours Lakefield Health and Wellness Hop on January 23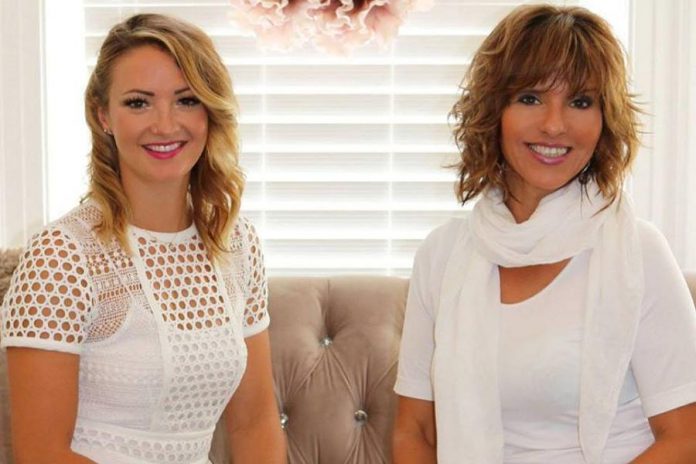 Members of the Kawartha Chamber of Commerce & Tourism will be visiting three Lakefield businesses on Tuesday, January 23rd from 5 to 7 p.m. to learn tips and tricks for wellness in the new year.
The Business After Hours Lakefield Health and Wellness Hop takes place at Salon Sorella & Day Spa, Robyn's Nest Photography & Beauty, and Cuddles for Cancer.
To register, visit kawarthachamber.ca.
Northumberland Central Chamber of Commerce Annual General Meeting on January 30
The Northumberland Central Chamber of Commerce will be hosting its 111th Annual General Meeting on Tuesday, January 30th at 6 p.m. at The Woodlawn Inn (420 Division Street, Cobourg).
Members are invited to attend and hear an overview of the Chamber's activities for the past year, including presentation of the Chamber's audited year-end financial report. The 2018 Executive will be introduced, and elections will be held to fill the available seats on the Board of Directors.
Immediately following the AGM, there will be "The Chair's Dinner", featuring a four-course meal with wines to accompany each dish.
For more information, visit the Chamber's website at nccofc.ca.
Upcoming business seminars at Business & Entrepreneurship Centre Northumberland: January 31, February 7, March 6
The Business & Entrepreneurship Centre Northumberland is hosting three upcoming seminars as part of its Advanced Seminar Series.
On Wednesday, January 31st from noon to 1:30 p.m., Peter Thomas will present a social media seminar. He will speak about developing a social media marketing plan, understanding your buyer persona, and tools for social media with a focus on business Facebook, Instagram, and Twitter.
On Wednesday, February 7th from 1:30 to 3 p.m., professional photographer Mike Gaudaur will present a product and business photography workshop. He will discuss set up and lighting for your product photos, how to make your photos effective for your online marketing, and taking professional-quality photos of yourself and your staff.
On Tuesday, March 6th from noon to 2 p.m., Peter Thomas will present a seminar on today's online marketing environment. He will speak about what makes a good website, search engine optimation, content marketing, digital marketing plans, and more.
The cost is $10 for members of the Port Hope and Trent Hill chambers and $15 for non-members (cash only at the door). Advance registration is required to secure a space. Email bizhelp@northumberlandcounty.ca or call 905-372-9279.
Launch & Learn at Headwaters Community Farm & Education Centre in Cobourg on February 7
Headwaters Community Farm & Education Centre (3517 Rowe Rd, Cobourg) is hosting a "Launch & Learn" from 1 to 3 p.m. on Wednesday, February 7th.
Owners Linda and Tony Armstrong are inviting representatives from organizations to find out more about corporate and wellness day retreats offered at the farm, which is located 10 minutes north of Highway 401 between Port Hope and Cobourg.
The preview includes a sampling of Headwaters' food and mocktails, a tour of their activity and meeting facilities, a presentation about what the centre has to offer, and a choice of three sample workshops.
To reserve your complimentary spot, email info@headwatersfarm.ca by Wednesday, January 31st.
Nomination deadline for Haliburton Highlands Chamber of Commerce Business & Community Achievement Awards – February 15
Nominations for the Haliburton Highlands Chamber of Commerce's 12th Annual Business & Community Achievement Awards are open until 4 p.m. on Thursday, February 15th.
Award categories are Business Achievement, Customer First, Business, Customer First, Employee, Entrepreneur of the Year, Innovation & Creativity, New Business (1-3 years), Young Professional of the Year, Not-for-Profit of the Year, Skilled Trades & Industry, Tourism & Hospitality, and Highlander of the Year.
The awards gala will be held on Saturday, March 17th at Pinestone Resort (4252 Haliburton County Rd 21, Haliburton).
For more information and to download a nomination form, visit www.haliburtonchamber.com.
Peterborough Chamber "Power Hour" evening with elected officials returns on February 21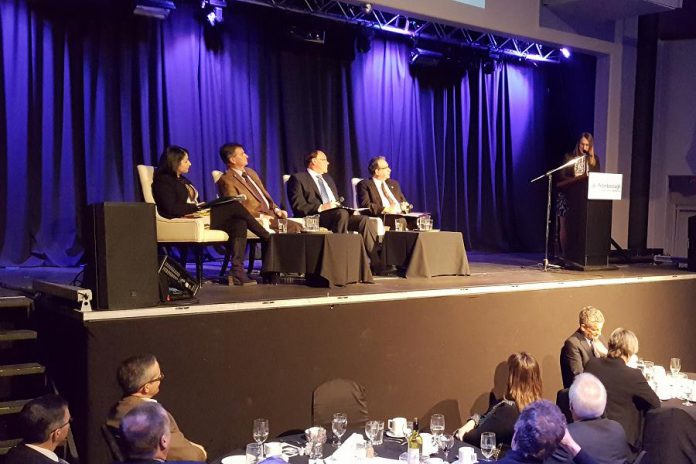 The Peterborough Chamber of Commerce's annual "Power Hour" — an evening with Peterborough's elected officials — returns on Wednesday, February 21st.
The event takes place from 5:30 to 9 p.m at The Venue in downtown Peterborough.
There will be a full hour of questions and answers with Peterborough-Kawartha MP Maryam Monsef, MPP Peterborough Jeff Leal, County of Peterborough Warden Joe Taylor, and City of Peterborough Mayor Daryl Bennett.
Tickets cost $65 for Chamber members and $75 for non-members (or $450 for a table of seven for members and $525 for non-members). HST will be added to the ticket price. Register here.
"Bridges Out of Poverty" workshop for employers on March 7
The City and County of Peterborough Social Services, along with Agilec, Employment Ontario, Employment Planning & Counselling, Fleming Crew Employment Centre, and the Canadian Mental Health Association Haliburton Kawartha Pine Ridge, are hosting a free workshop for employers on "Bridges out of Poverty".
The Bridges out of Poverty fraemwork, which originated in the U.S. and has been adopted by other communities in Canada, aims to help people who grew up in poverty and educate the agencies who assist them. The workshop will provide information on the framework as well as the variety of financial incentives available for employers in the community. It will also provide information on understanding and retaining employees.
The free workshop takes place from 4 to 6 p.m. on Wednesday, March 7th at Agilec Peterborough office (Brookdale Plaza, 863 Chemong Rd, Unit 20-A). Refreshments will be served.
Space is limited. Register at bridgesforemployers.eventbrite.ca.