When doula and prenatal education service Hello, Baby! needed more space for its growing operation, co-owners Steph Hayes and Jenn Avis quickly discovered it wasn't so easy a task. The overhead to rent traditional office space was too high and buying property wasn't a feasible option.
The rise in demand for hired help to support mothers from the early stages of pregnancy through birth and beyond was growing, leaving Hayes and Avis grappling with space needed to accommodate their expanding clientele and the number of services they wanted to offer.
Since their startup took off in 2016, Hayes and Avis have been meeting clients for appointments in coffee shops and renting space at Watson & Lou, Peterborough Living Yoga, and The Monocle Centre for the Arts in downtown Peterborough.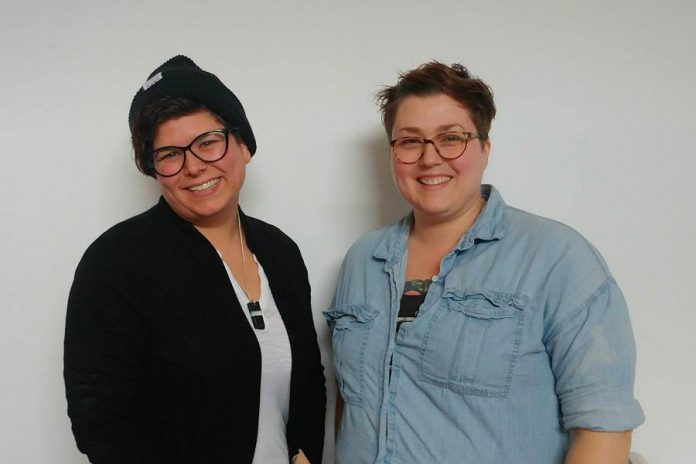 "We saw the potential for our business. We were growing fast and realized we can't continue without having a space of our own," says Hayes. "The whole cornerstone of our business is based on community and we want to offer barrier-free services to people and balance that with running a business. The only way to do that is if we have our own space."
Through the entrepreneurial grapevine, Hayes and Avis heard about the Starter Company Plus program, a Government of Ontario-funded initiative administered locally by Peterborough & the Kawarthas Economic Development's Business Advisory Centre, and were encouraged by previous participants to enroll.
Along with 14 other small business owners, they became participants of the third intake of the program last fall, and moved on to secure a $4,000 grant through the program.
The five-week program, which has three upcoming intakes in 2018, is designed to provide business training for aspiring and established entrepreneurs, aged 18 and over in the City and County of Peterborough who are launching a business or expanding an existing venture that has been in operation for five years or less.
Starter Company Plus grew out of the organization's previous iteration, the Starter Company program (that catered only to youth aged 18 to 29) and the 2016 B.L.A.S.T. (Business, Launch, Assistance, Support and Training), pilot program for older entrepreneurs over the age of 30.
Throughout the program, the Business Advisory Centre staff guides and supports participants through a series of interactive business workshops, seminars and networking events, with topics ranging from writing a thorough business plan to marketing and social media campaigns, to budgeting and making their pitch to compete for one of seven micro-grants ranging from $2,000 to $5,000.
Since its inception last March, the program has already generated some favourable numbers.
Forty-five small business owners have gone through the program (28 startups and 17 expansions), with 21 of them receiving a share of $77,000 in funding. Those businesses also created 51 jobs within the region.
Through the Starter Company Plus program, business owners are stretching their entrepreneurial skills and creating employment, which is good for the local economy, says Madeleine Hurrell, the Economic Development Officer who overseas the Starter Company Plus and Summer Company programs.
"When businesses succeed, they help stimulate and stabilize local neighbourhood economies by creating local jobs," she says.
Hurrell adds that one way to elevate your business is to leverage the benefits of local business support programs, such as those offered by Peterborough & the Kawarthas Business Advisory Centre — one of 57 small business enterprise centres funded by the Ontario government. Services offered at the Business Advisory Centre include information, workshops, and confidential, complimentary one-on-one consultations for businesses at any stage.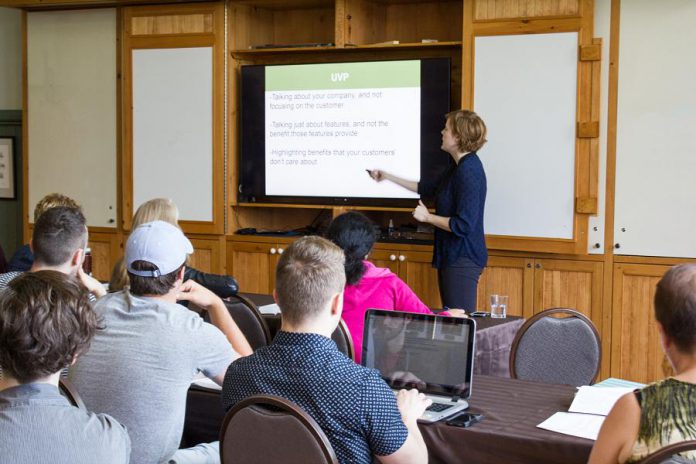 Peterborough & the Kawarthas Economic Development works closely with other community partners like the Innovation Cluster, Community Futures Peterborough, and the Chambers of Commerce.
According to Peterborough & the Kawarthas Economic Development, the City and County of Peterborough is a great community for starting a venture, with 50 percent of businesses in the region being owner-operated.
Seeking out opportunities to improve your business skills is always a good idea, says Cara Walsh, Corporate Communications Officer at Peterborough & the Kawarthas Economic Development.
"At its core, Starter Company Plus is a business training program," says Walsh. "The business plans the participants create become more cohesive, and their confidence and business skills improve so much having gone through the program."
She says game-changing skills like effectively forecasting your cash flow and sales, as well as monitoring your profit and loss are critical, and learning how to pitch your product or service hones skills that are essential when applying for further funding.
Pitching isn't just about cash, but perfecting a skill in your entrepreneurial toolbox that could come in handy in the future when looking for investors, whether it's going to the bank or to Community Futures for business financing, Walsh says.
Hurrell adds that while grant money is important, Starter Company Plus provides mentorship throughout the process, as well as mentorship services to the winning pitches to ensure the entrepreneurs see positive results.
For Hayes and Avis, churning out a cohesive business plan and winning the pitch competition before a panel of industry judges yielded much more than the money they received. The camaraderie and support amongst competitors, for one, along with an "eye opening" financial projection showing them that they could take their small business to a new level of success.
"If we hadn't received the grant, we were happy to walk away with that business plan. We would have won in both scenarios," says Hayes. "Make the time to do this program and make it a priority. If you can commit to that and your business, you will be successful, no doubt."
As a result of their winnings, the doulas will open the doors to their new office space on 239 Charlotte Street in March. This financial assistance will help with several expenses, including furniture, shelving for retail products, and a retail point-of-sales system.
The permanent location for the pregnancy and parenting hub will allow Hayes and Avis to provide support from fertility through to life with a newborn, a wellness boutique, classes and workshops, placenta encapsulation, and free drop-in programs.
"There's really no wrong door in this community for entrepreneurs," says Walsh. "All you have to do is make that first call and there is someone supportive at the other end of the phone that will help you navigate the system and figure out what support you need in order to be successful.
"Peterborough is unique in that there is always someone wanting to help you out and the community support organizations work together to make it a great environment for entrepreneurship to thrive."
Apply now for Starter Company Plus' first intake of 2018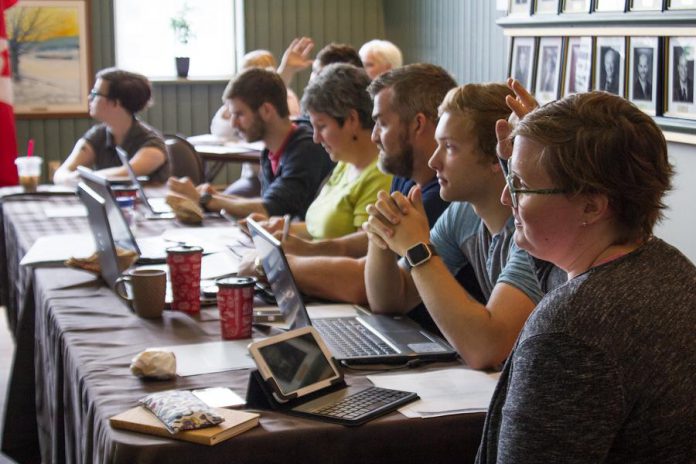 If you're looking to start or expand a business in Peterborough and the Kawarthas, are over 18 and no longer enrolled in full-time studies, applications are now being accepted for this year's first intake.
There are four intake sessions taking place on Thursdays in February. The first "Starting Point" session starts Thursday, February 1st from 2:30 p.m. to 4 p.m. in the VentureNorth boardroom just down the stairs from Peterborough & the Kawarthas Economic Development office at 270 George St N, Peterborough.
Attendance at one of these sessions is a mandatory first step to applying for Starter Company Plus. Sessions will take place on February 1st, 8th, 15th and 22nd from 2:30 to 4:30 p.m.
For full eligibility criteria, please download the Eligibility Requirements for Starter Company Plus.
For more information on Starter Company Plus, visit peterboroughed.ca/small-business/starter-company-plus/ or call 705-743-0777.