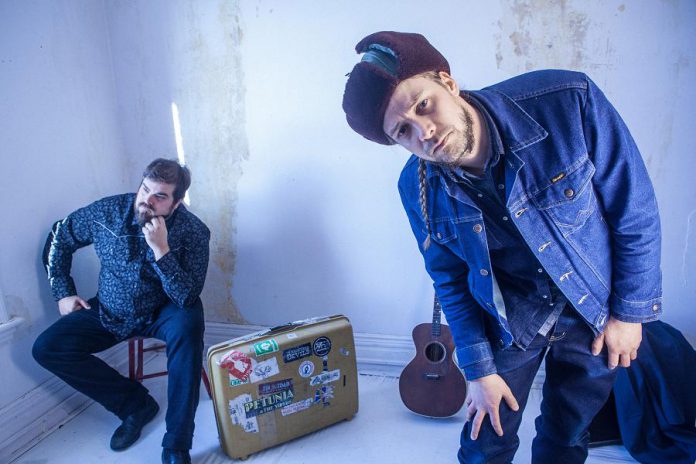 A common denominator of any successful partnership is shared give-and-take; each party gives equally, each party reaps rewards equally.
Since 2013, Josh Fewings and Benj Rowland have worked their partnership to perfection and live music fans across the country and beyond have benefitted. With their stage coupling — Mayhemingways — now about to turn the page on a new chapter of their journey together, both are steadfast in their determination to stay the course.
In other words, if it ain't broke, why even consider fixing it?
On February 23rd in Calgary, Mayhemingways will officially release Skip Land, a new 10-track offering recorded about an hour south of the Alberta city in Nanton. The band has already released the first single, a track titled "Frances The Truck Driver", which is available now on Spotify, Google Play Music, and iTunes.
VIDEO: "Frances the Truck Driver" – Mayhemingways

Produced by Steve Loree, who also produced Mayhemingways' first critically acclaimed full-length album Hunter St. Blues, the new album was actually recorded close to a year ago. However, a very busy 2016 — which included a cross-Canada tour opening for (and backing) Joel Plaskett and his father Bill and a trek across Europe — put its release on the backburner.
Locally, the new album will be front-and-centre when Mayhemingways return from touring out west to headline a March 10th concert at the Mount Community Centre (1545 Monaghan Road, Peterborough, 705-875-5045) — part of the Peterborough Winter Folk Festival.
Tickets to the 8 p.m. licensed all-ages show cost $12 (including service fee) at Bluestreak Records and The Mount, or $15 at the door. You can also order them online at ticketscene.ca.
Opening is Ali McCormack, who had a residency at The Garnet, while former Pig's Ear bartender Andrea Forsell will lend her skills to the occasion. With the now-closed Brock Street pub having been a favourite haunt of Mayhemingways, Josh says Andrea's involvement is a no-brainer.
"If you can't have The Pig's Ear, you might as well bring the bartender," he laughs.
The new record "is a little darker, a little more eclectic too," according to Josh.
"How we recorded it was kind of different too," he explains. "The producer had a vision he wanted to try, sort of capturing more of what our live show sounds like. It has a kind of realism to it.
"It's not overly produced or perfect, which for the songs that are on it kind of fits. There are a lot of auxiliary sounds — Benj hums along on one song. It's real and it kind of suits where we are at this point."
For his part, Benj — who wrote the lyrics and music — says the album's recording was equal parts satisfying and interesting.
"Some songs, you have an idea in your head of how they'll sound but they don't turn into that," he says. "And then sometimes, they turn into something better than you thought they would. The last record was very intentionally place-specific. This album is something else. That wasn't the focus. It goes somewhere else."
"Where we're from is always with us, but it's not always literal," Josh adds. "The influences both Benj and I had growing up — Washboard Hank and The Silverhearts — a lot of that stuff has kind of seeped into different parts of what we do."
Tom Wilson (Blackie and the Rodeo Kings, Lee Harvey Osmond, Junkhouse) has described their music as "mind-bending and original music with deep roots in the tradition of dark North American folk," and Josh and Benj have been remarkably consistent in the delivery of that sound.
That, Benj notes, is by design, not by accident.
"There's a formula," he says. "I like it and I'm not bored of it."
But while there's a signature Mayhemingways sound, that doesn't mean the music doesn't evolve.
"There's always progression whether you're trying for that or not. Making another record is progression. I learn by doing. That's progression for me. You're a different person than you were when you made the last record."
As for the chemistry at the root of their success, Josh says that has been nurtured and enhanced by the unique closeness of the duo format.
"When you're in a car with someone for so long — we've played about 600 shows — you grow that thing twins have, where you know what the other one is thinking. It's just like any couple in that you have to be ready to compromise.
"We have friends who are in bands of seven people. Just trying to figure out even basic things like hotels, I can't imagine."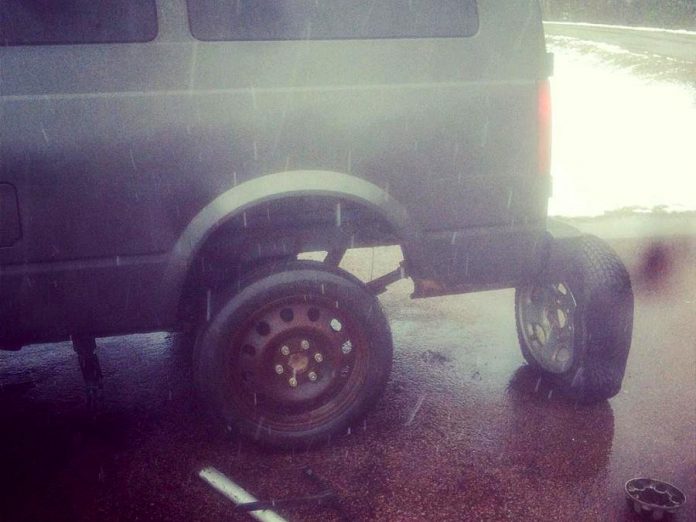 In their partnership, Benj writes the songs and employs various instruments such as the banjo, mandolin, accordion, and guitar, while Josh adds "a bit of my own rhythms" — he also books shows and uses his more outgoing personality to handle networking.
"We've definitely had a lot of luck to be able to do it this long," Josh says. "We're super independent. Labels can be really good but as soon as they're in there, they're part of the decisions too.
"You need to keep on rolling, adding shows. The plan is to keep going at it and hopefully gain new fans."
Benj concurs, attributing his part in Mayhemingways' continued success to being "more adult, more stable, more mature".
"We're not trying to explode anything," he says. "We get down to it and do the work. We both know what's involved. We don't have unreasonable expectations."
For more on Mayhemingways, including a complete listing of upcoming shows, visit mayhemingways.com.