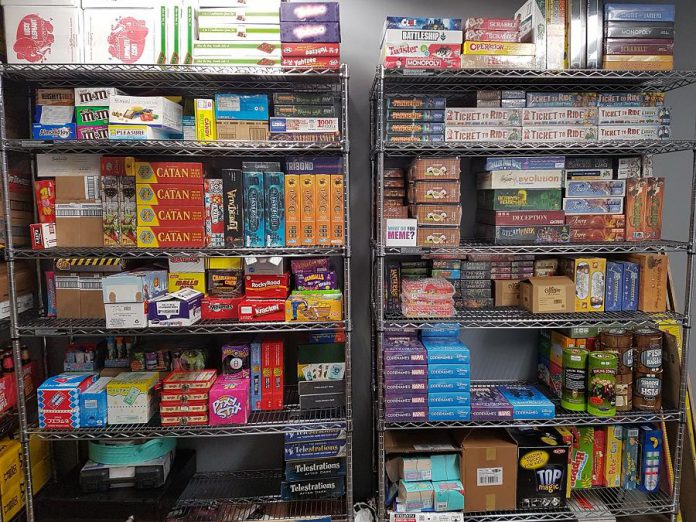 ---
Chamber hosts seminar on mental health in the workplace on May 9
It's officially Mental Health Week in Peterborough and, earlier today (May 8), the Chamber held its B.O.S.S. (Business Owners Sharing Solutions) seminar on Mental Health in the Workplace at the Lakefield Legion.
The session featured expert panelists Ashley Challinor (Director of Policy, Ontario Chamber of Commerce), Dave Pogue (who founded founded Team 55, Let's Tackle Suicide Awareness after their oldest son, Mitchell, took his own life in the fall of 2013), and Jack Veitch (Canadian Mental Health Association, Haliburton, Kawartha, Pine Ridge) and was moderated by Roberta Herod of Herod Financial.
The panelists shared stories and insights with around 50 attendees, along with some techniques and resources that are available for handling this important topic.
Welcome to new Chamber member Sweet Competition
The Kawartha Chamber of Commerce & Tourism is excited to announce its newest Chamber member, Sweet Competition, which has set up shop at 3347 Lakefield Road, Unit 2 in Lakefield.
Owner Troy Phillips says of his new store:
"Sweet Competition delights the hearts of young and old with a large variety of nostalgic candy, puzzles, board games, vintage soda pop, and more!"
Sweet Competition officially opened today (May 9) but will be holding its grand opening celebration on the Victoria Day weekend, from May 18th to 21st, with daily specials, a raffle, and more.
The Chamber hopes fellow members will drop in to help welcome this new member business to the area.
Provincial All-Candidates Meeting on May 23rd

The Kawartha Chamber is hosting a moderated Q&A session with the Peterborough-Kawartha riding candidates for the upcoming provincial election. Candidates from the Green, Liberal, NDP, and PC parties have been invited to speak.
In addition, candidates from the Libertarian and Trillium parties have been invited to be in attendance and display literature. David Goyette will be moderating, and this event is open to the public.
Questions can be emailed to events@kawarthachamber.ca prior to the day of the event for the moderated Q&A (please specify if a question is for one or all candidates). There will also be a short time at the end of the moderated Q&A for audience members to ask questions directly.
The event will be held at the Lakefield Legion. Doors open at 6 p.m. and the meeting will run from 7 to 9 p.m.
Save the Date
June 13th – BAH Woodview Hop – More information to come.
Ontario Government to Review Public Holiday Rules
The Province of Ontario is undergoing a full review of Part X of the Employment Standards Act (ESA), which focuses on public holiday pay (PHP).
The review will be conducted by the Ministry of Labour and is part of the government's ongoing response to the Changing Workplaces Review. The review found that Part X was the source of most complaints under the ESA and needed to be simplified.
The Government of Ontario has reinstated the PHP formula that was in place before the amendment to Part X as an interim measure, coming into effect as of July 1st, 2018. Read the reinstatement legislation here.
Selwyn Releases Economic Development Strategy And Marketing Plan Documents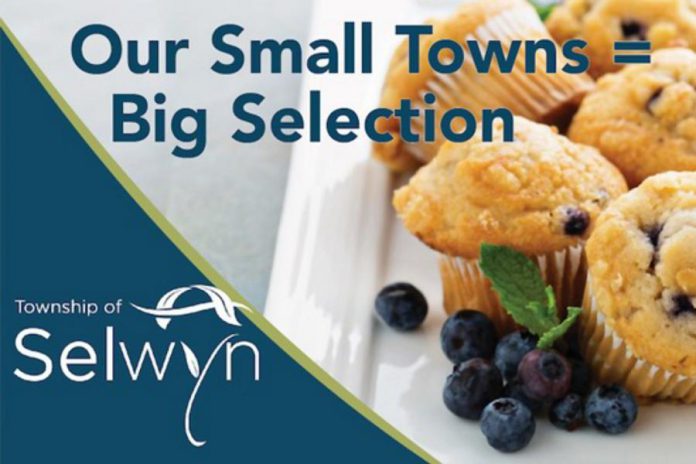 The Township of Selwyn has made available on their website the Economic Development Strategy and Marketing Plan documents developed with Strexer Harrop & Associates.
The township news release and documents can be found here.
Have Your Say! OCC Spring Policy Survey
The Ontario Chamber of Commerce (OCC) Spring Policy Survey is designed to gauge the issues that are most important to members going into the provincial and municipal elections; capture awareness of, and satisfaction with, OCC advocacy work; and measure the impact of the Know Your Power program one year after launch.
The Chamber encourage all of its members to The survey can be found complete the survey before the deadline at 5 p.m. on Friday, May 25th.
The Kawartha Chamber will also receive local data from the survey if more than 50 members respond. This will help the Chamber to better represent and support local businesses.
Lakefield Lions Host Fill-A-Truck For Diabetes Fundraiser
The Lakefield & District Lions Club is holding a Fill-A-Truck fundraiser for diabetes on Saturday, May 19th from 9 a.m. to 12 p.m.
They will be set up in the Ellis Automotive parking lot at 63 Queen Street and are accepting gently used clothing and small household items.
Bring your spring cleaning clutter out and support a great cause!
Transition Town Peterborough Hosting Dandelion Day Bike Ride Fundraiser
Transition Town Peterborough is hosting a "Tour de Lion" charity bike ride event in support of the Peterborough and District United Way.
The event is a part of the Dandelion Day Festival celebrating healthy lifestyles, taking place on Sunday, May 27th in Millenium Park, Peterborough.
There are three rides of differing intensity to choose from (each starting at a different time and location) and lots of prizes. Information and registration for the bike rides can be found here.
In addition, the Trent Athletic Centre has donated a six-month family membership to Transition Town, which is for sale in support of the event for $450 (retail value $573.30) in Kawartha Loons or Canadian dollars.
Those interested in the membership should call Judy at (705) 652-0716.
Abbeyfield Gala Concert Fundraiser Huge Success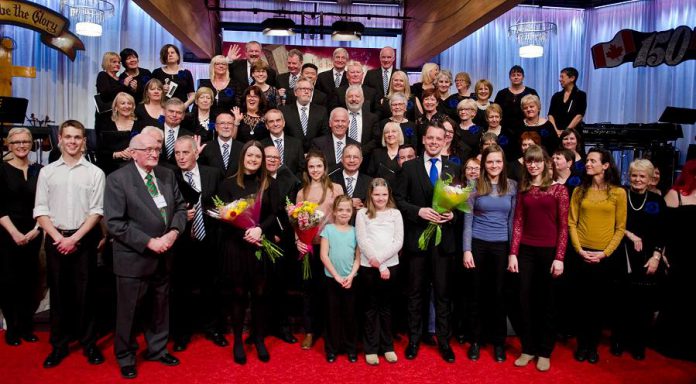 The Abbeyfield House Society of Lakefield hosted a concert fundraiser at the Selwyn Community Outreach Centre on April 23rd.
The fundraiser was to support building the first Abbeyfield House in Peterborough County, an alternative to current senior housing. Abbeyfield Houses offer affordable family-style living, with a balance between privacy and companionship, security and independence.
Chamber Board Member Cindy Windover was Master of Ceremony for the evening. The concert featured the musical Duketow family (Rhythm and Grace), as well as the Côr y Gleision Choir from Wales. More than 250 residents from Lakefield and the surrounding areas came out to support the cause and be entertained, raiding over $5,000 for the fund.
Congratulations to the Abbeyfield House Society of Lakefield on this successful event.
For more information on Abbeyfield House Society of Lakefield, visit Facebook
Savage Arms Tour in Support of PRHC
Tickets for tours of the Savage Arms firearms manufacturing facility in Lakefield are being sold at the Kawartha Chamber Office (under the Lakefield clock tower, next to the police station) until Wednesday, June 13th.
Funds raised by the tours will go to support the PRHC Foundation. Tours are $10 per person, and full names and citizenship will be required for ITAR compliance.
The tours will be taking place on Saturday, June 23rd. Starting at 8 a.m. and leaving every five minutes, tours are an hour in length with the last tour departing at noon.
Marlin Travel Announces New Brands, 20 per cent May Discount
Marlin Travel Peterborough is pleased to announce that their Travel N Style Boutique now carries Canadian-made Raps Resort and Leisurewear clothing, Kenneth Bell and Jacqueline Kent Jewelry and Accessories, and DoSail carry-on bags and purses.
A 20 per cent discount is also being offered for the month of May. It is the perfect time to pick up some of these great new items for Mother's Day
Chamber Members are Hiring
New Country Market Planned For Douro-Dummer
The Douro and District Optimist Club is planning a new country market for the Douro-Dummer area.
The market would welcome vendors, artisans, crafters, and producers of goods and services from the local area to set up shop, at the Douro Community Centre they hope. The Optimist Club explains that this is a charitable endeavour, with proceeds from vendor set-up fees going towards subsidizing registration costs for local children's sports clubs.
Optimist Club representative Mark Trudeau recently met with Township officials to request municipal support for the project in the form of a township official to sit on the Market Committee and use of the Township logo in promotions. The Council agreed to support the concept in principal, but wanted more information, such as an insurance policy, before endorsing the idea. The Optimist Club hopes to have the market running in 2018.
RTO8 Looking to Hire a Partner Communications Lead
Regional Tourism Organization 8, servicing Kawarthas Northumberland, is looking to hire an experienced Partner Communications Lead on a contract basis with an option to renegotiate to permanent full-time at contract end.
Any interested parties can find the job description here. Applications are accepted until Friday, May 18th at 4 p.m.
Upcoming Events
BEL Rotary Season Opener Golf Tournament – May 10th
Lakefield 5K Run & Walk – May 12th
Peterborough Chamber Provincial All-Candidates Meeting – May 17th
Lakefield Farmers' Market Opening Day – May 24th
Classy Chassis 12th Anniversary BBQ Bash – May 26th
Camp Kawartha Summer Camp Open House – May 27th
Buckhorn Annual Golf Tournament – May 31st
For more information about the businesses and events listed above, please visit the Kawartha Chamber of Commerce & Tourism website at kawarthachamber.ca.
All photos supplied by Kawartha Chamber of Commerce except where noted.