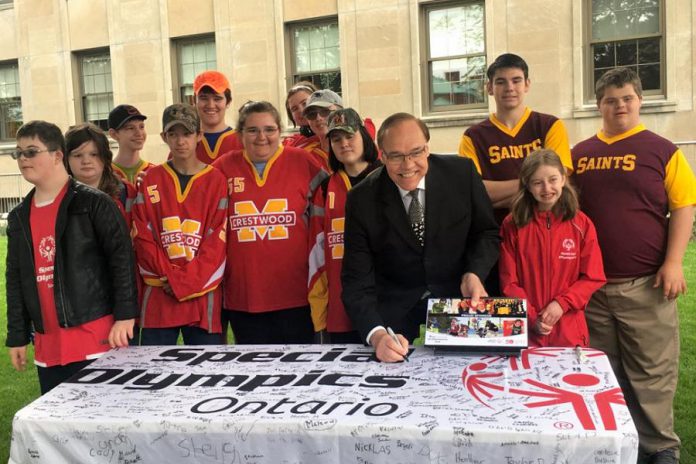 The 2018 Special Olympics Ontario School Championships are taking place this week (May 29th to 31st) in Peterborough.
Hosted by the Peterborough Police Service, the games will feature more than 1,000 secondary school athletes between the ages of 13 and 21 and their coaches competing on behalf of schools in Ontario and across Canada, including Alberta and Manitoba.
Athletes will compete in one of five sports — basketball, bocce, floor hockey, soccer, and track and field — in two divisions: traditional teams comprised of athletes with an intellectual disability, and unified teams comprised of athletes with and without a disability.
The event begins with a VIP reception from 5:30 to 7 p.m. on Tuesday, May 29th at The Mount Community Centre (1545 Monaghan Rd., Peterborough), followed by an opening ceremony from 7:30 to 9 p.m. at the Peterborough Memorial Centre (151 Lansdowne St., Peterborough).
Championship games take place from 8:30 a.m. to 2 p.m. on Wednesday, May 30th, with basketball at Trent University (1600 West Bank Dr., Peterborough) and at St. Peter's Secondary School (730 Medical Drive, Peterborough), track and field at Thomas A. Stewart Secondary School (1009 Armour Rd., Peterborough), soccer at Fleming College (599 Brealey Dr, Peterborough), and floor hockey at Kinsmen Civic Centre (1 Kinsmen Way, Peterborough). Medal presentations take place during the games.
The closing ceremony takes place at 7:30 p.m. on Wednesday, May 30th at the Peterborough Memorial Centre (151 Lansdowne St., Peterborough).
During the school year, more than 7,500 student athletes in Ontario competed in around 60 regional qualifiers for a chance to compete at the championships.
As the games' host, the Peterborough Police Service has been one of the top fundraisers in Ontario for the Law Enforcement Torch Run for Special Olympics, first launched in 1987.
Special Olympics, which celebrates its 50th anniversary this year, is a registered charitable organization that empowers people with intellectual disabilities to realize their full potential and develop their skills through year-round sports training and competition.