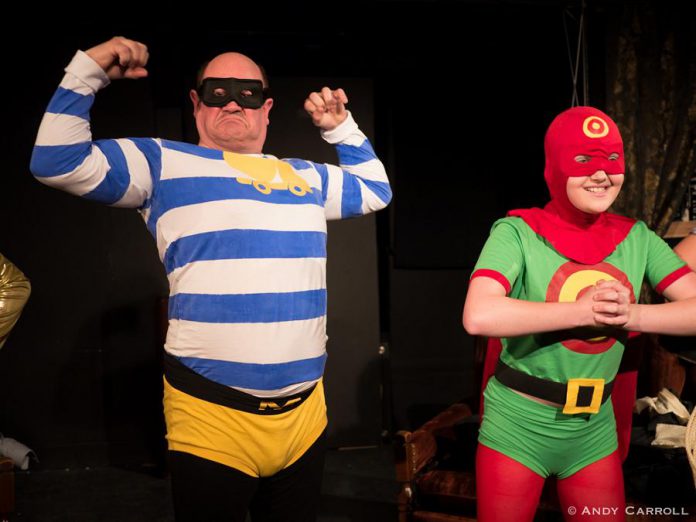 One of the most talked-about theatrical productions of 2017, Boy Wonders is back!
Planet 12 Productions is revising its landmark production from June 7th to 9th at The Theatre on King (TTOK) in downtown Peterborough before taking the show to the Toronto Fringe Festival in July.
Written and directed by Peterborough's own Derek Weatherdon, Boy Wonders takes the classic comic book concept of the teen sidekick and turns it on its head in a quirky and shocking drama.
Primarily made up on a talented cast of young actors between the ages of 13 and 17, Boy Wonders features Emily Keller, Aimee Gordon, Samuelle Weatherdon, Abbie Dale, Emma Meinhardt, and Tyrnan O'Driscoll alongside popular local favourite Brad Brackenridge, in a show that examines popular comic book tropes, creating an unsettling confessional of kids in their own individual precocious situations.
Originally staged in June a year ago, Boy Wonders was the debut production of Planet 12 Productions, which has developed a unique theatrical company featuring young performers doing dramatic shows aimed an adult audiences.
Taking place just after World War II, Boy Wonders tells the story of six superhero sidekicks who meet for the first time in a New York City hotel room. Although believing themselves to have little in common, as they begin to share their secret origins a common narrative emerges and they come to the realization that being a sidekick isn't as fun as it might seem.
In fact, it's downright dangerous. Tempers flare, tears are wept, and alliances are formed as the sidekicks realize that while heroism may be an isolating occupation, they are not alone.
For the revival of Boy Wonders, Derek has kept much of the same script, but the show has managed to evolve as the company has continued to work together. The performers have now been living with these characters for over a year, which has allowed them to evolve organically while their connections with one another have strengthened both as performers and friends.
"We've been together for so long now that our connections with one another are real," says Abbie Dale, who plays Kirby the bell hop. "Our characters have evolved as we've become connected to one another."
"I think that the show has also gotten much deeper," observes Aimee Gordon, who plays Boo. "It has more layers to it. Before it was about some sidekicks and their sad stories. Now you get to see more of the characters and their connection to one another."
What is so special about Boy Wonders is that, just as individuals are drawn to favourite comic book characters, audience members gravitate towards different characters in the show for different reasons. Each character is special and uniquely defined by the actor that plays it, and audience members are sure to have their own favourites.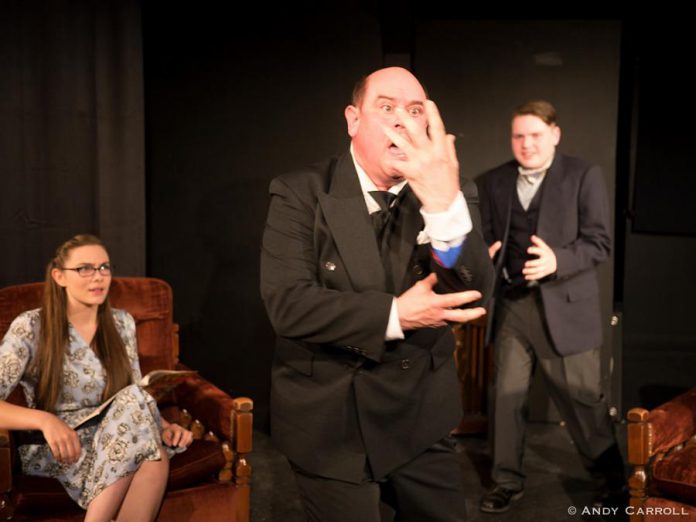 Personally, I have always had a soft spot for Boo, the sidekick of Super Ghost. The most mature of the characters, Boo battles with a misguided sense of dedication connected to a senseless family tragedy. When Aimee talks about her character, she seems to talk about her superhero persona Boo and her secret identity persona of Betty as two different characters.
"I feel like Boo is different than Betty," Aimee explains. "Boo is kinder than Betty, who has a lot of resentment toward her partner The Super Ghost. Whenever Boo is talking about Super Ghost she speaks kindly about him, but when Betty talks about him it's clear that she does not like this guy who destroyed her family's life. Betty blames The Ghost, but Boo puts more of the blame on herself."
Another audience favourite is the explosive Target Boy. One of the most tragic characters in the show, Target Boy is created by Emma Meinhardt who transforms herself into a scrappy young boy whose sole purpose is to run out into gunfire.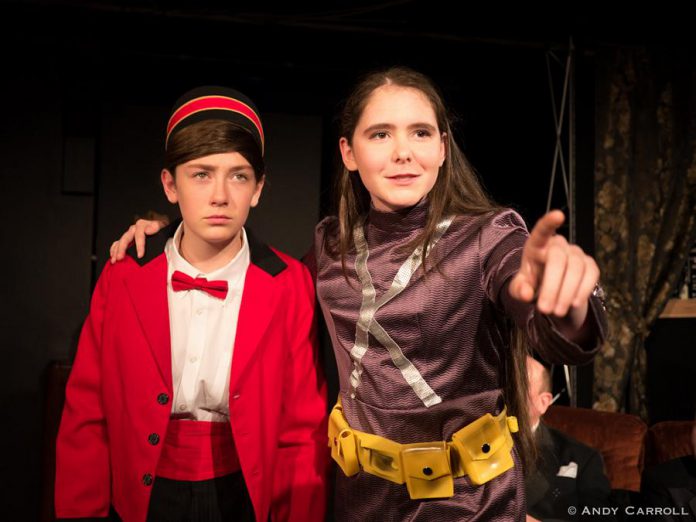 "I just love to explore Target Boy as this ridiculously sweet little kid," Emma says. "It's always incredible for me to see him grow, and to be able to explore his relationships with the other characters. It's really about putting yourself into this character. It's about visualizing who he is and getting in his skin, and realizing this is who he is every day."
Although all of the characters have tragic tales to tell, possibly the saddest of the characters is that of the demure Cowpoke, played by Emily Keller. Coming out of the Western genre, which peaked in its popularity in the 1950s, Cowpoke finds herself trapped in a world that she didn't want to be in.
Surprising to me is that Emily doesn't find the same sense of pathos in Cowpoke as possibly the audience might.
"I think Cowpoke seems to be sad partly because she seems so young," Emily says. "But when I look at her, I don't see her as sad as the other kids. She knows that she's in trouble but she doesn't know that she's being abused. All she knows is that she can't go home."
Samuelle Weatherdon, one of the busiest young actors in Peterborough, takes on the role of the futuristic genius Test Tube. Playing a character who knows her brilliance but struggles with her self-worth, Sam has worked at developing her character from just being angry to revealing more complexities.
"Last year Test Tube started out as this mean and angry character and stayed that way, holding a grudge against her mentor and everyone else," Sam says. "But this year, as the play has evolved, it just felt that the anger had somewhere to go. The character feels more relatable to me now."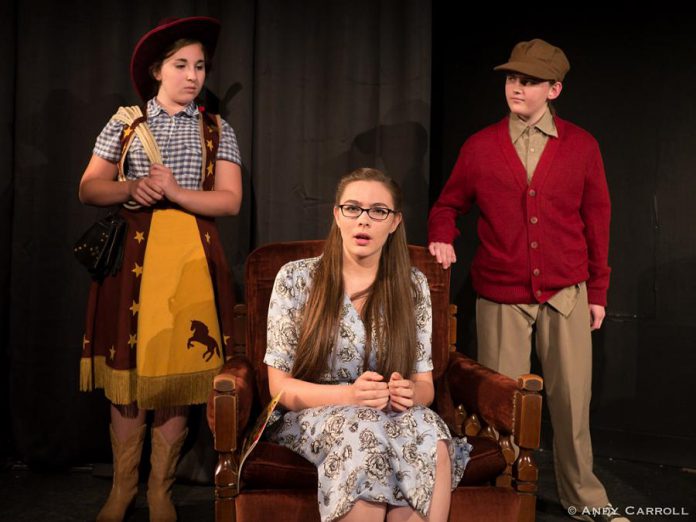 In many ways it is Abbie Dale, as Kirby the bell hop, who is the voice of the audience. A normal kid and a fan of the superheroes, she finds the sidekicks inspirational and is the one who asks all the key questions to get them to tell their tales. Filled with wide-eyed wonder and enthusiasm, she brings a sense of optimism to an otherwise bleak tale. But as Abbie reveals, even Kirby has a tragic side.
"This year I feel that Kirby has grown past being this quirky fan girl," Abbie explains. "There is also a sad side to Kirby. Her mother is a widow, and her father died in the war. I've been exploring the deeper side of Kirby, and connecting her to the other characters even more."
New to the company is Tyrnan O'Driscoll, who takes over the role of Shiny the Golden Boy from the character's originator Isaac Maker. An impressive young actor with a strong stage presence, Tyrnan is an impressive addition to the company. He doesn't try to mimic the Shiny that came before him, but makes the character all his own.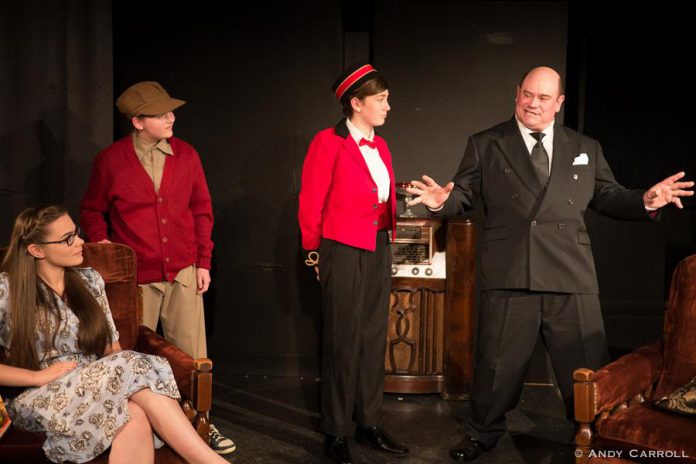 "I've always felt very welcomed by everybody," Tyrnan says of joining Planet 12. "When I first was introduced to Shiny, I thought of him as this posh rich kid with a touch of Sherlock Holmes in him.
"As the play progresses, he realizes that he is not so indifferent to the rest of the gang, and that he is a lot like all of them. He understands where they are coming from because he's been there."
"It's interesting to see another actor play Shiny," adds Aimee. "We've really gotten to know these characters, and although Tyrnan is playing Shiny, it's like he is playing a completely different character than what we were used to. It's really cool to see the different way he looks at Shiny."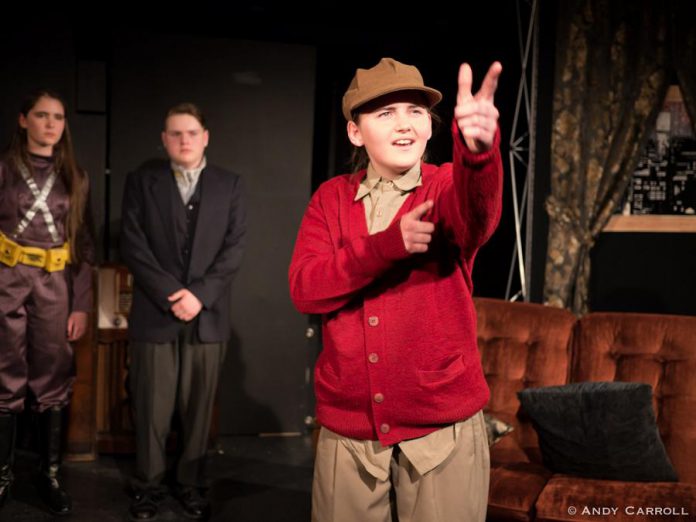 Rounding out the cast of Boy Wonders as The Mixer is Brad Brackenridge, who recently was awarded one of the inaugural Peterborough Arts Awards. A homage to the Golden Age DC Comic character Stripsey (sidekick of the Star Spangled Kid), The Mixer is a 43-year-old sidekick to a 12-year-old superhero who finds himself banished to the kids' table.
"I think the Mixer is a bit lost," Brad says. "He drifts from town to town. He's probably been an alcoholic, but he's finally found a good job and he wants to keep at it. He knows that's a good thing and a valuable thing.
"The reality really hits him when he understands the situation he's in, but he doesn't think that kids should be going through this. He gets paid so it doesn't matter to him, but these kids are different."
Although the difference in age between Brad and the rest of the cast is obvious, the chemistry between them is undeniable. Brad gives so much to the kids, and in return they give back to him.
"It's really cool hanging out with young people who aren't stereotypical young people," Brad says of his co-stars. "It's good to see their focus and dedication to what they're doing. They are more up on their lines than even I am."
The run of Boy Wonders at the TTOK is not only another chance for a Peterborough audience to see it, but gives Planet 12 Productions a sendoff before they take the show to Toronto's Tarragon Theatre, where they'll perform Boy Wonders for seven shows between July 7th and 14th as part of the Toronto Fringe Festival.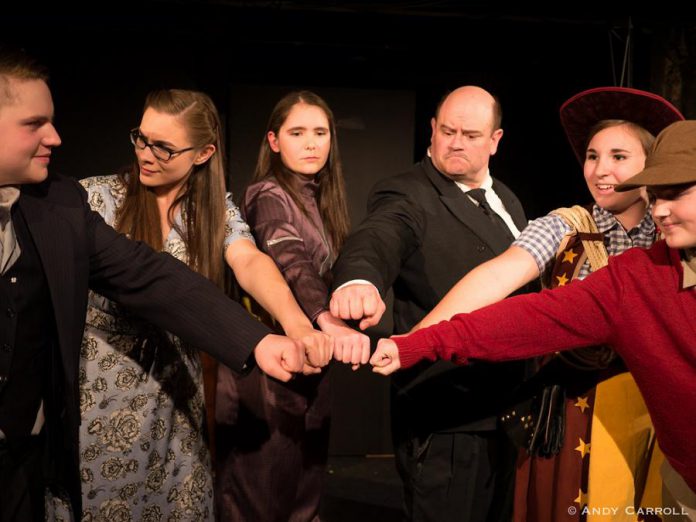 "I'm terrified but so excited," says Aimee.
"Terrified in all the right ways," Abbie adds.
"A lot of kids our age don't get to do anything like this in their city," Aimee continues, "but to go to Toronto which is the biggest theatre place in amazing."
"Boy Wonders ticks all the boxes," Brad observes. "It's something original, locally written, and performed by local people. It's not a previous show but a new one. It's a great opportunity. You don't often get a chance to redo a show and help redevelop it and bring it to Toronto."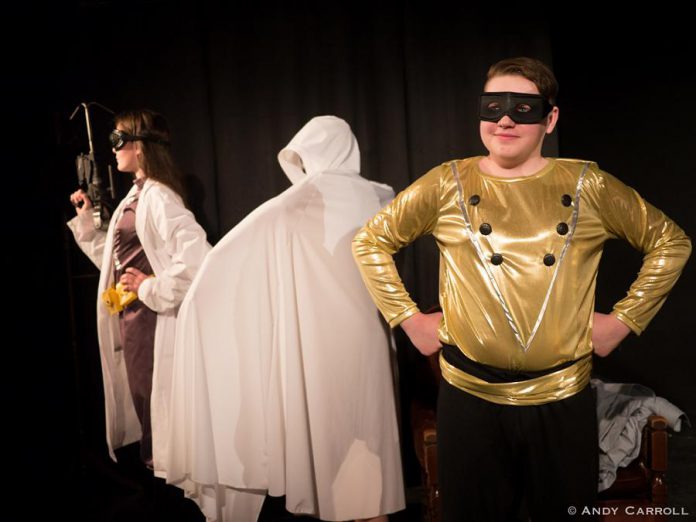 "I think the audience will also be shocked," Abbie adds. "It's a challenging show. We're a bunch of kids coming to Toronto and not doing a children's show. We are a show in the Toronto Fringe festival; I don't think that the audience will expect that."
It is no secret that I am a big fan of Boy Wonders. Not only is it a show that I've championed since Derek first told me the concept, but it is one of my favourite original shows that I've seen in the time that I've been covering theatre for kawarthaNOW.
It's not just because of the way that Derek plays homage to classic comic books, which is a genre I love, but it's also because of the young performers who appear in it.
For the most part I have been following these performers since the Peterborough Theatre Guild production of The Reluctant Dragon in 2016, and to watch them go from being quirky little kids who caught the acting bug to mature and competent performers has made these kids very endearing to me. I truly love them, and I know that Toronto will fall in love with this show as well.
"I think this has just been such an incredible experience being together working on this every weekend," Samuelle says "It's been awesome and different, having everyone brings something to the table. It's been incredible and I think all of us work together really well. I think we're putting on an incredible play that everybody will really enjoy."
Come see Boy Wonders at TTOK from Thursday, June 7th to Saturday, June 9th. The shows starts at 8 p.m. and tickets are $10 at the door.
For more information on dates and times for the Toronto performances of Boy Wonders, visit fringetoronto.com/festivals/fringe/event/boy-wonders.