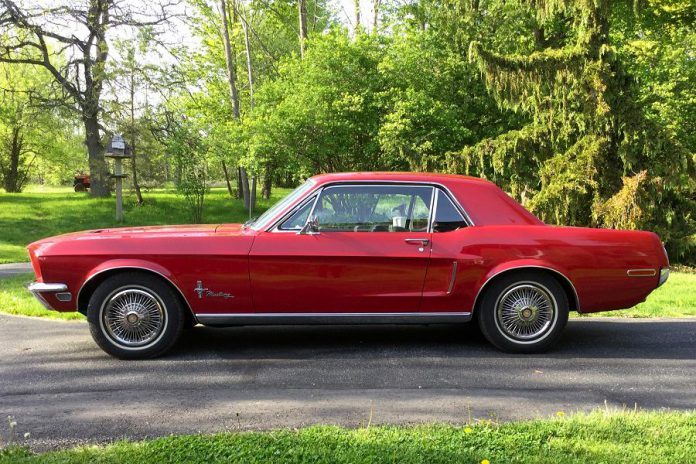 What do the quiet streets of Millbrook have in common with the busy thoroughfares that crisscross San Francisco?
Well, a 1968 Ford Mustang looks — and sounds — equally impressive in both settings.
Fifty years ago, the late Steve McQueen, portraying San Francisco police detective Frank Bullitt in the film Bullitt, recklessly drove a dark green 1968 Mustang Fastback through the California city for a breathtaking 10-minute car chase scene that's still widely hailed as the best ever staged in cinematic history.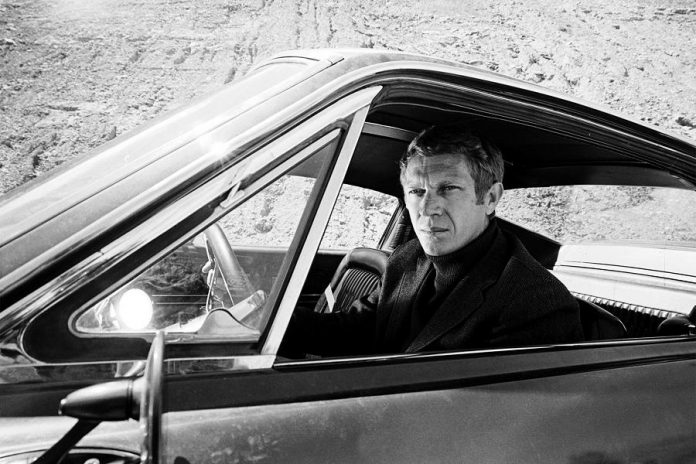 On Saturday, July 7th in pretty downtown Millbrook, Ralph Heaslip will much more serenely guide his red 1968 Mustang into place for the annual Millbrook Classic Car Show.
The Cavan resident's vintage ride will be one of many classic cars on display as the annual show, again sponsored by the Millbrook and District Lions Club with support from the Millbrook BIA.
From 8 a.m. to 2 p.m. on a closed King Street, up to 100 classic vehicles — each at least 25 years old — will be displayed for car buffs and the simply curious.
To complete the setting, the Hewitt brothers will spin classic tunes from the 1960s and 1970s. And no one will go hungry as Royal Canadian Legion Branch 402 members serve breakfast until 10:30 a.m. at their 9 King Street East location, with the Lions' food trailer handling the lunchtime feeding.
"You quite often get a thumbs up," says Heaslip, a Lions member who has been a regular at the show for several years now, referring to his '68 Mustang.
"When you have a pretty car, people like to look at it."
He's the third owner of the Mustang, which he says was bought new in Bowmanville at a Ford dealership. It has 68,000 original miles on its odometer. Heaslip gave it a paint job, put tires on it and has performed "some maintenance things", but has otherwise tinkered little with the car.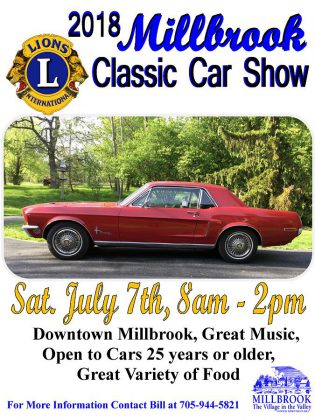 "It was in pretty good shape when I got it," he says. "Still, there's always something."
Stored in the winter, Heaslip's pride and joy — it's featured on the promotional poster for the show — gets regular exercise spring into early fall via driving tours, enjoyed with other classic car owners who are members of Kawartha Country Cruisers. Heaslip is also registered with the Antique Automobile Club of America.
"I bought it to enjoy it, so I drive it everywhere," says Heaslip, noting he toured the car to Manitoulin Island and has also toured with it south of the border.
Among those doing the groundwork for the show is Linda Hughes, treasurer of the Millbrook and District Lions Club of which her husband Bill is the current president.
"It's really awesome to see the car owners, they're all so friendly and they really have a great time ogling everyone else's cars," says Hughes.
"We (the Lions) had our Pet Valu Walk For Guide Dogs event May 27th in downtown Millbrook and all of a sudden these vintage cars starting pulling into town. I thought 'Oh no, don't tell me they got the wrong date.' It turns out they were out on a cruise and came into Millbrook for breakfast. We're hoping to see them come out July 7th. We told them about it."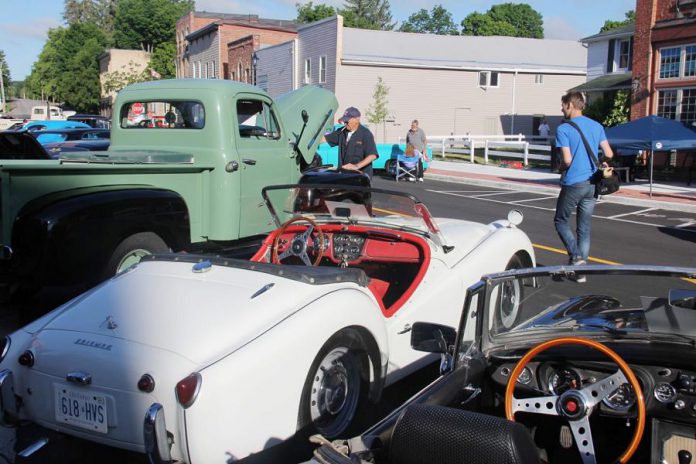 On the day of the show, Hughes will handle registration and food serving duties alongside her fellow Lions. As well, 50-50 tickets will be sold by Masonic Lodge membersm with the proceeds split between that group and the Lions. And at about 2 p.m., plaques will be awarded to the top 10 vehicles as voted upon by show attendees.
The show remains a flagship event for the Millbrook and District Lions Club. While this is the 13th annual show, its roots go back to the late 1990s and early 2000s when the Lions held a show on Medd's Mountain. However, that location was eventually abandoned due the soft ground producing problems for the vehicles.
Come 2006, the show found a new home on King Street, sponsored by the Millbrook and District Chamber of Commerce with help from the Lions. The following year saw the Millbrook BIA present the show, again with the Lions' assistance. Since 2008, the Lions have been involved full bore. That, however, hasn't come without challenges as the club faces a hurdle all too common in service club circles — declining membership.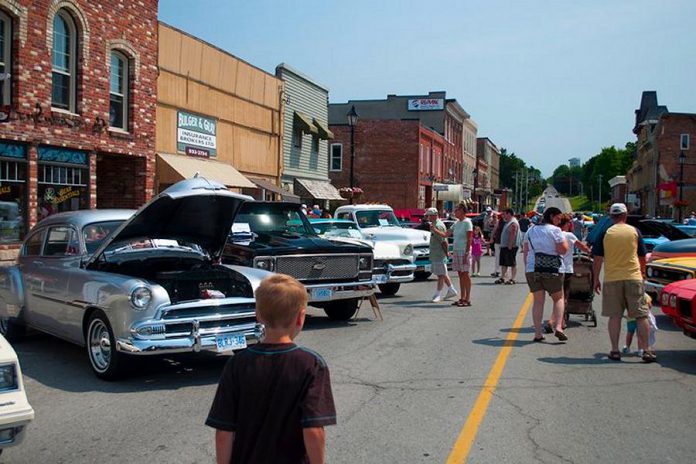 "We have 43 registered members at the moment … we're losing a lot and the younger ones aren't coming in," says Hughes, a Lions member with Bill for 13 years now. She adds when they joined, the club had 65 members.
Still, that has done nothing to dampen her enthusiasm for the show. In fact, the only thing that will dampen any enthusiasm, and everything else, will be rain on the day of.
"We had amazing weather last year, so fingers crossed on that one," says Hughes, adding all downtown Millbrook shops will be open for business — their owners anxious to greet customers, both new and returning.
For updates on the Millbrook Classic Car Show, visit the Facebook page at www.facebook.com/events/1001578573323912/.
---
Photos from previous Millbrook Classic Car Shows
All photos courtesy of Millbrook BIA and downtown Millbrook merchants except where noted.