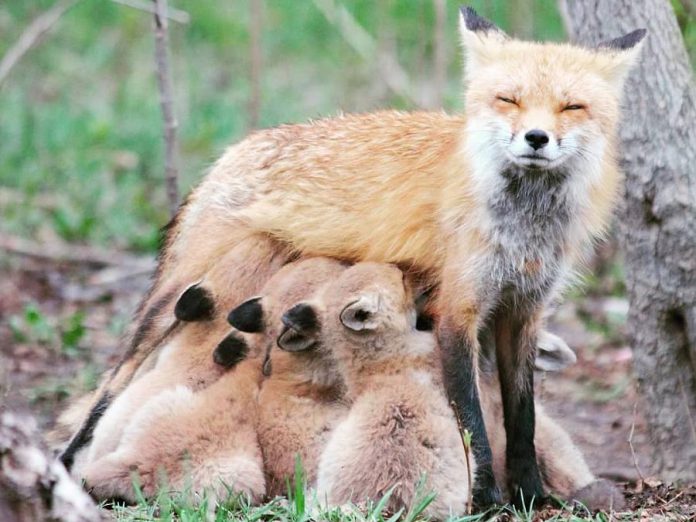 June saw us jump right into summer with some extended heat waves, and on Instagram we jumped right into some intense and extended Kawartha sunsets. We love the longest day of the year on the summer solstice (June 21) and the visuals this year did not disappoint.
We had many contenders for top posts this month and the race was tight among our many talented photographers in the Kawarthas. We even had a tie this month in impressions between a sunset and a loon, with the sunset edging out the loon in likes.
Here are the top nine photos by impressions on our Instagram account in June, with links to the photographers' Instagram accounts.
To see our daily shares of photos, follow us on Instagram @kawarthanow and check out our feed's monthly highlight reels for recaps of every month in 2018. Don't forget to use #kawarthanow to tag us for shares.
---
#1. Fox mama and family by Kathryn Frank @_katy.did.it_
Posted June 22, 2018. 6,828 impressions, 676 likes
Our regular followers will be familiar with Katy's fox family and her ongoing captures of them in her backyard. This one, shared on #foxfriday, was exceptional and wowed our followers.
#2. Incoming storm at Lake Catchacoma by Every Day in Catchacoma @every_day_in_catchacoma
Posted June 6, 2018. 6,639 impressions, 694 likes
#3. Summer sunset on Gold Lake by Suzanne Temple Hunt @suzannehunt26
Posted June 6, 2018. 6,607 impressions, 644 likes
#4. The stillness of Silent Lake by Vincent CA @vincentzhangyi
Posted June 15, 2018. 6,396 impressions, 632 likes
#5. Lovesick Lake by dlb_photos @dlb_photos
Posted June 7, 2018. 5,898 impressions, 601 likes
#6. Canada Day canoe on Stoney Lake by wildgreenlife @wildgreenlife
Posted June 29, 2018. 5,882 impressions, 1,075 likes
One of our all-time favourite shots, we shared this photo by @wildgreenlife (you follow her on Instagram for great recipes too) at the end of June as our lead-in to Canada Day. In only two days, it became a top contender for the month and attracted the most likes of any of our photos in June!
#7. Sunset over the Centennial fountain in Little Lake by Jason @lynxtalon
Posted June 21, 2018. 5,828 impressions, 592 likes
#8. Loon on her nest by Cliff Homewood @kerrybrook
Posted June 24, 2018. 5,828 impressions, 446 likes
Our readers may recall Cliff's wonderful loon family series that we wrote about last summer. Here's an early shot of this season's loon family nest.
#9. The team at Inclusive Advisory by @InclusiveAdvisory
Posted June 24, 2018. 5,802 impressions, 112 likes
It's not often that an editorial story makes our top nine, but Inclusive Advisory made the list this month — and with a late-month post to boot! It must be because they are so much fun.