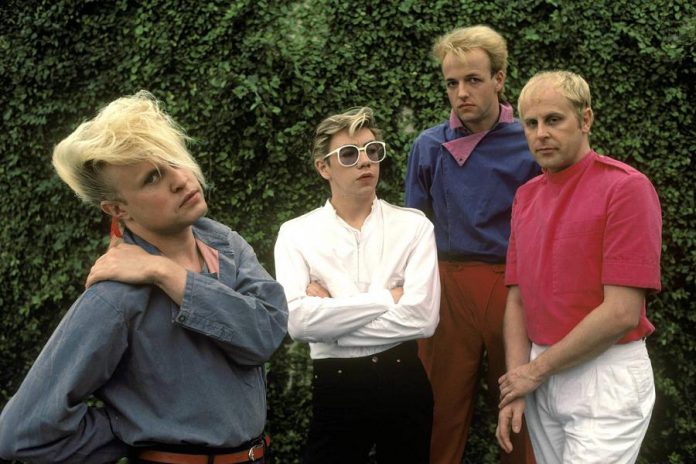 For those who have ever pondered the fate of 1980s new wave and synth-pop sensation A Flock of Seagulls: hair today, gone tomorrow doesn't cut it.
In fact, the opposite is true. While the band members' bizarrely teased hairstyles are long gone — three of the four founding members are now bald — the band is still very much with us, as will be evidenced on Wednesday, July 11th at Del Crary Park as Peterborough Musicfest presents A Flock of Seagulls featuring co-founder Mike Score. Admission to the 8 p.m. concert, sponsored by kawarthaNOW.com, is free.
Founded close to 40 years ago by Score in Liverpool, England — his brother Ali along with Frank Maudsley and Paul Reynolds formed was is still referred to as the band's classic lineup — A Flock of Seagulls capitalized on the video-fueled New Wave pop music explosion of the early 1980s.
Come 1982, with the single "I Ran (So Far Away)" a worldwide hit, the band's strange name — inspired by a lyric from the 1978 song "Toiler on the Sea" by The Stranglers and the book Jonathan Livingston Seagull — was on the lips of pop music fans around the globe.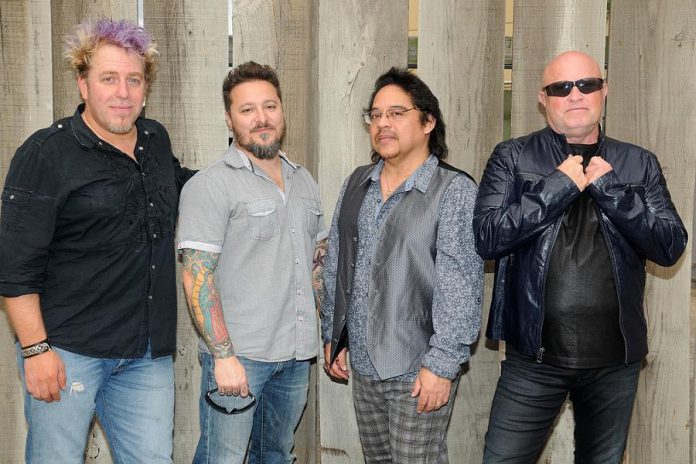 "We wanted to be very sonic with great highs and lows; be rocky yet robotic," recalls Score in a January 2018 interview with www.crypticrock.com.
"We wanted to be diverse like The Beatles but recognizable as our own band. We had loads of ideas — a lot that didn't work out but paved the way for other songs, and some songs just wrote themselves. We certainly didn't want to sound like other bands yet we took influences from them."
"I Ran (So Far Away)" from the band's self-titled debut album remains the song A Flock of Seagull is best known for, but Score et al's success was heightened by the subsequent singles "Space Age Love Song" and "Wishing (If I Had A Photograph Of You)" — both released in 1982 — and 1984's "The More You Live, The More You Love". Sandwiched in between was "D.N.A.", an instrumental track that won a Grammy Award for Best Rock Instrumental Performance.
VIDEO: "I Ran" – A Flock of Seagulls

VIDEO: "Space Age Love Song" – A Flock of Seagulls

"During the 1980s, band life was pretty hectic," Score says. "Touring was real fun but really exhausting — flying, driving, interviews, meeting people. Writing new songs, all in a big blur. In short, it was brilliant."
Brilliant but short-lived. After the band's second album Listen, subsequent studio releases The Story Of A Young Heart (1984), Dream Come True (1986), and The Light At The End Of The World (1996) failed to produce any hit singles. Despite that, A Flock of Seagulls — with personnel moving in and out of the band except for Mike Score — continued to tour, the success of the band's heyday years still resonating with fans.
2018 has seen a renaissance of sorts for A Flock Of Seagulls with the release of Ascension, the first studio record since 1984 featuring the original line-up of the band, with Mike Score reunited with the other three original members (Ali Score, Frank Maudsley, and Paul Reynolds) to re-record the band's more notable songs — this time with the backing of the Prague Philharmonic Orchestra.
VIDEO: "Wishing (If I Had a Photograph of You)" – A Flock of Seagulls

VIDEO: "The More You Live, The More You Love" – A Flock of Seagulls

"Being in a band that has been in the past very successful is like being given the key to the door of heaven," Score says. "In the beginning, it was a labor of love. We rehearsed non-stop just for our own amusement and we lived in a Seagulls cocoon, if you like, writing our own songs in our own way. We knew we were not like any other band we had seen. We were better. Well, different at least."
While the four original members of the band have re-united to record the new album, Score says there are no plans for the band to get back together for a tour (the touring line-up of the band is currently Mike Score with Kevin Rankin, Lucio Rubino, Joe and Rodriguez).
"Over the years I have been able to play shows and write my own songs. I write just for me and always managed to enjoy. Band life, it hasn't always been perfect, but it survives. I'm not really what I would call a musician, I'm more of a songwriter ideas kind of guy. I don't even think I'm an artist. As I tell people, I just enjoy playing about with synths and guitars. I don't practice and I don't think about it too much. I do it when I feel like doing it."
Score adds he is heartened by the following the band still enjoys.
"The last few years there has been a renewed interest in 1980s music, which is great for all of us from that era. I think it shows that it was a real musical era, not just hair and glitter. It was fun and people want fun back in their life."

VIDEO: "Space Age Love Song" – A Flock Of Seagulls with the Prague Philharmonic Orchestra)

Peterborough Musicfest is presenting 18 free-admission concerts featuring a total of 20 acts during its 32nd season — each staged on Wednesday and Saturday nights at Del Crary Park.
Overseen by general manager Tracey Randall and staff, a board of directors, and numerous volunteers, Peterborough Musicfest's stated mission is to "provide diverse, affordable live music to enrich cultural and economic prosperity in our community."
For more information on this concert or the entire 2018 season, visit www.ptbomusicfest.ca or phone the Peterborough Musicfest office at 705-755-1111.