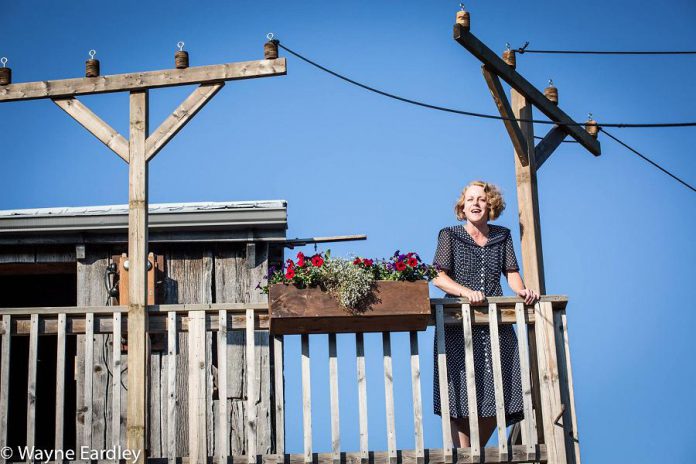 Last Thursday (July 5), I attended the opening night of Crow Hill: The Telephone Play at 4th Line Theatre in Millbrook, eager to review the revival of one of the theatre company's most popular productions. For those of you who don't already know, 4th Line Theatre stages its summer plays outdoors at the picturesque Winslow Farm in the rolling hills of Millbrook.
It was the final day of the brutal heat wave and a cold front was moving in that evening. As the audience settled into their seats and the play began, rumbles of thunder could be heard in the distance. We were about 20 minutes in, just getting introduced to the show's primary characters, when 4th Line's managing artistic director Kim Blackwell interrupted the show and advised the audience to return to their cars due to the threat of lightning. About 15 minutes later, as lightning flashed in the dark Millbrook sky, the show was cancelled.
It was the next day that I found out from 4th Line Theatre's marketing director Caitlin McGill that this was only the second time in 27 seasons that an opening night was cancelled due to weather. The first time was in 2004 — for the opening night of the first revival of Crow Hill. Apparently lightning does strikes twice.
And indeed it does with this latest production of Crow Hill. Written by Ian McLachlan and 4th Line's Creative Director Robert Winslow, the play was first staged in 1997, and revived again in 2004, making this its third incarnation.
Directed by Deb Williams, Crow Hill explores the nearly forgotten history of the independent phone companies created by country doctors throughout rural Ontario in the early 20th century.
Based heavily on stories and memories of Ona Gardner, a former switchboard operator who operated out of Garden Hill for over 30 years, Crow Hill also goes beyond the historical element of the tale to dives into an emotional story of love, loyalty, duty, and community.
The play is told through the words and memories of Alice Cameron (Sarah McNeilly). A strong willed and independent woman, a teenaged Alice goes to work as a switchboard operator for the lovable, if not slightly eccentric, Dr. Logie in 1937 when he creates his own telephone service to better communication with his patients and as a way to be contacted more quickly in medical emergencies.
With three telephone lines running from the fictional village of Crow Hill to nearby Millbrook, Peterborough, and Port Hope, Dr. Logie's telephone service becomes a hub for the community, with Alice being the "ringmaster" of the party line.
Through Alice's memories, a portrait of the community of Crow Hill is painted from 1937 to 1958 as family, friends, and neighbors go through good times and bad under the electric hum of Dr. Logie's telephone wires.
An emotional tribute to the early days of phone service, Crow Hill is a nostalgic journey through small-town Ontario.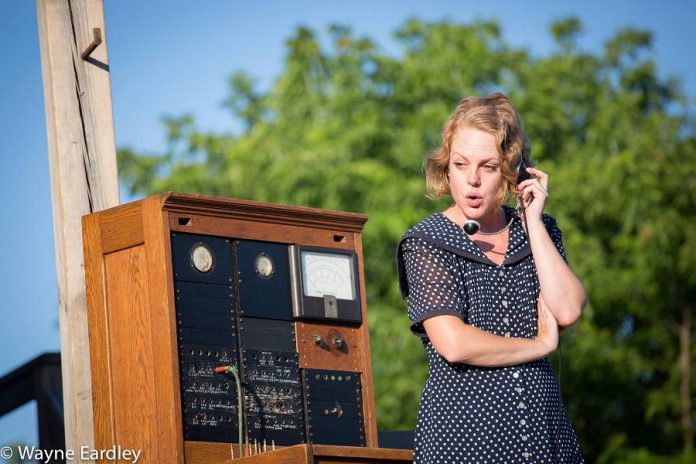 Now anyone who has ever seen Sarah McNeilly perform at The Theatre on King in downtown Peterborough knows what a gift she is to our local theatre community. However, she has found what could potentially be her greatest role to date as Alice Cameron.
Providing the voice for the show, audiences watch Alice transform from an 77-year-old woman into a 15-year-old girl and back again throughout the show. As the feisty and independent Alice, Sarah creates a multi-dimensional character who can go from the wide-eyed innocence of a naive girl to the wisdom of a woman who has seen and heard it all, with just a slight change in body language and voice work.
Through a combination of historical and gossipy storytelling, Alice becomes the connection point for the community and Sarah becomes the same for the audience. It is a remarkable and demanding role, and Sarah gives a performance filled with equal parts spunk and heart.
But while Alice may seem to be the central character in the show, Crow Hill is really about Dr. Logie, played by Robert Winslow. There is no denying that Robert is a master of his craft, and he gives 4th Line audiences another memorable character in Dr. Logie.
Motivated by kindness and a true love for his community, Dr. Logie is an idealist who is committed to the care and welfare of the people within his community. A bit of a romantic, and a slight eccentric, Dr. Logie brings Crow Hill into the future with the creation of the phone service.
However, as time goes on, we find that Dr. Logie is also a man who is set in his ways and resists advancement, especially when he feels it will be at the expense of his patients and friends. A man of strong moral standing, in many ways Dr. Logie is the heart of the show, with the emotional crux being the tender friendship between him and Alice. Together, Robert and Sarah have a wonderful and warm chemistry that makes this production glow.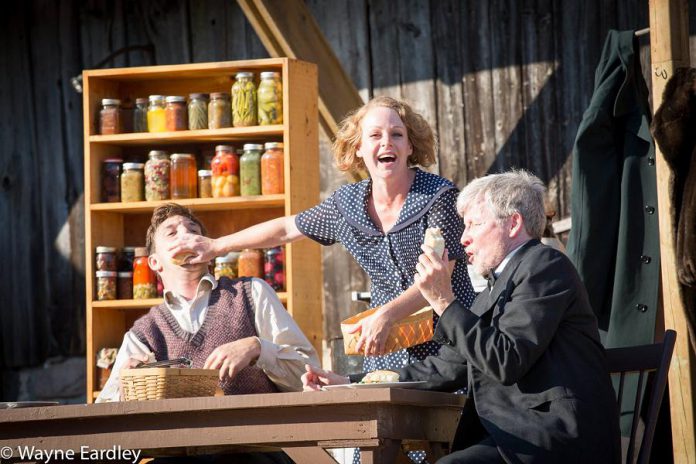 Of course it takes a complete company of actors to make an entire community in a 4th Line play, and there are many wonderful little character pieces in Crow Hill created by a cast ranging from small children to seasoned performers.
Large character players include Kait Dueck as line repair woman Grace Dyson, who not only becomes the object of Dr. Logie's affections but also an unconventional rival for Alice, and Courtenay Stevens with an animated performance as sales man Ed Milton, who becomes not only the comic foil but also a voice for progress.
Other smaller character standouts include Mark Hiscox as Crow Hill's fire marshal Lorne Ferguson and Lorna Green as the mysterious Granny Troll. The standout character performance goes to Mark Kreder in the role of Alice's twin brother Hugh, whose storyline focuses on his battle with post-traumatic stress disorder after coming home from World War II. Mark and Robert have some incredible scenes together in the second act of the play, revealing the horrors of the war and bringing dramatic substance to what is primarily a light-hearted production.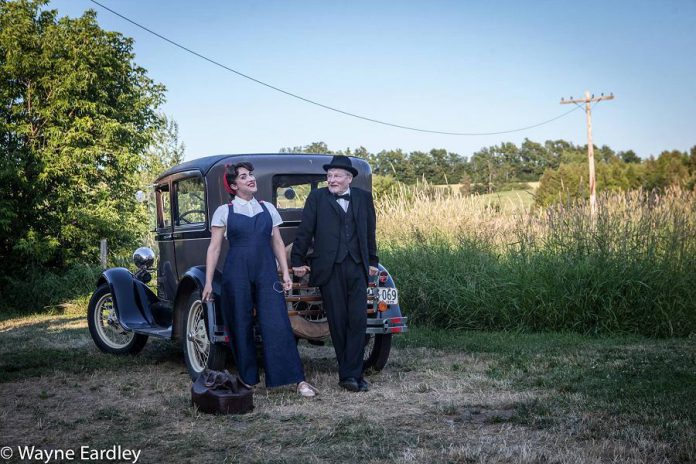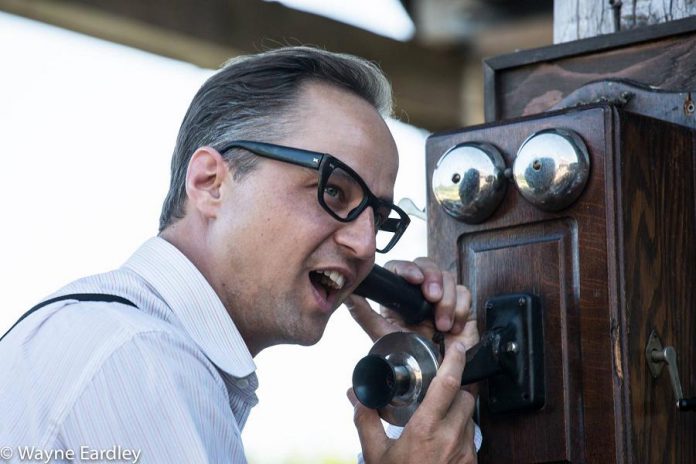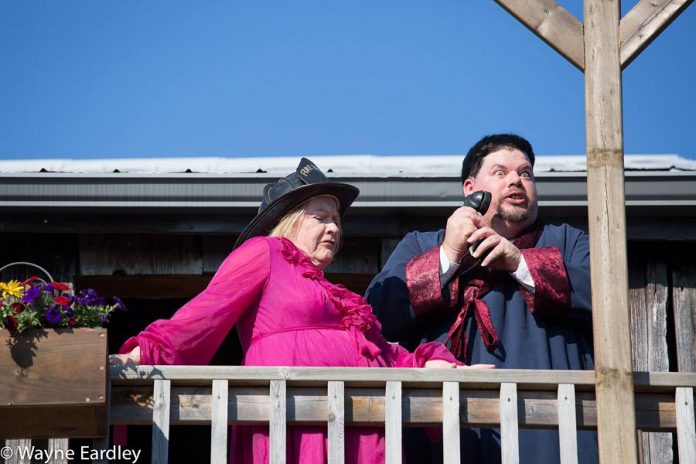 With all 4th Line Theatre shows, it's always the little unique touches that make the productions so memorable. From the unique sets and the creative use of the full performance space, to the fascinating authentic antiques used in the production (including Dr. Logic driving onto the set in a classic car), Deb Williams and her company creates a world filled with nostalgic warmth.
There is a reason that Crow Hill has proved to be so popular with audiences that 4th Line would bring it back to the stage for the third time. It's a show filled with emotional depth, endearing characters, and just a slight touch of heart-wrenching romance.
But despite its share of dramatic moments of tragedy, Crow Hill never engulfs itself fully into darkness. Instead, it creates a longing for a different time — a time before cell phones, texting, and voice mail.
It brings back the days when everybody in a community knew everyone's name and everyone's business. It brings the heart back into telecommunications and a human factor back to the telephone. Crow Hill is a true winner, and potentially the most beautiful show I've seen so far this year.
Crow Hill: The Telephone Play runs from Tuesdays to Saturdays until July 28th at the Winslow Farm in Millbrook, with an additional performance on Monday, July 23rd. Shows start at 6 p.m. Tickets are $38 for adults and $32 for youth and can be purchased by phone at 705-932-4445, online at www.4thlinetheatre.on.ca or at 4th Line Theatre box office in Millbrook at 4 Tupper Street and in Peterborough at the Peterborough Museum and Archives at 300 Hunter Street East.