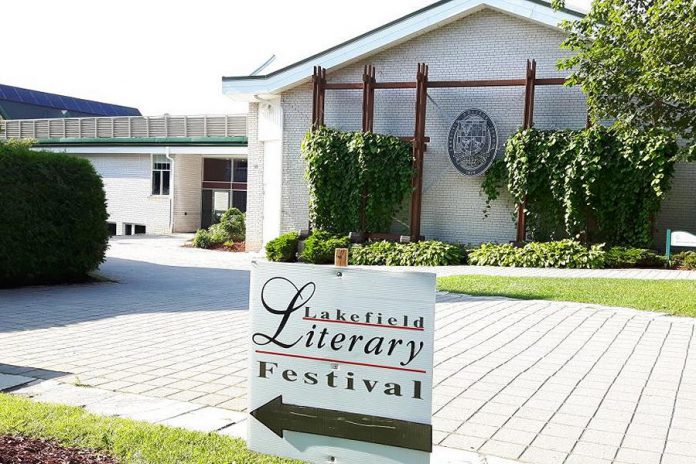 ---
Chamber Seeking Sponsor Of New Award Category: Service Sector Excellence
The Chamber has an exciting opportunity right now for a member to sponsor a brand new Awards of Excellence category: Service Sector Excellence.
This award honours a business that excels in the service sector, including but not limited to the trades, health and wellness, and professional services. This may be demonstrated by a willingness to go beyond the normal call of duty, maintaining an effective pre- and post-service relationship, possessing exemplary environmental practices, providing the client with value for money, expanding market share, and exhibiting a high level of expertise. (Tourism/hospitality providers, retailers, and not-for-profits should be nominated in their respective categories.)
Contact Sherry at generalmanager@kawarthachamber.ca or call 705-652-6963 to inquire about this amazing opportunity.
Welcome New Members!
Buckhorn Asphalt Solutions
705-927-0725, info@buckhornasphalt.ca, buckhornasphalt.ca

A respected name in the community because of their high quality products, along with a team of friendly, experienced professionals who are great at what they do, while providing affordable pricing. For years, property owners and managers have trusted Buckhorn Asphalt Solutions to provide them with quality and hassle-free service when it comes to their residential and commercial pavement needs.
Services include: new and existing asphalt driveways, garage floor ramps, sidewalk and curb ramps, ruts, potholes, driveway widening and much more!
Patio 27
2842 River Ave., Young's Point, 705-652-6000, patio27.ca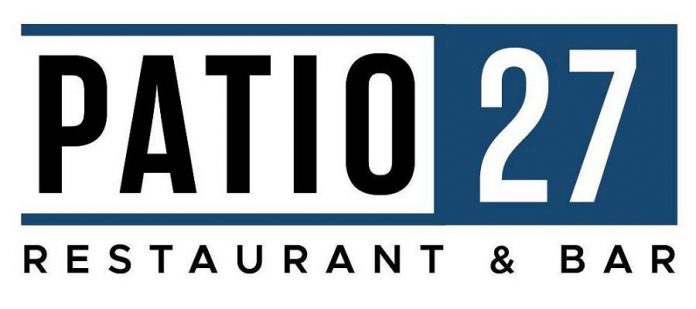 Patio 27 Restaurant & Bar is located on beautiful Clear Lake in picturesque Young's Point. Come and enjoy Patio 27's waterfront patio, cold drinks, great food, and friendly staff! Half price wings on Tuesday nights, fish special on Fridays, and live music on Friday and Saturday afternoons. Great food, good friends, great view — always chillin' and relaxin' on the patio!
Visit patio27.ca for menu and hours of operation.
Kawartha Chamber at the Jazz Festival
The Kawartha Chamber took part in the 20th annual Lakefield Jazz, Art & Craft Festival on the River this past Saturday, July 7th.
The event at Isabel Morris Park was a great day filled with live jazz music and many local food and artisan vendors to shop and enjoy. Summer student Tess had a great time at the Chamber's info station, providing local information and running the photo booth.
Check out the Chamber on Twitter @KawarthaChamber for more pictures from the festival.
Did You Know?

The Kawartha Chamber offers members a subsidized rate for kawarthaNOW.com advertising campaigns. With the tourist season in full swing, this is the perfect time to get your name out there, and this program is packed with extra social media promotion and extensive digital reach.
The skilled kawarthaNOW team will do the writing and legwork to create a great promotion for your business. Visit the Chamber's Member Discounts page to find out more about this and other great offers that the Chamber can provide you!
RTO8 Customer Service Training
Update your customer service skills with Regional Tourism Organization 8 (RTO8)'s "Service Excellence Dynamics".
This 30 to 60-minute online course is perfect for front-line tourism and hospitality professionals. Participants can access this online course anywhere, anytime.
Customized for the Kawarthas Northumberland regions, this interactive course is designed for a range of learners and combines a variety of best practice learning techniques to keep participants motivated and engaged.
Registration is free, but space is limited. Contact Abby Ross at partner@rto8.com for your access code.
Tourism Industry Awards Nominations Extended To July 13th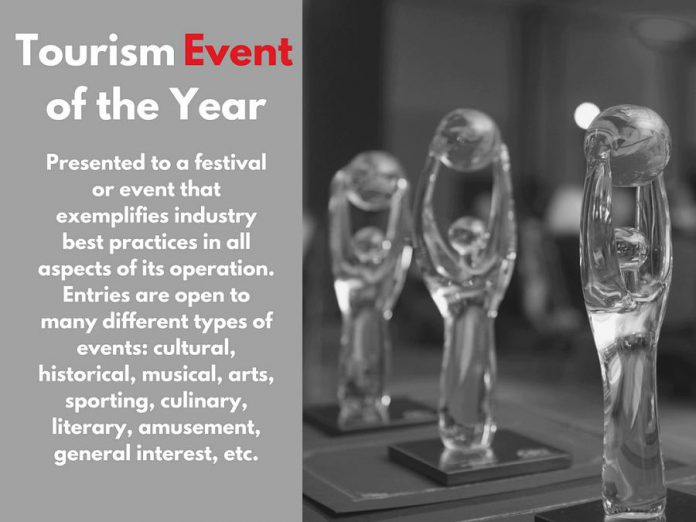 The Tourism Industry Association of Ontario has extended its award nominations until Friday, July 13th. The following awards are up for nomination:
The Tourism Industry Awards of Excellence (TIAO)
Culinary Tourism Awards of Excellence (Culinary Tourism Alliance)
Ontario's Choice Awards (Attractions Ontario)
Tourism Marketing & Travel Media Awards of Excellence (Destination Ontario)
For more information on each organization's awards, and to nominate a business, visit www.tiaontario.ca/cpages/2018ontariotourismawards.
County of Peterborough Vacant Unit Rebate Public Consultation Meeting – September 13th
The County of Peterborough is hosting a public meeting to gather input on the elimination of the Vacant Unit Rebate program.
The meeting will be held Thursday, September 13th at 6 p.m. in the County Court House Council Chambers (470 Water St., Peterborough).
Those applying to be heard should contact Trena DeBruijn at 705-743-0380 (ext. 2200) by 1 p.m. on Monday, September 10th.
In addition, a Stakeholder and Public Input Survey is available on the Township website and is open until Wednesday, August 15th.
Lakefield Literary Festival This Weekend – July 13th to 15th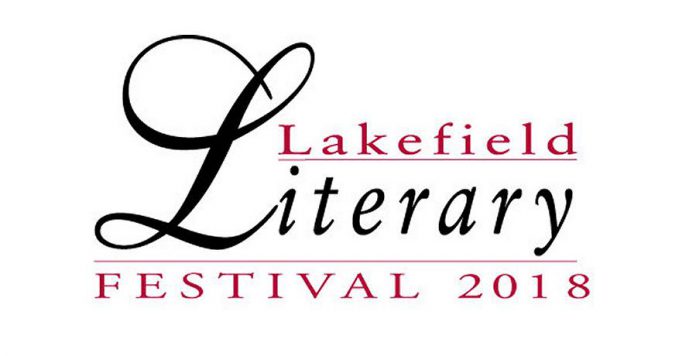 The Lakefield Literary Festival is happening this weekend, Friday, July 13th to Sunday, July 15th. This year's festival features four reading events, a supper and reception with festival authors, three writing craft talks, and several free events throughout the weekend.
The reading events, supper and reception, and craft talks are being held at Lakefield College School for a ticketed admission fee. The free events are being held at Cenotaph Park and the Christ Church Community Museum.
Some featured events over the weekend include:
The children's event with authors Patricia Storm and Avaiq Johnston at 10 a.m. on Saturday, July 14th in Cenotaph Park
Local authors' event with authors Michelle Berry, John Moss, and Kate Story at 12:30 p.m. on Saturday, July 14th in Cenotaph Park
The historical walk with Mark Finnan at 10 a.m. on Saturday, July 14th beginning at the Christ Church Community Museum.
2018 Festival Authors & Hosts Line Up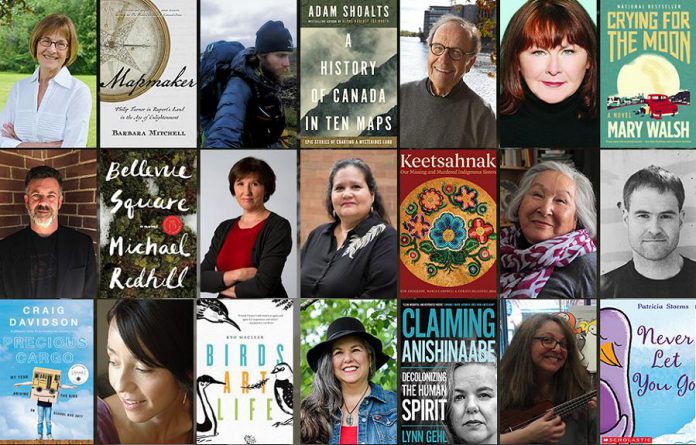 Beverly Jacobs
Adam Shoalts
Barbara Mitchell
Michael Redhill
Mary Walsh
Craig Davidson
Kyo Maclear
Lynn Gehl
Michelle Berry
John Moss
Patricia Storms
Avaiq Johnston
and more
Find full details of the weekend and to buy tickets to the various events!.
Kawartha Lakes Construction Celebrating 30 Years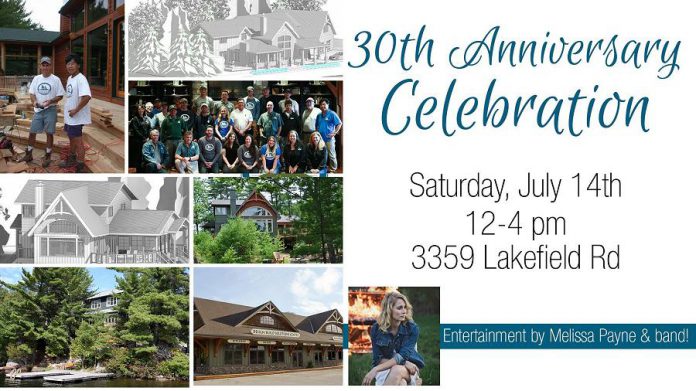 2018 marks Kawartha Lakes Construction's 30th year of creating beautiful spaces and exceptional experiences around Peterborough and the Kawarthas.
Drop in and join the 30th anniversary celebration on Saturday, July 14th from 10 a.m. to 4 p.m. at Kawartha Lakes Construction (3359 Lakefield Road, Lakefield) for a drink and a dance.
There will be live music by Melissa Payne and her band, door prizes, great food, drinks, and more.
"Blowin' In The Wind" Dinner And Folk Music In Support Of Community Care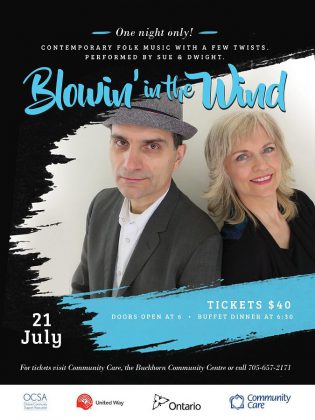 Community Care Peterborough – Buckhorn Office has organized a special night to celebrate folk music.
The event will be held Saturday, July 21st at the Buckhorn Community Centre and will feature a buffet dinner with a choice of chicken or beef, followed by a folk music performance by contemporary folk musicians Sue and Dwight.
Their songs of the prairies, life in the big city, and travels to East Africa impart human stories of peace, courage and social justice in their own Canadian style.
Sue and Dwight connect with their audiences wherever they are.
Tickets for this event are $40 and are available at Community Care Buckhorn, Buckhorn Community Centre and the Buckhorn Welcome Centre.
Don't miss Community Care's other great events this summer, like the Starry Night Dance on July 28th. Keep an eye on the Kawartha Chamber's Events Calendar for more.
Lakefield Legion Annual Honours And Awards Ceremony
Thursday, June 21st was this year's Honours and Awards Ceremony at the Lakefield Legion. This event was to recognize and honour volunteers and to award long-service pins and medals to ordinary members, associate members, and affiliate members from June 2017 to May 2018.
Bill Harvey was recognized and honoured as the Legionnaire of the Year for all of his great work as property chairman this year. He has worked hard to revitalize the Legion's land and building, and has gone overboard to keep everything in good working order and to make things better.
Congratulations to Bill and all the award recipients this year!
Trent Lakes Level Of Service Questionnaire
The Municipality of Trent Lakes is seeking feedback through their Level of Service Questionnaire.
Feedback from the questionnaire will be used to determine if existing municipal assets are performing to expectations and where improvements are needed.
Complete the survey online or download a copy to print.
4th Annual Discover Trent Lakes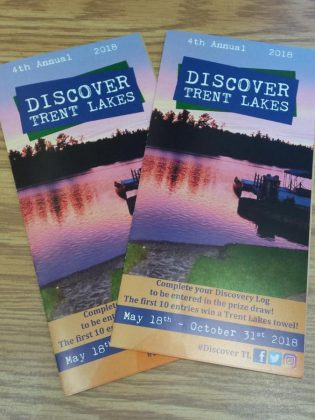 The 4th Annual Discover Trent Lakes passports are now available.
You can pick up your passport at the Chamber office, or at most Trent Lakes municipal facilities.
Visit at least six passport locations to enter for a chance to win awesome prizes.
You can do them all in a day or one at a time over the summer; the pace is yours to set.
Don't forget to use the hashtag #DiscoverTL on Instagram, Facebook and Twitter to share your journey with others.
The Municipality of Trent Lakes is looking for future locations and prizes.
If you have a suggestion or if you are a local business that would like to become a location, sponsor a location or provide a prize, please email info@trentlakes.ca or call the municipal office at 705-738-3800.
Chamber Members are Hiring
If your business or organization has a job opportunity you would like to advertise, you can add them to the Chamber's website through your Member Information Centre account (or submit the description to info@kawarthachamber.ca) and the Chamber will share them in its next Newsflash.
Upcoming Events
Discovery Days at Harold Town Conservation Area – Saturday, July 14
Church-Key Summer Concert: Tobourg – Saturday, July 14
Lang Pioneer Village's Transportation Day – Sunday, July 15
Chemong Lake Lions Cruise Night – Every Tuesday
Warsaw Cruise Night – Every Wednesday
Lakefield Farmers' Market – Every Thursday
Cruise Night at Craftworks – Every Thursday
Farmers' Market at Craftworks at the Barn – Every Saturday
Buckhorn Farmers' & Craft Market – Every Tuesday
For more information about the businesses and events listed above, please visit the Kawartha Chamber of Commerce & Tourism website at kawarthachamber.ca.
All photos supplied by Kawartha Chamber of Commerce except where noted.