This weekend, local theatre collective Art for Awareness presents the original work One Earth outdoors at Rotary Park in Peterborough. A multimedia performance fusing dance, music, art, and storytelling, One Earth explores the spiritual and emotional connection between humanity and nature through an artistic journey of the four elements: fire, air, earth, and water.
Produced by local visual artist and musician Blake Richardson and choreographer Rachel Bemrose, One Earth has been years in development, with Blake and Rachel talking about the concept as far back as 2013 when the pair worked together on Erasing the Stigma, a dance production dealing with mental health.
"After we did Erasing the Stigma, Rachel and I started talking about doing a production about the environment," Blake recalls.
"We wanted to explore how a relationship with nature benefits health, and alternatively how a disconnect can have its own repercussions. So when the seed started to be planted for One Earth, Rachel got a grant through Public Energy to do Dusk Dances in 2016.
"Rachel was able to workshop one of the ideas for One Earth, and she asked me to write the music for that. It was a great experience for us, and it gave us the opportunity to see what it was like to put on a production outdoors."
With Blake writing the music for the production, as well as featuring his unique artistic approach that fuses together art and nature, much of the body of One Earth is being developed this week through a dance intensive organized by Rachel.
Art for Awareness hired four dance instructors and choreographers — Kelsi Blashko, Sierra Richardson, Oliver Moriarty, and Eryn Masterson — to construct the piece with a group of 15 young local dancers in an intensive week of training and performance — leading up to the live debut of One Earth on Friday evening.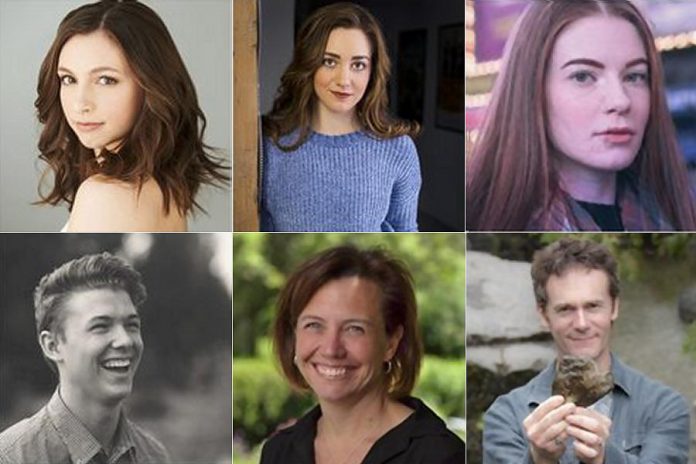 "As we were growing the idea Blake mentioned, he had been bringing his daughter Sierra to dance intensives," Rachel says. "She's gone to the Quinte Ballet School and Contours in Toronto, and I was thinking that it's too bad that there is not something like that more local.
"So Blake came up with the idea that we should put on a dance intensive ourselves. I loved where this was going, so we've created our own dance intensive for the week. We've hired the four instructors for the week, and the kids will be focusing on dance technique throughout the day.
"The students will be coming into the studio and taking ballet and contemporary technique, and classes in improve and other stage work. The four instructors will be teaching the students, and then they'll be also performing in the show as well."
As part of One Earth, Blake will also take part through his spoken word piece titled "The Origin of Art." Blake finds his inspiration in nature, where he works in a unique discipline that mixes together photography and drawing by discovering the natural imagery found within landscapes.
"I've been a professional visual artist for over thirty five years, and I've stumbled across a unique form of visual art which I first started in my last year at Sheridan College," he explains. "I work with imagery that emulates through trees and clouds and rocks. I was photographing nature through a course I was doing, and I began to notice different imagery in the trees and clouds, so I worked with mediums on top of the photos to define what I saw."
VIDEO: "Passage" by Blake Richarson (photographed at French River Provincial Park)
From that discovery, Blake began thinking about how the origins of art came from the Earth.
"When you go back to the very first art that man created, which was cave art, it could have very well been inspired by the same way that I create my art," he says.
"There had to be a realization that an image could represent something. That could have started with building fire in caves, and then the shadows were on the cave walls and art became a way to communicate those visions.
"Stories came to evolve from those visions, which become the birth of mythology. So that always gets me thinking about what this image holds for me, and I search for mythology that connects to what I'm seeing."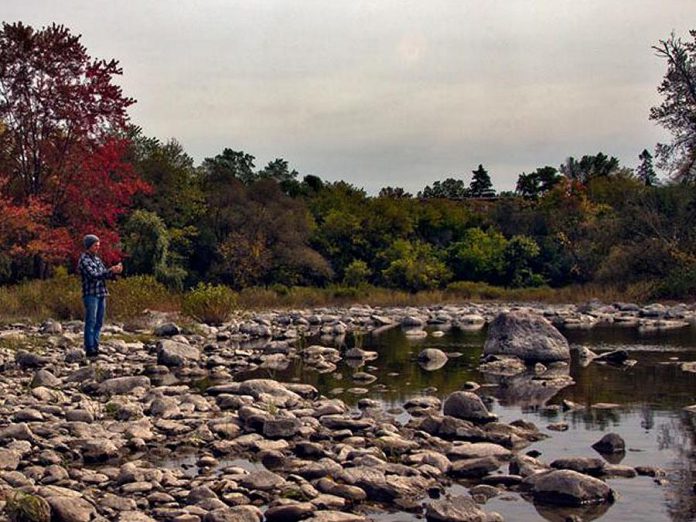 Blake also explains that he has a personal connection to the location chosen for the performance of One Earth, as much of his artistic inspiration comes from searching the rock beds of Rotary Park for imagery.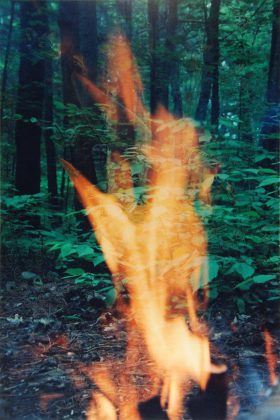 "I go to Rotary Park for inspiration for my art," Blake says.
"From where the dam closes, the area becomes a river of rock, and I find myself going there to find a lot of my stones. Dusk Dances was right there in that same space, and since it didn't come back we figured it just makes sense to bring One Earth to that space."
Rachel, along with Blake and the rest of the company presenting One Earth, hopes to create a memorable and positive experience that will connect the audience to the magic of nature, and potentially help them find a new relationship with the Earth.
"We want to present an immersive experience and an appreciation for our environment and our land," Rachel says. "What I love about what Blake has created is that it's not sensationalist and doesn't have negative undertone to it. It's very hopeful and he wants us to embrace nature and learn to love it."
Blake agrees, explaining that One Earth is a way to build bridges between cultures through the natural world that connects all of us together.
"We can find unity through that one source of inspiration," he says. "We are all connected. We'll bring people out to a natural space and evoke a memorable and lasting meaningful impression. We want to present something that stays people."
One Earth will be performed on Friday, July 13th and Saturday, July 14th at Rotary Park in Peterborough, near the London Street footbridge. Performances start at 7 p.m., with art displays and public workshops beginning at 6 p.m. A rain date has been set up for 2 p.m. on Sunday, July 15th.
There is a suggested donation of $5, but each performance is pay what you can.