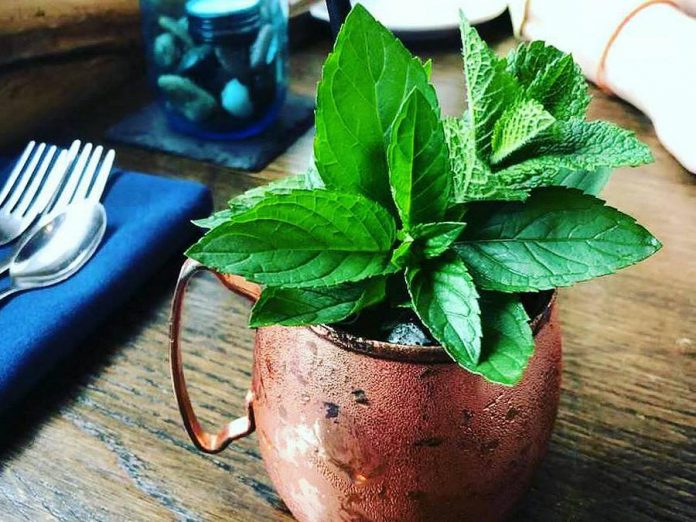 This month, food writer Eva Fisher discovers some of the best summer cocktails in the Kawarthas, learns about a new cat cafe in Port Hope, follows the Lakehouse Restaurant as they go on the run, and babies the brisket at the 7th Annual Kawartha BBQ Competition.
---
Four refreshing cocktails to try this summer
When the heat of the summer hits, what better way to fend it off than with a cocktail? Local establishments offer creative options with seasonal ingredients. Whether you enjoy it shaken or on the rocks, cincin to keeping it in the Kawarthas this summer.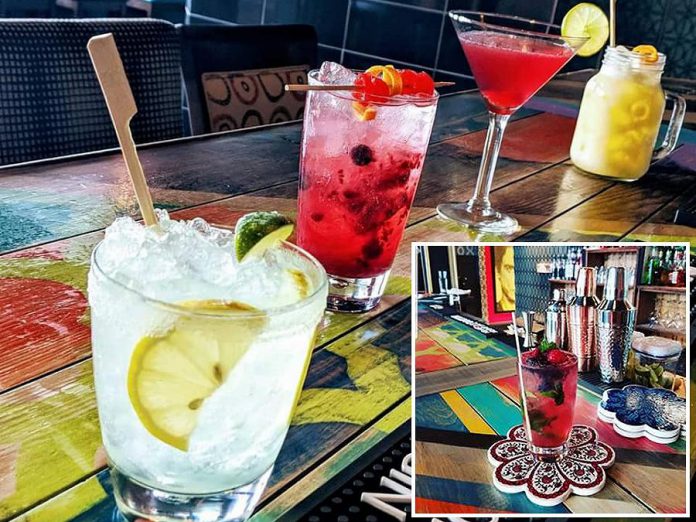 Lantern Restaurant & Grill (2281 McCracken's Landing Rd., Douro-Dummer, 705-652-3666)
When you're at Lantern Restaurant and Grill try the Stony Mule. It's made with Rhubarb and& Ginger Shrub, blended with vodka from Black's Distillery in Peterborough, and garnished with a slice of lime and fresh mint from their gardens.
The Garnet (231 Hunter St W, Peterborough, 705-874-0107)
Not necessarily known for their cocktails, The Garnet isn't just about beer. Try a Pimm's, served with lemon, cucumber, fresh fruit, lemon juice and soda.
The Sapphire Room (137 Hunter St W, Peterborough, 705-749-0409
The Sapphire Room has an expansive cocktail menu, but for summer refreshment try the whiskey sour with berries — a perfect way to use seasonal fruit. To make this cocktail, they mix whiskey with fresh lemon and lime juice, then add sugar and fresh berries. It's served strained over fresh ice into a sugar-rimmed glass.
The Twisted Wheel (379 Water Street, Peterborough)
The Twisted Wheel has a nice selection of cocktails, including their summer pick: The Twisted Berry Twist. They mix white rum, simple syrup, fresh mint, and blueberries with a dash of blueberry extract syrup, then top with club soda and fresh limes. They say the mint is sourced from Washboard Hank's garden. [Editor's note: Washboard Hank is Eva's dad. You can catch Washboard Hank's Back Room Bazaar every Thursday night at The Twisted Wheel, where he hosts a different musical guest each week].
Port Hope's new Cat Cafe to open in August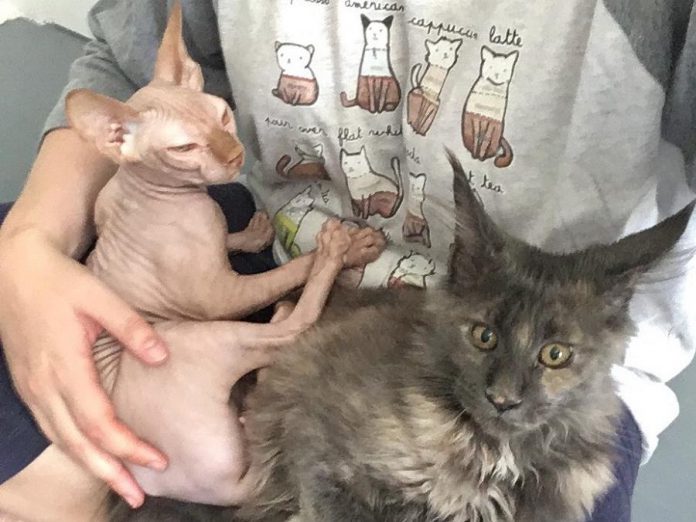 We're really 'feline' Port Hope's newest foodie attraction.
Toe Beans Cat Cafe (119 Peter St., Port Hope) will open in August, offering visitors a chance to cuddle with cats as they enjoy coffee, tea, sandwiches and more.
Alise Glover owns Toe Beans Cat Cafe with her husband Spencer Roffey. Alise comes from a management background, with experience in retail and food, and she self-identifies as a bit of a crazy cat lady.
The cafe will feature cats from the Northumberland Humane Society available for adoption, as well as their two cat ambassadors: a Sphinx named Captain Jean-Luc Picard and a Maine Coon Cat named Zelda.
Think that this idea sounds a little hairy for a restaurant? Alise says that the health standards for a cat cafe are stringent.
"we've worked very closely with the local health unit to ensure our food preparation area is completely separate from the cat area and both maintain high standards of cleanliness."
The menu for the new cafe will include sandwiches and pastries with lots of local and homemade options. There will be gluten-free sandwiches served on bread from the bakery at Ste. Anne's Spa in Grafton, as well as vegetarian and vegan fare. Coffee beans will be sourced from Pilot Coffee in Toronto.
Watch for updates at www.toebeanscafe.com..
Bancroft's Lakehouse Restaurant goes on the run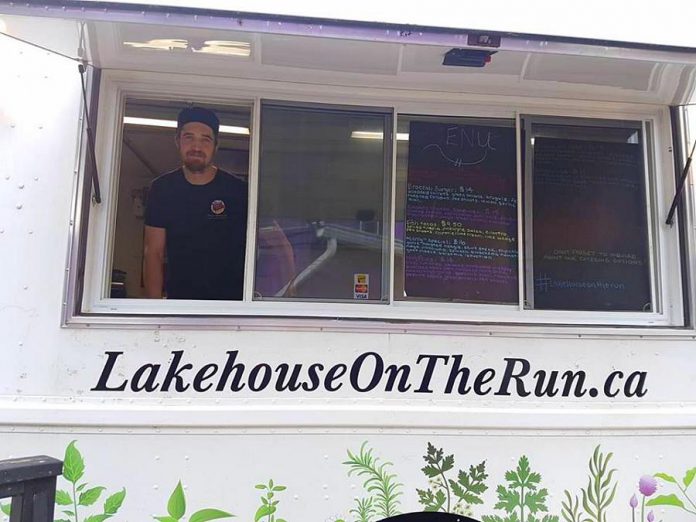 Some meals are worth chasing. Bancroft's Lakehouse Restaurant has closed the doors on its Paudash Lake location and has reopened as a traveling food truck.
When owners Carly O'Neill and Shaun Zoernack were informed that their lease wouldn't be renewed, Carly knew they had to think of a new idea.
"Four years in an industry you love… you're not quite done yet."
Shaun had always dreamed of starting a food truck, and the plan came together quickly. Now the two are serving elevated food truck cuisine throughout the Bancroft region.
Chef Shaun wanted to push the boundaries of what some might expect from a food truck, sticking to hand food, sandwiches, and heaping bowls but adding homemade local ingredients with gourmet flair. They even make their own bacon.
Their best selling dish? The Hog Fries. When people ask for poutine this is what Shaun and Carly recommend instead. Shaun says that one taste will change your life.
"I guarantee once you have it, you're not going to want a poutine again … this is all you'll think of."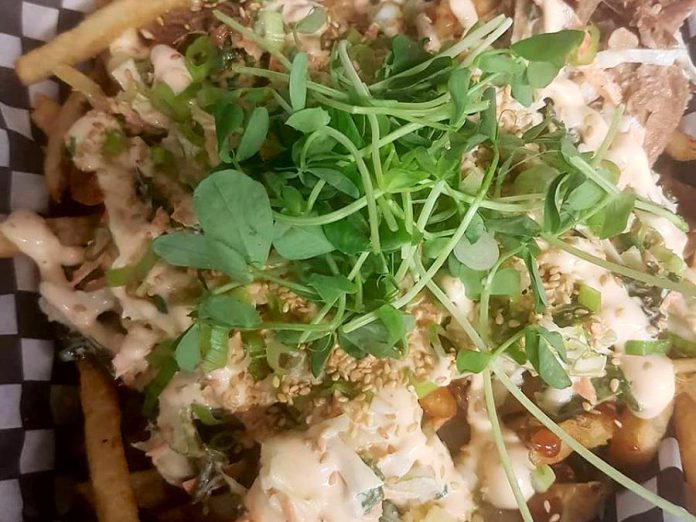 Hog Fries are hand-cut fries topped with smoked applewood cheddar, Korean-style shredded pork, a hoisin-style glaze, a cabbage and kale coleslaw, green onions, toasted sesame seeds, sriracha mayo, and pea shoots.
They travel every week: on Wednesdays they go to Millennium Park in Bancroft for Mineral Capital Concerts. Thursdays are usually spent at the Paudash Lake Marina. On Friday morning, they head to the Lakeview Marina on Chandos, and then to the Arlington in Maynooth for the evening.
Saturdays and Sundays rotate, but for a full schedule you can check out their Facebook page at www.facebook.com/lakehouseontherun/.
Lakehouse on the Run also does special event catering for groups up to 12 people. Shaun says that they are equipped to work in any kitchen.
"We'll come to your house, bring all of the equipment we need, and then we'll serve your guests, do wine pairing, and clean it up … our motto is that we leave your kitchen cleaner than we found it."
Carly also notes that you won't have to chase them down for long. They plan to open a restaurant in addition to their food truck next season.
Amateur barbecue competition heats up at Friendly Fires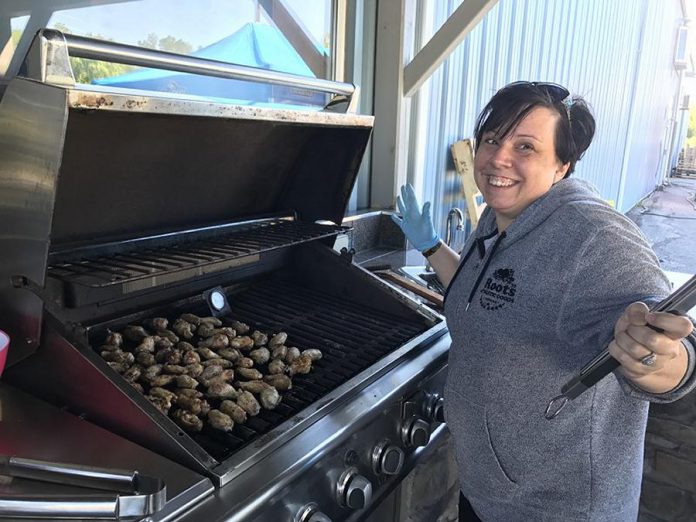 Fans of spicy chicken wings, slow cooked brisket, and fall-off-the-bone ribs will want to head to Friendly Fires (981 Highway 7 East, Peterborough, 705-741-1900) on Saturday, July 28th. That's when the 7th Annual Kawartha BBQ Competition takes place.
The event is free to attend or $50 to compete. In addition to the competition there will be a charity barbecue, with proceeds going to the Canadian Cancer Society.
This year's competition has 10 entries so far, but Friendly Fires General Manager Jason Lichter expects more to come as the event approaches. He says it's a great way for those new to barbecue competitions to get their feet wet.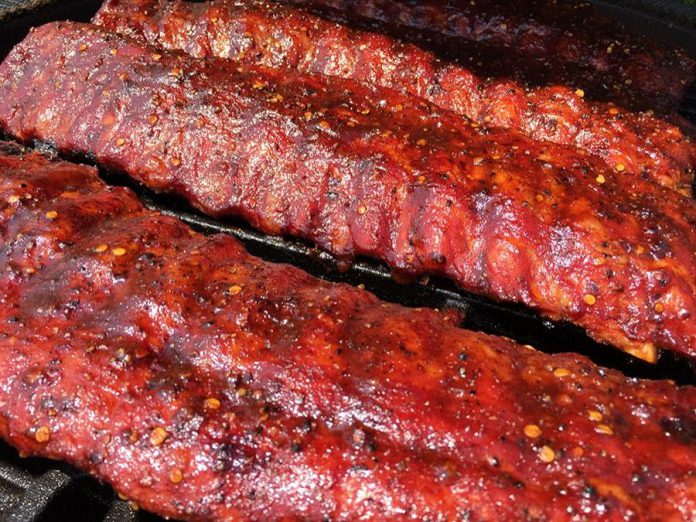 "It is meant to try to get local people who are interested in barbecue and barbecue competitions involved in that circuit, in that atmosphere — to get a feel for what it is to be in a barbecue competition."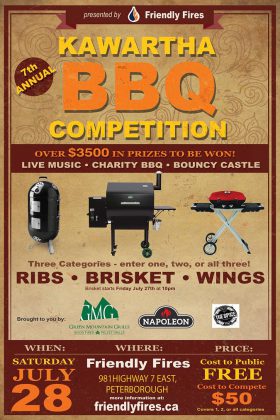 Prizes include a grill, a smoker, and two travel barbecues.
Meat is handed out throughout the day, and competitors are held to a time limit. The brisket competition is new this year, and requires competitors to begin barbecuing the night before to get the perfect piece of meat. At the end of the day, entries are judged based on flavour, doneness, and appearance.
Although competitors tend to stick with classic recipes, Jason had seen some innovative choices when it comes to equipment.
"We've had one guy show up for a few years now, and he's got a homemade wood smoker that he cooks on. It's made out of an old snowblower. He transformed it into this great big drum-barreled smoker. A lot of these guys have their own custom made stuff and it's always interesting to see."