Between the demands of work, home, and school, fall can be a busy and stressful time for you and your family. All the more reason to carve out a weekend or two and experience some of the fun activities available in Peterborough & the Kawarthas this autumn.
From touring artist studios to hiking in an eco-forest, from taking a spa day to throwing an axe, here are 11 must-try things to add to your fall bucket list in Peterborough & the Kawarthas.
This is part three of our ultimate Peterborough & the Kawarthas bucket list. If you're looking for even more things to do — or want to start planning for next summer — check out our lists for July and August.
---
1. See local artists at work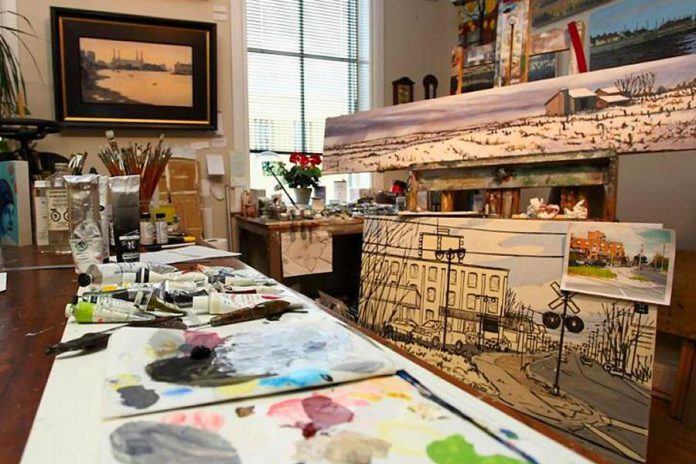 During the weekend of September 22nd, take a self-driven tour of the studios of Peterborough & the Kawarthas artists during the 34th annual Kawartha Autumn Studio Tour.
Presented by the Art Gallery of Peterborough and 33 local artists, studios and galleries in the City and County of Peterborough (including the Village of Lakefield) will be open from 10 a.m. to 5 p.m. on Saturday, September 22nd and Sunday, September 23rd.
It is a unique opportunity to meet artists and learn about their craft in varied and intimate settings throughout the region. At this juried studio tour, you can browse a rich diversity of arts and crafts on display, including fine art, ceramics, glass, jewellery, sculpture, wood, fibre, metal and printmaking.
The 33 artists participating in this year's Kawartha Autumn Studio Tour are Anne Cavanagh, Anne Renouf, Bill Reddick, Bronson Smith, Christianna Ferguson, Christy Haldane, David Hickey, Don Clark, Frank DiDomizio, Gail West, Georgina Brown, John Climenhage, Keith Thirgood, Leanne Baird, Lisa Martini-Dunk, Lois Shaw, Louise Laroche, Lucy Manley, Marilyn Goslin, Mary McLoughlin, Nan Sidler, Owen Dixon, Peer Christensen, Peter Rotter, Rob Niezen, Rowena Dykins, Sandy MacFarlane, Shannon Taylor, Stephanie Ford Forrester, Susan Fisher, Suzanne Woods, Thomas Aitken & Kate Hyde, and Valerie Davidson.
Admission to all studios and galleries is free, and some of the locations are accessible.
For more information about the Kawartha Autumn Studio Tour and to download a studio tour map, visit agp.on.ca/events/kawartha-autumn-studio-tour/.
2. Visit an eco-forest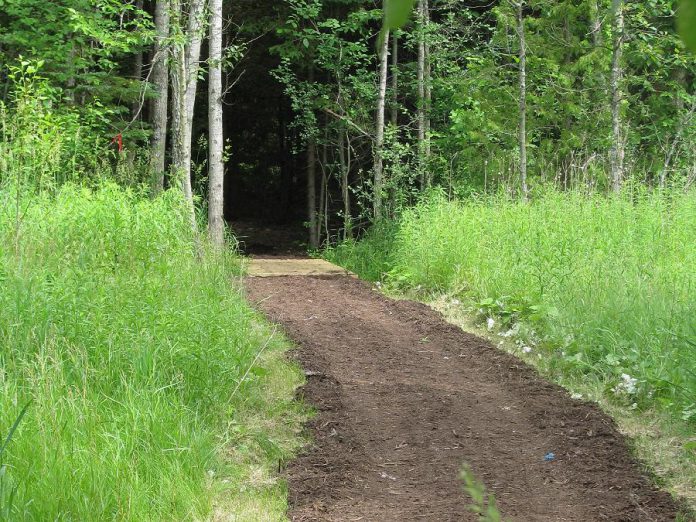 With trees turning colour and wildlife preparing for the long winter ahead, fall is the perfect time for a nature hike. And, just south of the community of Douro in Peterborough County, is a beautiful little trail system known as the Robert Johnston EcoForest Trails.
The trails are named after Robert Charles Johnston, a long-time resident of Douro-Dummer Township who donated the property in 1997 to the township to be used as recreational land. With the assistance of provincial and federal funding, the township designed and constructed the trail system to protect and enhance the land's natural resources and for passive recreational enjoyment by the general public. Named the Robert Johnston EcoForest Trails in 2010, the trail system officially opened in the spring of 2011.
There are four trails totalling around six kilometres, which pass through a cedar forest in the lower half along with a boardwalk through wetlands, and a red pine forest in the upper half. Some of the interesting features include a large pond that attracts Great Blue Herons, ducks, muskrats, and, white-tailed deer, a small hardwood forest (with sugar maple, basswood, white birch, white ash, ironwood, and trembling aspen), large beech trees, a drumlin, and a rock pile providing habitat for sunbathing reptiles and amphibians.
The Robert Johnston EcoForest Trails are located at 185 Douro 5th Line in Douro-Dummer Township. The trails are free to use, with ample parking available at the entrance to the trails. Overnight camping and motorized vehicles are not allowed.
For more information including a trail map, visit www.dourodummer.on.ca/services-departments/parks-recreation/.
3. Discover Ontario's hunting and fishing heritage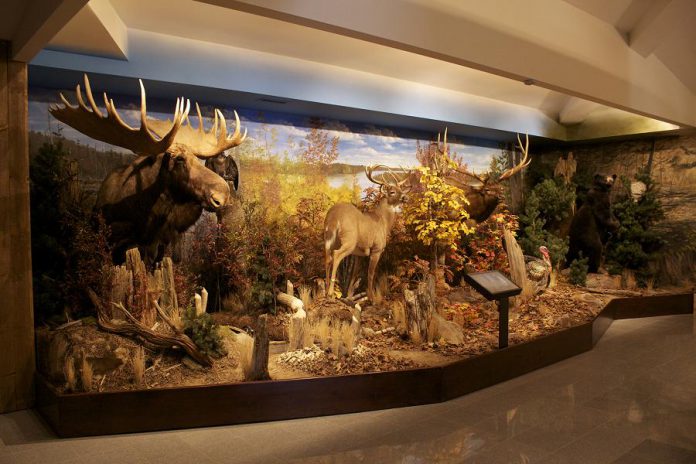 Whether or not you and your family fish or hunt, the Mario Cortellucci Hunting and Fishing Heritage Centre in Peterborough is an affordable destination where you can learn about Ontario's fish and wildlife conservation history as well as celebrate the province's hunting, fishing, and trapping traditions.
Operated by the Ontario Federation of Anglers and Hunters thanks to a donation by life-long member Mario Cortellucci, the centre offers self-guided tours of its stunning wildlife displays. Each display has an interactive touch screen to provide interesting facts about the fish and animals you see before you. There's also an impressive antique lure and decoy exhibit as well as giant Shimano Aquarium featuring warm-water fish.
If you want to try fishing, maybe for the first time, drop in and check out the Centre's Shimano Fish Pond. The live-release warm water pond is easily accessible by wheelchair and provides a memorable and exciting experience, with the centre supplied the rods and reels. The pond is open until Thanksgiving.
There's no need to call ahead; just visit the Centre during opening hours to discover what's inside. General admission is only $5 per person.
The Mario Cortellucci Hunting and Fishing Heritage Centre is located at 4601 Guthrie Drive in Peterborough, and is open Monday to Friday from 10 a.m. to 4 p.m. and Saturdays from 1 p.m. to 5 p.m.
The Centre also offers special events, programs and camps, educational experiences, and more. For more information, visit www.hfhc.ca.
4. Enjoy a farm-to-table meal on the shores of Rice Lake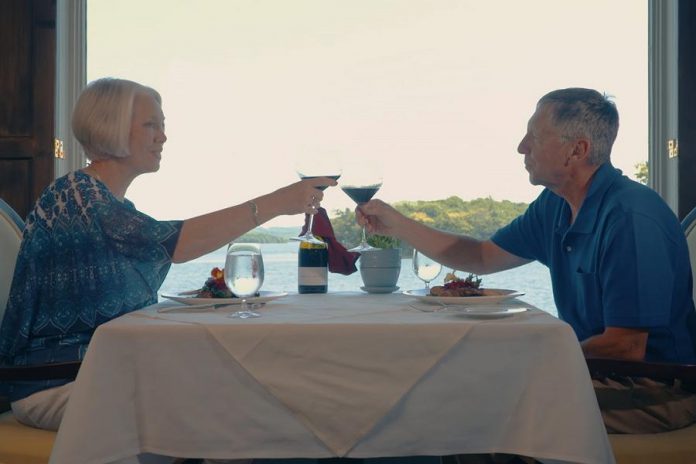 If you want to experience a casual yet elegant dining experience while overlooking breathtaking colours on Rice Lake, you'll want to make the trip to Elmhirst's Resort in Keene this fall.
Open seven days a week, the Hearthside Dining Room at Elmhirst's Resort offers breakfast, lunch, and dinner for both guests of the resort and visitors.
Renowned for using fresh farm-to-table ingredients, Elmhirst's not only source ingredients from local farms and producers, but also raise its own chickens, cows, ducks, and turkeys right on the resort. The resort's plentiful gardens also supply herbs, honey, and vegetables.
The popular Sunday brunch features freshly carved roast beef with fresh vegetables, a selection of seafood, cheese boards, and more. And people come from far and wide for desserts hand-crafted in-house by Elmhirst's very own pastry chef.
If you enjoy wine with your dinner, the Hearthside Dining Room offers some of Ontario and Canada's finest vintages on its wine list, which is carefully chosen to complement the menus. Elmhirst's also hosts regular Winemaker's Dinners with meals featuring fresh local ingredients paired expertly with VQA wines from a guest winemaker.
The Hearthside Dining Room at Elmhirst's Resort (1045 Settlers Line, Keene) is open for breakfast, lunch, and dinner from Monday to Saturday, and brunch and dinner on Sundays. For more information, visit elmhirst.ca/wine-dine/hearthside-dining-room/.
5. Take the day off and treat yourself at one of Canada's top spas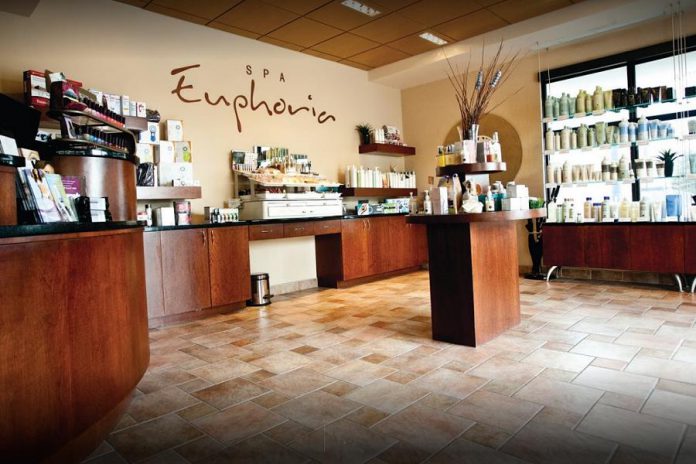 Even though summer vacations may already feel like ancient history, there's no reason you can't treat yourself to a mini-vacation during the fall months. And there's no better way to pamper yourself than with a day visit to a spa.
Euphoria Wellness Spa in Peterborough is one of Canada's top 50 spas, offering a complete medi spa and more than 100 world-class spa and salon services.
Unwind with a sauna or steam, put on a cozy robe and slippers, and relieve stress and aches and pains with one of several massage treatments, including the classic Swedish massage, therapeutic massage, hot stone massage, and more. There's even a couples massage so you can also treat that special someone.
Give yourself a fresh new look by taking advantage of some of the other spa services, including facials, body treatments, manicures and pedicures, body sugaring, cosmetic spray tans, and more.
And Euphoria Wellness Spa isn't just for women — there's a full range of spa services designed especially for men. Services include haircuts, manicures and pedicures, facials, back treatments, hair waxing, scrubs and wraps, and massages. The spa also offers skincare and grooming products specially formulated just for men. (Did we mention gift cards are available?)
Euphoria Wellness Spa is located at 290 Water Street in downtown Peterborough and is open Monday from 9 a.m. to 5 p.m., Tuesday to Friday from 9 a.m. to 8 p.m., Saturday from 9 a.m. to 5 p.m., and Sunday from 10 a.m. to 4 p.m.
For more information about Euphoria Wellness Spa, including services and prices, visit www.euphoriawellnessspa.com.
6. Visit the animals at Ontario's first SPCA-certified natural farm
If you remember the 2015 television commercial for the Subaru Forester, where a farmer drives his injured border collie to herd the sheep, you've already seen Harley Farms near Keene. The commercial proved so popular that a sequel was filmed at the farm the following year.
The 400 hectares of farmland nestled in rolling hills made Harley Farms an ideal location for the commercials, but that's not what makes Harley Farms special. It's a natural farm, founded with the belief that animals should have a good life.
This is why Harley Farms became the first SPCA Animal Welfare Certified farm in Ontario in 2014.
Harley Farms offers a "behind the scenes" guided tour where you can visit the pigs, sheep, cattle, and chickens. The guide will give you an overview of the farms, the importance of animal welfare, and show you how the livestock at Harley Farms thrives in a natural environment.
Tours are available upon request and cost $10 for adults and $6.50 for children ages 5 to 12 (free for children under 5).
Harley Farms is located at 1630 Heritage Line in Keene. For more information and to book a tour, visit www.harleyfarms.ca/tourismeducation/.
7. Experience a traditional country fall fair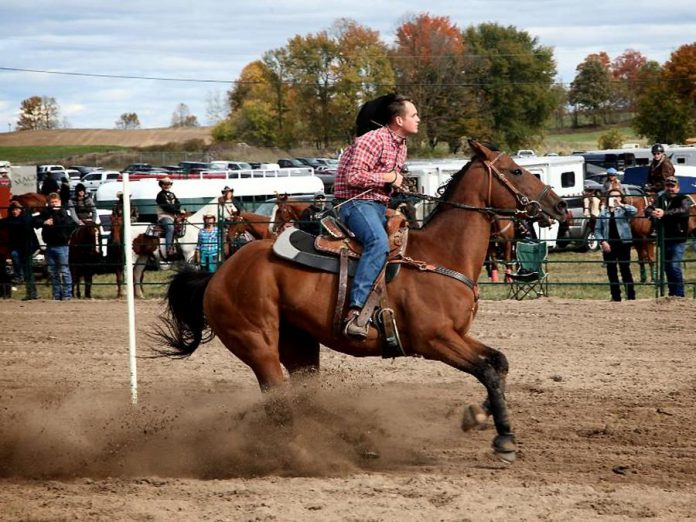 The fall fair, a mix of agricultural show and entertainment, is a tradition of rural life in Ontario. Many of us have a cherished childhood memory of enjoying cotton candy on a cool autumn afternoon while clutching a ticket for a ride on the midway.
The Norwood Fair is a popular time-honoured tradition for many people in Peterborough & the Kawarthas, attracting around 40,000 visitors every year. Held annually over the Thanksgiving long weekend (October 6th to 8th), 2018 is a special year for the Norwood Fair as it's celebrating its 150th anniversary.
First established in 1868, the Norwood Fair was a community gathering where village folk came together to celebrate the harvest, display the fruits of their labours, engage in some friendly competition, and have fun. The fair has grown and evolved over the years, but remains a traditional country fair filled with lots of fun and excitement for the entire family.
Along with the traditional parade, animal exhibits and pulls, and the midway, the 150th Norwood Fair also features live entertainment, a talent show for kids, lawn mower racing, sheepdog demonstrations, Hot Diggity Dogs flyball, a cowboy competition, an antique car show, an antique tractor show and pull, and much more.
The Norwood Fair takes place from Saturday, October 6th to Monday, October 8th at the Norwood Fairgrounds at 56 Alma Street in Norwood. Gates open at 9 a.m. daily, with the midway opening at 10:30 a.m. daily. Adult admission is $10 daily (cash only), with adult weekend passes available for $20 and student weekend passes for $15. Children 12 and under are admitted for free. Tickets for midway rides may be purchased at the ticket booths on the carnival grounds.
For more details, including a full schedule of events, visit www.norwoodfair.com.
8. Take a nature hike in the heart of Peterborough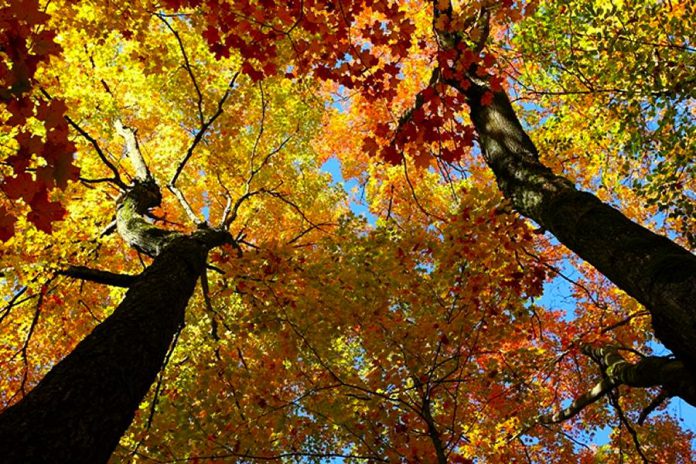 Located off of Parkhill Road in the middle of Peterborough, Jackson Park is a favourite destination for city residents, in no small part because of the Jackson Creek Kiwanis Trail.
An abandoned CN rail line converted for walking and cycling, the 4.5-kilometre trail runs from Jackson Park in the east to just west of Ackison Road in Selwyn Township.
Part of the Trans-Canada Trail, the trail will take you through upland forested areas, large open agricultural areas, lowlands, wooded valley slopes, and a large wetland before reaching the end at Ackison Road. Each one of these areas contains its own unique habitat for native plants and wildlife.
For its entire length, the trail runs alongside Jackson Creek — the reason for the abundant plant and animal life you can see along the trail. The trail also includes four railroad bridges that cross Jackson Creek at various locations, providing
stunning views.
Free parking is available at Jackson Park (610 Parkhill Rd. W., Peterborough). For more information, visit otonabeeconservation.com/outdoor-recreation/conservation-areas/jackson-creek-kiwanis-trail/.
9. Channel your inner lumberjack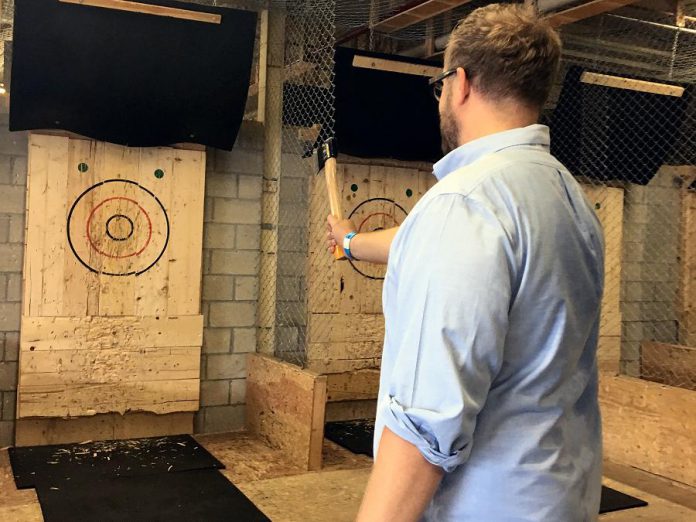 With the nights growing longer during the fall we'll be spending more time inside, so it's a great time to try the latest urban craze: axe throwing.
Originally an event in lumberjack competitions, axe throwing is a social sport where you throw a hatchet at a target, attempting to hit as near to the bullseye as possible. It's like playing darts, but with an axe!
The Peterborough Axe Club is the first axe-throwing club in Peterborough & the Kawarthas, and hosts leagues, group bookings, and walk-ins. Although axe throwing may sound dangerous to the uninitiated, it's not. The Peterborough Axe Club is a welcoming, safe, and engaging place where you can compete for leaderboard ranking while having a lot of fun with your friends or colleagues.
Group bookings for six to 70 people are available for birthday parties, bachelor or bachelorette parties, corporate events, fundraisers, or any other get-together where you want to do something a little different. Walk-ins are also available on weekday evenings (excluding Mondays) and on Saturday afternoons and evenings. Group bookings are $30 per person for two and a half hours of axe-throwing fun, and walk-ins are $20 per person for an hour and a half session.
In all cases, an experienced instructor will coach you on how to throw an axe safely like an expert, so you and your friends can compete with one another for bragging rights. If you end up really enjoying the sport, the Peterborough Axe Club also hosts adults and youth leagues. The cost for an eight-week season is $115 for adults and $100 for youth.
For more information and to book a session at the Peterborough Axe Club, visit www.ptboaxe.com.
10. Grab a bite or a drink in downtown Peterborough's vibrant restaurant district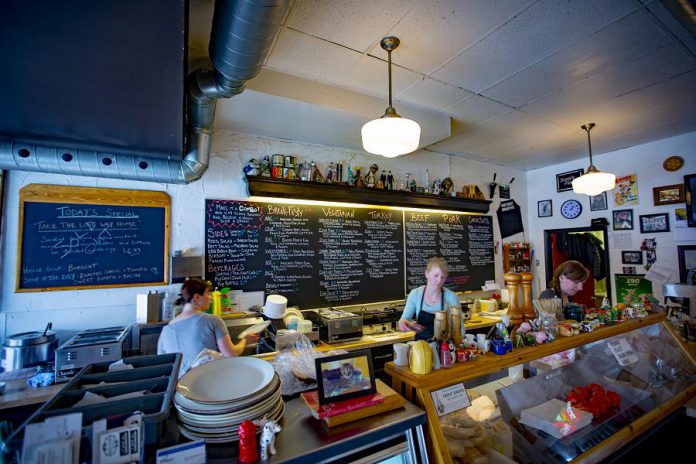 While there are many excellent choices across Peterborough & the Kawarthas for dining out or grabbing a casual lunch, if you're in Peterborough you'll definitely want to check out the downtown Hunter St. Cafe District.
This section of Hunter Street West, between Aylmer Street and Water Street, has the largest concentration of restaurants and cafes in the city.
Whether you're looking for casual or fine dining, grabbing a quick sandwich or a slice of pizza, lingering over a dessert with a coffee, enjoying a vegan meal or a steak, going spicy with pad thai or jerk chicken or authentic fajitas, or just getting together with friends for a beer and chicken wings, there's something for you in Hunter St. Cafe District.
Restaurants in the Hunter St. Cafe District include Kettle Drums, Island Cream Caribbean Cuisine, Gerti's, Blackhoney Dessert & Coffeehouse, Karma's Cafe, The Only Cafe, Hunter County Cuisine, Yo Yo's Yogurt Cafe, La Hacienda Mexican Restaurant, Sam's Place Deli, The Night Kitchen, Caffeina, Dreams of Beans Cafe, Hobart's Steakhouse, The Food Forest, and St. Veronus Cafe and Tap Room.
If you're more interested in a beverage or two, while watching the game or listening to a DJ or a live band or just socializing with friends, you can drop in to One Eighty Hunter St., the Historic Red Dog Tavern, Spanky's Downtown Pub & Patio, or The Sapphire Room — all located in the Hunter St. Cafe District.
11. Paddle the Trent-Severn Waterway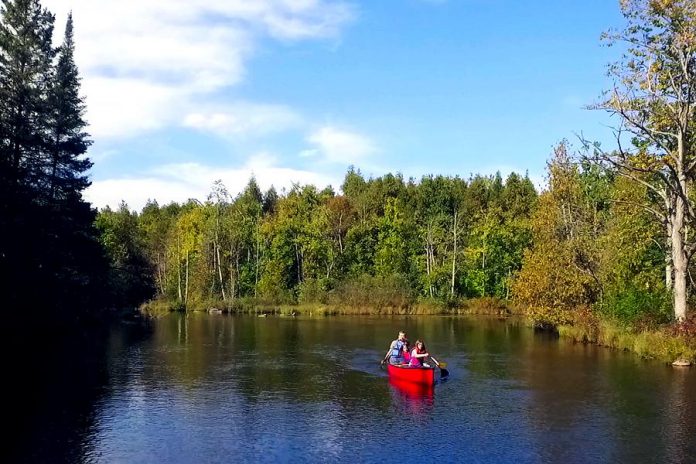 While many people consider summer the best time for paddling, fall is actually a great time to head out on the water with your canoe or kayak.
Not only are the bugs gone and the temperatures cooler, but you can be surrounded on all sides by the majesty of fall colours.
And the Trent–Severn Waterway provides ample opportunities for a fall paddling adventure, whether you want to paddle through the locks (which are open for navigation until Thanksgiving) or put in for a shorter trip.
From an easy paddle in Little Lake in Peterborough to more challenging trips through Kawartha Highlands Provincial Park, there are plenty of routes to choose from.
For 10 signature paddling routes along the Trent-Severn Waterway, visit thekawarthas.ca/10-signature-paddling-routes/.
All photos are courtesy of Peterborough & the Kawarthas Tourism except where noted.