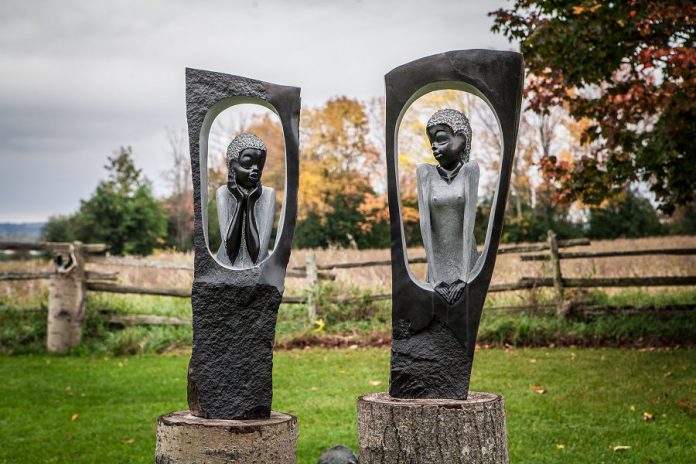 Whether you're looking for an exciting new adventure, planning a staycation for your family, or simply want to get out and enjoy nature, there's something for you all summer long in Peterborough & the Kawarthas.
Here are 11 must-try things to add to your summer bucket list in Peterborough & the Kawarthas for August.
This is part two of our ultimate Peterborough & the Kawarthas summer bucket list. If you're looking for even more things to do, make sure to check out our list for July.
---
1. Paddle the backcountry at the largest park south of Algonquin
Did you know that Kawartha Highlands Provincial Park, located north of Woodview in the Township of North Kawartha, is the largest park south of Algonquin?
With 375 square kilometre areas of preserved wilderness and more than 100 campsites spread over six recommended loops, the park provides the perfect opportunity for a backcountry experience for novice paddlers and seasoned trippers alike.
The campsites can only be reached by canoe or kayak, and most require portaging to access them. But once you get there, you'll be set — most of the campsites have three tent pads, a designated fire ring, a picnic table, and a privy toilet.
Prepare to experience beautiful nights under the stars, following a rewarding day of paddling. And you won't have to worry about hearing anything other than the call of a loon: to maintain the wilderness atmosphere of Kawartha Highlands, the use of amplified stereo devices is prohibited throughout the park.
If you're a first-time tripper, or want to rent gear, local adventure companies can offer you a variety of outfitting services, including trip planning advice, ultra-light canoes and kayaks, high-quality camping gear, pre-packed meals, pre- and post-trip accommodation, professional guides, and more. For your outfitting needs, check out Anstruther Marina in Apsley, Long Lake Lodge in Apsley, Adventure Outfitters in Lakefield, and Wild Rock Outfitters in Peterborough.
For more information about Kawartha Highlands Provincial Park, visit www.ontarioparks.com/park/kawarthahighlands. For tips on paddling in Kawartha Highlands, read 5 Canoe Trips in Kawartha Highlands – for the beginner by Kevin "The Happy Camper" Callan and Paddling Routes in the Kawartha Highlands Provincial Park by Bretton Clark and Briagh Hoskins-Hasbury of The Land Canadian Adventures.
2. Shop at the largest country store in Peterborough & the Kawarthas
Lockside Trading Company in Young's Point is the largest country store in Peterborough & the Kawarthas, offering 7,000 square feet of cottage and country items including high-quality indoor and outdoor furniture, home decor, clothing, lighting, giftware, and more.
Located in what was originally the lockmaster's house for Lock 27 on the Trent Severn Waterway, Lockside was founded in 1987 as a tiny shop by Susan Mattucci and the late Brian Holmes. Over the past 20 years, it has grown into a full-service, four-season shopping destination that attracts more than 100,000 visitors every year.
Aside from the shopping, Lockside also offers an interior design service for your home, cottage, or business as well as Steamer's Café, offering ice cream, milkshakes, specialty coffees and teas, coolies, and more.
A 20-minute drive north of Peterborough, Lockside Trading Company is located at 2805 River Avenue in Young's Point, just off Highway 28. It's open 362 days a year from 9 a.m. to 6 p.m. For more information, call 1-888-714-0484 or 705-652-3940 or visit www.lockside.com.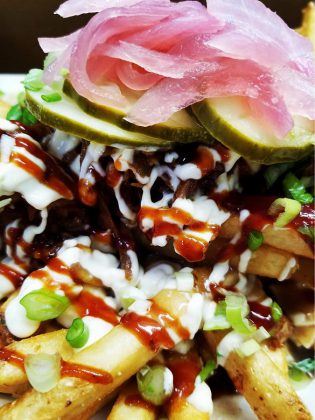 While you're visiting Lockside, make sure to stop by the Angle Iron Kitchen food truck, located right beside the Young's Point General Store (at 2095 Nathaway Drive, just around the corner from Lockside).
Owned and operated by Chef Brian Henry of The Spice Co., this isn't your average chip truck. Most famous for their tacos (available with shrimp, butter chicken, curry, and butter chick pea), Angle Iron Kitchen's menu also includes poutine (regular, pulled pork, and southwest chili) as well as a steak sandwich, fried chicken, and some unusual combos including chicken and waffles and pulled pork cheesecake.
Oh, and you can also get fries.
Angle Iron Kitchen is open daily from 11 a.m. to around 6 p.m. Follow them on Facebook.
3. Challenge yourself to escape from the Old West in Peterborough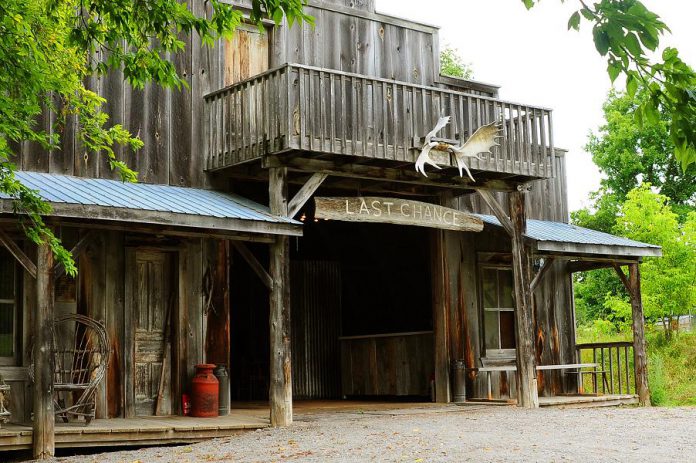 The year is 1866. There's a gold rush in Peterborough & the Kawarthas, and with it has come the Old West: taverns, backhouse poker games, vaudeville acts, and the occasional really good mystery.
This is the world of Escape Maze, a series of interactive games run on a Peterborough family farm by Jake Walling along with her brothers Mike and Fred Preddy and other family members.
In 2014, Walling and her brothers discovered the fun of escape rooms: interactive real-life games where you and your friends are locked inside a room and have to use a combination of teamwork and brainwork to figure out how to escape — all while the clock is ticking down and time is running out.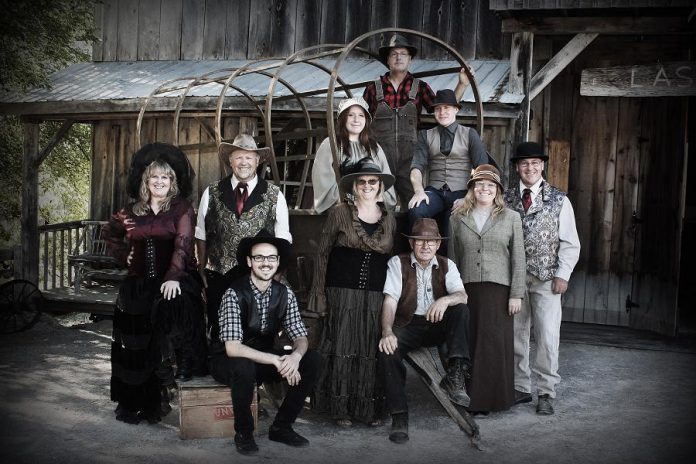 They wanted to set up their own escape rooms in the barn on the family farm, so they picked an Old West theme to match the building and the surroundings. Today, Escape Maze offers four indoor escape rooms, each with a different theme, set of challenges and unique experiences. There's "The Curious Case of Cariboo Cameron", "The Backhouse Poker Room", "The Freak Show", and "The Battle for Granny's Gold".
There's also "The Shaft", a haunted escape experience for Halloween, as well as four outdoor adventure trails with early settler and First Nations themes: The Gold Rush Trail, The Pioneer Trail, The Great Bear Trail, and The Young Warrior Trail.
Escape Maze is located on Cedarbank Farm at 156 Cedar Bank Road in Peterborough and is open daily. For more information, including prices, and to book your adventure, visit www.escapemaze.com.
New this year, Escape Maze is also now offering three escape rooms at Lansdowne Place Mall in Peterborough. For more information and to book a reservation, call 705-761-6293.
4. Enjoy the best in Canadian art at the largest gallery in Peterborough & the Kawarthas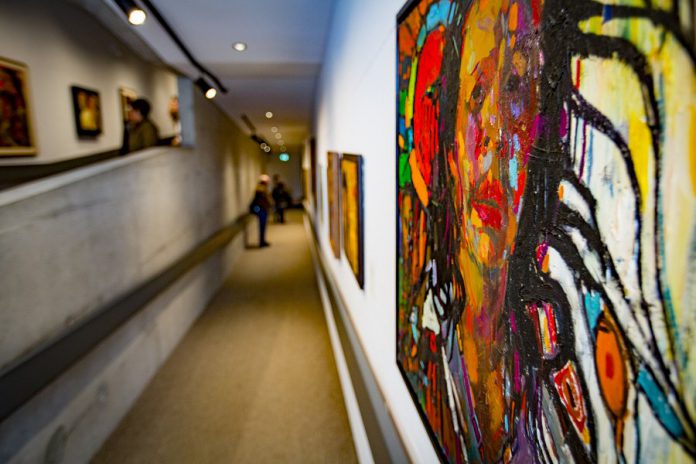 Located on the shore of beautiful Little Lake in the heart of Peterborough, the Art Gallery of Peterborough is the largest gallery in the region with more than 1,400 contemporary and historical paintings, drawings, prints, sculptures, photographs, and mixed media works in its permanent collection.
The collection features works by the late Peterborough artist David Bierk and the late Ronald Bloore, as well as William Brymner, Horatio Walker, A.J. Casson, Arthur Lismer, Lawren Harris, and A.Y. Jackson, and many more. The gallery has recently been collecting works by First Nations artists, including regional artists Mary Anne Barkhouse and Michael Belmore as well as Daphne Odjig, Carl Beam, Jane Ash Poitras, Michael Robinson, and Rebecca Belmore.
Current exhibitions running at the gallery are "Signs of Life" (featuring new works by sculptor Rod Mireau), "Peeling" (featuring works from the permanent collection by painter and sculptor Ivan Eyre), and "Selections: Kawartha Autumn Studio Tour" (featuring the work of more than 30 artists from the City and County of Peterborough who are part of the 34th annual Kawartha Autumn Studio Tour, held September 23rd and 24th). Both exhibitions run through August and September.
While you're there, drop in to the Gallery Shop, which offers a diverse selection of truly one-of-a-kind works in ceramics, glass, jewellery. and more. From fine arts and crafts by regional makers to jewellery to books by local authors to ceramics to fun stuff for kids, you're sure to find a great souvenir of your visit or a perfect gift for family or friends.
Located at 250 Crescent Street, the Art Gallery of Peterborough is open from 9 a.m. to 5 p.m. Monday to Friday and 11 a.m. to 5 p.m. on the weekends. Admission is free, and the gallery is an accessible facility. For more information, visit agp.on.ca
5. See a camel, a meerkat, a crocodile … oh my … along the Otonabee River in Peterborough
Praised as one of the most ethical zoos in Canada, the Riverview Park & Zoo consists of over 55 acres of scenic parkland on the shores of the Otonabee River, just north of downtown Peterborough.
Attracting more than 250,000 visitors each year, the zoo features more than 27 exhibits and 45 species of animals, including a yak, camel, two-toed sloth, wallaby, emu, river otter, squirrel monkey, crocodile, Sichuan takin, meerkat, and many more.
The zoo offers its popular Meet the Keeper program on weekdays at 1 p.m. until August 31st, where you can learn about the animals and meet the animal care staff (a different animal is featured each day of the week). At 1:30 p.m. or 4 p.m., you can see Melissa and Splish the river otters up close as animal care staff feed them their afternoon treats.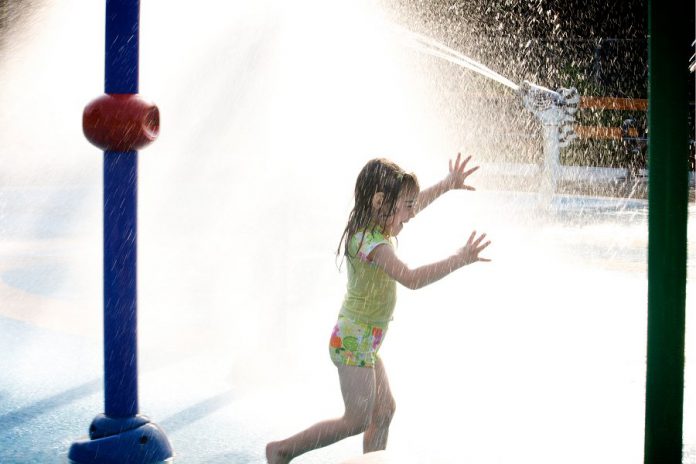 But it's not just a zoo — it's also a playground for people of all ages. There are walking trails, a nine-hole frisbee disc golf course, a vintage miniature train ride until the end of August, a children's playground (with equipment for physically challenged children), a splash pad, beautiful gardens with an ornamental fountain and sundial, and a large picnic area along the river. On most Sunday afternoons during the summer, there are free concerts at the gazebo.
Riverview Park & Zoo is located at 1300 Water Street in Peterborough, Operated by the Peterborough Utilities Commission and an accredited facility by Canada's Accredited Zoos and Aquariums, the zoo is open year-round from 8:30 a.m. until dusk. Admission and parking is free.
For more information, including the zoo's education programs and conservation initiatives, visit www.peterboroughutilities.ca/Park_and_Zoo.htm.
6. Marvel at the largest known concentration of Indigenous rock carvings in Canada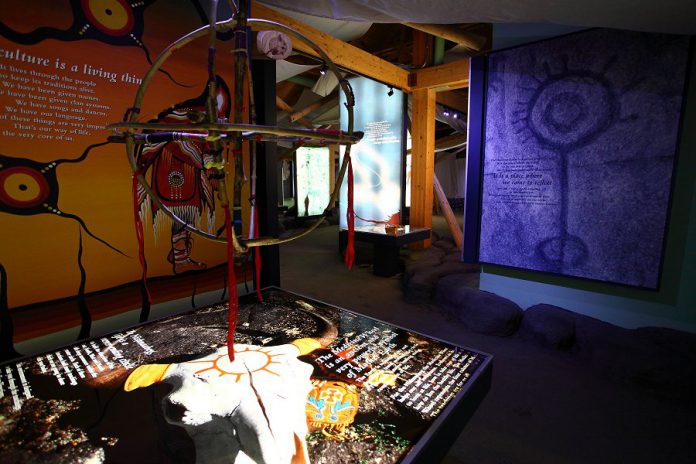 Many hundreds of years ago, the Indigenous peoples in the area now known as Woodview, just northeast of Peterborough, carved more than 900 petroglyphs of turtles, snakes, birds, humans, and other images into a white marble rock face.
You can visit this sacred site, known as "The Teaching Rocks", at Petroglyphs Provincial Park. At The Learning Place Visitor Centre, managed by Curve Lake First Nation, you can discover the traditions of the Ojibway (Nishnaabe) people through the teachings of the medicine wheel.
Souvenirs and refreshments are available at the Park Store, located in the visitor centre, where you can browse through nature books for children and adults, as well as books on rock art and Indigenous culture.
While you're at the park, you can also visit the bright blue-green McGinnis Lake — one of only a handful of meromictic lakes in Canada (where layers of water don't intermix). Note: to preserve the lake's unique nature, swimming and other water-based recreation is prohibited.
Petroglyphs Provincial Park is located at 2249 Northey's Bay Rd. in Woodview, just off Highway 28. The park is open daily from 10 a.m. to 5 p.m. (no vehicles are allowed in after 4:30 p.m.). As a day-use only park, there are no overnight camping facilities.
For more information about Petroglyphs Provincial Park, visit www.ontarioparks.com/park/petroglyphs.
7. Enjoy a cuppa Scottish tea at the historical home of Peterborough's first resident doctor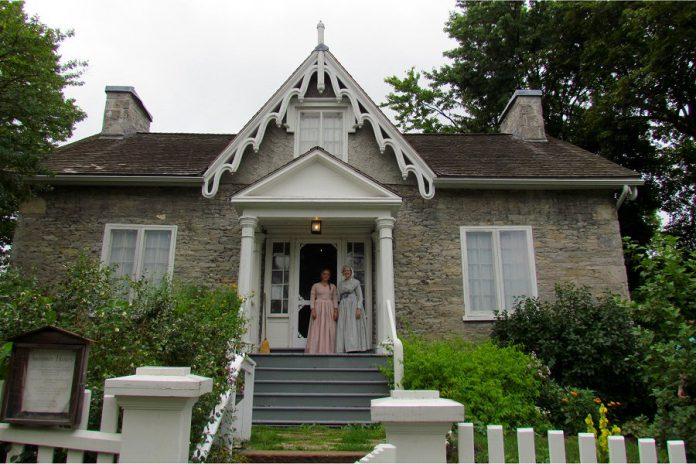 Scotland has a long relationship with tea. In the early 1600s, the Duchess of York, Mary of Modena, formally introduced tea to the country. Later, many Scots went to India and Ceylon (now Sri Lanka) to start and run tea estates (Scotsman James Taylor is known as the father of Ceylon tea). English breakfast tea was actually created in Scotland, and Lipton, one of the most recognizable brands of tea in the world, was started by a Scottish citizen.
So it's only fitting that Hutchison House, a living history museum that was the home of Dr. John Hutchison — Peterborough's first permanent resident physician in the early 1800s and a native of Scotland — offers Scottish Teas during the summer.
Served daily (except Mondays) from 1 to 4 p.m. on the terrace in the period garden (or indoors during inclement weather), the Scottish Teas includes fresh-baked scones, preserves, whipped cream, oatcakes, and tea, lemonade, or ice tea. Complimentary tours of Hutchison House are included with the teas.
Offering a glimpse of life in Ontario in the 1800s, Hutchison House is one of the oldest limestone houses in Peterborough, built by volunteers in 1837 for Dr. Hutchison. One of the bedrooms is dedicated to Sir Sandford Fleming, the Scottish-Canadian inventor of Universal Standard Time (including time zones) who also helped engineer much of Canada's national railway and designed Canada's first postage stamp. A cousin of Dr. Hutchison, Fleming lived in the house when he came to Canada in 1845, at just 18 years old.
Scottish Teas are available at Hutchison House until Labour Day. The cost is $10 for adults and youth, $5 for children (ages 6-10), and free for children five and under. Reservations are recommended for groups of more than four.
For more information about Hutchinson House, visit www.hutchisonhouse.ca.
8. Explore the past and the present at Peterborough's 'museum on the hill'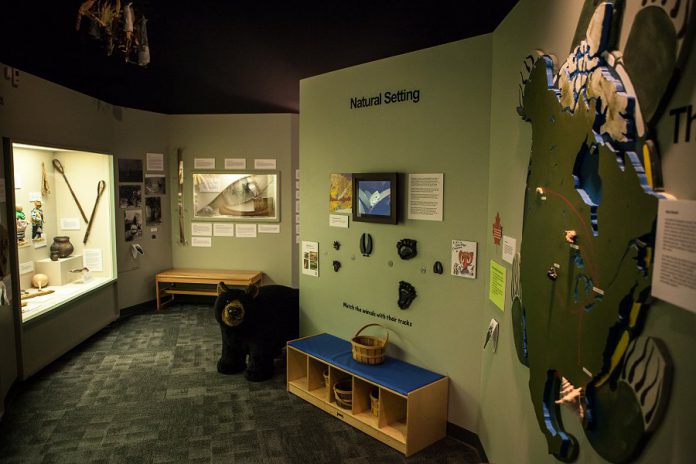 Opened on Canada's centennial year in 1967 — but with a century of history behind it — the Peterborough Museum & Archives sits on top of Armour Hill beside the Trent-Severn Waterway National Historic Site of the Peterborough Lift Lock.
From early photographs, newspapers, and journals to furniture, military memorabilia, and textiles, the museum's huge collection of artifacts and documents preserve and celebrate the collective history of Peterborough and the surrounding area.
The museum's collection includes the Peter Robinson Papers, which chronicle the 1823 emigration of Irish settlers to Ontario under Peterborough's namesake, as well as the Balsillie collection of Roy Studio Images, featuring over 300,000 film and glass plate negatives dating back to 1896. There's also a herbarium (pressed-flower album) created in 1891 by Peterborough area settler, author, and amateur botanist Catharine Parr Traill.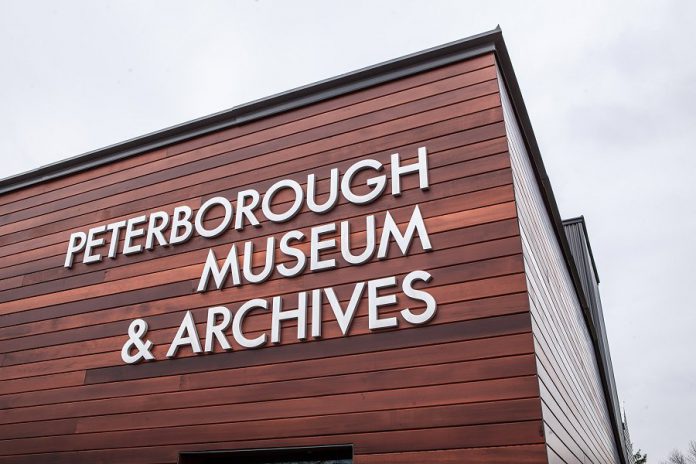 The museum doesn't just offer a look back at Peterborough's history — there are also contemporary exhibitions running during August.
Featuring stunning aerial photographs, "On the Trail of the Monarch Butterfly" documents the 2005 trip of Mexican filmmaker and pilot Francisco Gutiérrez as he flew his ultra-light aircraft (nicknamed Papalotzin, Aztec for "little butterfly") from Montréal to follow monarch butterflies on their 6,000-kilometre migration from Canada to the mountains of central Mexico.
Another exhibition running during August is "Making the Invisible Visible", a series of photographs about pollinating insects originally curated for Peterborough's 2017 SPARK Photo Festival. The series of photographs, with the themes of "Monarchs and Milkweed", "Pollinators in Peterborough", "Bountiful Bees", and "Beautiful Butterflies".
Peterborough Museum & Archives is located in Ashburnham Memorial Park on Museum Drive at 300 Hunter Street East in Peterborough. It's open from 9 a.m. to 5 p.m. Monday to Friday and from noon to 5 p.m. on Saturday and Sunday. Admission is by donation, and there is free parking. You can also take City of Peterborough transit to get to the museum (the "Ashburnham #11" route).
For more information, visit www.peterboroughmuseumandarchives.ca.
9. Go spelunking (and more) in Warsaw
A popular destination for locals, the Warsaw Caves Conservation Area and Campground is named for a series of seven caves formed thousands of years ago at the end of the last ice age, by the rushing melt waters of a glacier that covered Ontario.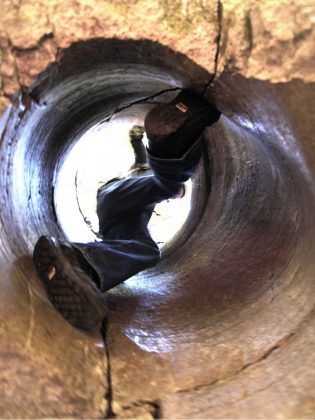 All you need to explore the caves is a flashlight or a headlight. You can spend a couple of hours or even the entire day enjoying the caves, described as a "natural underground jungle gym".
If underground fun isn't for you, no worries: there's a lot more to do at Warsaw Caves Conservation Area and Campground.
You can hike a 15-kilometre trail that meanders through forests and across a limestone plain.
There's a lookout where you can relish a great view down the gorge of the Indian River. On your hike, you will encounter interesting geological formations including potholes and kettles and even a disappearing river!
Or bring a canoe (you can also rent one at Warsaw Caves) and have a relaxing paddle on the Indian River while taking in the great scenery.
With its flat water and gentle current, the river is perfect for novice canoeists. If you're ambitious, you can even paddle to the village of Warsaw (a four-hour return trip). And if you enjoy fishing, you can catch perch, crappie, sunfish, and bass in the river.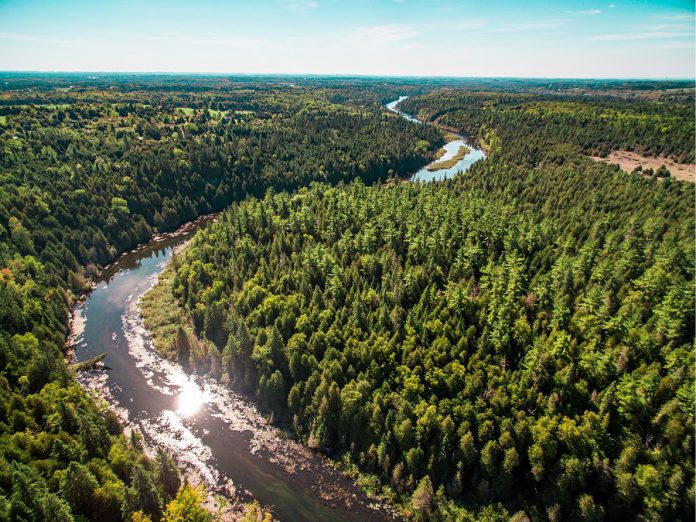 To make a weekend (or a week) out of your trip, there are 52 camp sites available in a beautiful wooded setting. While the sites are unserviced, there's an accessible comfort station offering washrooms, showers, a laundry room, and a dish wash station.
Located at 89 Caves Road in Warsaw, Warsaw Caves Conservation Area and Campground is open until Thanksgiving each year. For more information, including fees, and to download a spelunking guide for the caves, visit www.warsawcaves.com.
10. Experience a taste of Africa on Rice Lake
If you're an art lover, you must take a trip to ZimArt's Rice Lake Gallery near Bailieboro (about 20 minutes south of Peterborough).
On a picturesque farm overlooking Rice Lake, you will find the most comprehensive collection of Zimbabwean stone sculpture in Canada, with more than 300 hand-carved African stone sculptures — with some reaching a height of nine feet — on display over two acres.
ZimArt's Rice Lake Gallery was founded in 2000 by Fran Fearnley, an avid art collector and former journalist who spent two years volunteering in South Africa where she was introduced to Shona sculpture in Zimbabwe.
Visitors can explore this unique gallery at their own pace, meet with the visiting Zimbabwean artist, and learn about this internationally acclaimed art movement and the 50-plus Zimbabwean artists represented by ZimArt. All the works are available for sale.
A highlight of the summer is the annual exhibition and sale at ZimArt. This year's exhibition, "Rice Lake 18", is on now until September 3rd and features ZimArt's 2018 artist-in-residence Tutani Mgabazi. Tutani will be on site during the exhibition to discuss his work, the work of his fellow artists, and to demonstrate the art of stone carving.
On weekends during the exhibition, a selection of hand-made Zimbabwean crafts and other items will be on sale. All proceeds will go to ZimKids Community Support, a Canadian not-for-profit supporting grassroots projects in Zimbabwe.
Located at 855 Second Line Road east of Bailieboro, ZimArt is open from 11 a.m. to 6.00 p.m. daily until Thanksgiving. Admission is free. For more information about ZimArt, visit zimart.ca.
11. Take a trip back in time to the pioneer days in Keene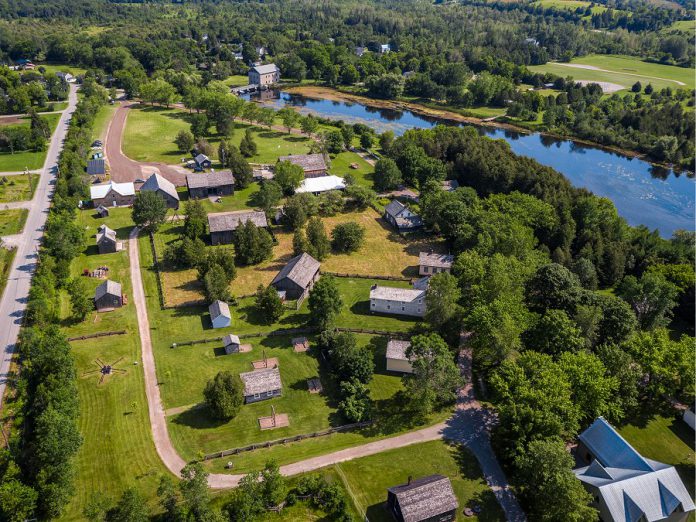 You can take a trip back in time to a 19th-century village at Lang Pioneer Village Museum, nestled along the banks of the historic Indian River in Keene.
The living history museum features more than 30 restored and furnished buildings, constructed between 1825 and 1899, with costumed interpreters of all ages demonstrating the life and trades of a settler in the 1800s.
Visit the fully operational Grist Mill and the S.W. Lowry Weaver Shop, which houses two of only a handful of Jacquard looms in North America. See sparks fly from the anvil in the Blacksmith Shop and watch handbills printed on the old press in the Register Print Shop. Chat with the Village carpenter at his treadle lathe, or the spinner at her wheel, and visit the 14-room Keene Hotel for lemonade or afternoon tea.
And Lang Pioneer Village Museum is not just about European settlers: at Aabnaabin Camp, you can also discover the history, language, and culture of the Michi Saagiig (Mississaugas) Indigenous people.
A photographer's paradise, the village is complete with lanes and pathways, farm animals, rail and stump fences, vegetable and herb gardens, and more historically authentic details.
For a souvenir of your trip, or to find a unique gift, visit the Museum Shop for locally crafted items, historical books, traditional toys, natural bath and beauty items, ironware, hand-dyed wool, traditional music CDs, and one-of-a-kind items.
Open daily 10 a.m. to 4 p.m. until Labour Day, Lang Pioneer Village Museum is located at 104 Lang Road in Keene. For more information and admission rates, visit www.langpioneervillage.ca.
Stay tuned for more items for your Peterborough & the Kawarthas summer bucket list in September!
All photos are courtesy of Peterborough & the Kawarthas Tourism except where noted.