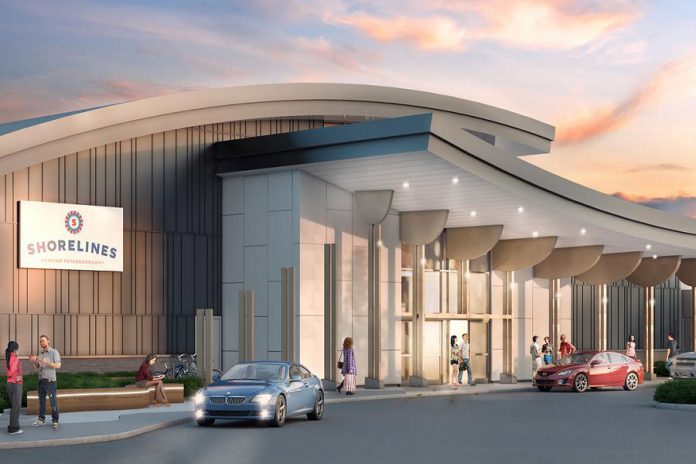 Shorelines Casino Peterborough (1400 Crawford Dr., Peterborough) is scheduled to open at 5 p.m. on Monday, October 15th.
"As we get ready to open our doors and offer an unparalleled gaming and entertainment experience to our guests, we want to recognize the efforts of all the local businesses and trades personnel who worked on this project," says general manager Bryan Buchanan in a media release from Great Canadian Gaming Corporation, which operates the casino.
"Hiring local talent was very important to us and together we have constructed an exceptional facility."
The new casino employs 300 people, including 180 new employees who were hired as a result of a job fair in May. The other positions have been filled by employees transferred from Shorelines Slots at Kawartha Downs in Fraserville.
The 50,000-square-foot casino will feature 500 slot machines, 22 live dealer table games such as blackjack, roulette, and baccarat, a racebook, and a live entertainment area.
The casino will be open 24 hours a day, seven days a week, with tables open daily from noon until 4 a.m. The casino's Windward Restaurant and Lounge offers casual dining with The Buffet offering a selection of daily themed buffets.
The grand opening celebration will begin on October 15th at 5 p.m. and include a ribbon-cutting ceremony, live entertainment, and a special commemorative gift for the first 2,500 guests.
Shorelines Casino Peterborough is owned and operated by the Ontario Gaming East LP, in which Great Canadian Gaming Corporation is the majority shareholder and lead operator. It was selected at the successful proponent by the Ontario Lottery and Gaming Corporation to operate gaming facilities in the East Gaming Bundle, including the new casino in Peterborough. The Peterborough casino is the second to open in Ontario since 2006.
For more information, visit shorelinescasinos.com/peterborough/.