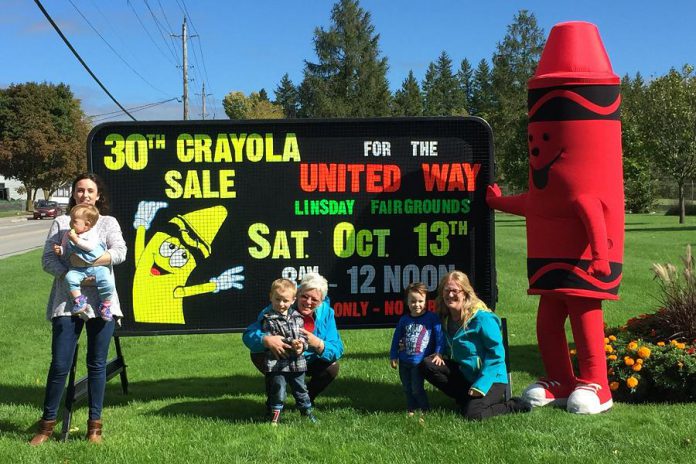 The annual Crayola Sale, a fundraiser for the United Way for the City of Kawartha Lakes, returns for its 30th year from 8 a.m. until noon on Saturday, October 13th in the main building at the Lindsay Exhibition Fairgrounds.
The popular sale takes place every year on the weekend following Thanksgiving.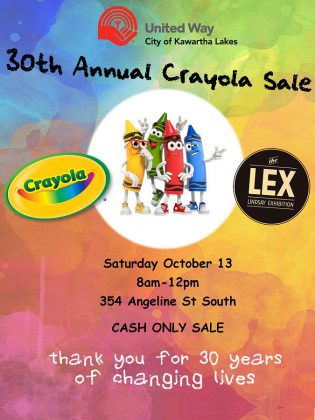 Crayola's Canadian headquarters are located in Lindsay, and the team at Crayola Canada has donated more than $1,000,000 to the United Way from the past 29 years of the sale. Crayola employees also volunteer their time to help set up and run the sale, along with the United Way for the City of Kawartha Lakes and other community volunteers.
Many people come to the sale every year to purchase Crayola products, whether for holiday gifts or for classroom supplies. Some purchase the products for mission trips to Mexico and Cuba or even Zimbabwe.
"United Way offers support to such a wide variety of people in a wide variety of ways especially the most vulnerable within our community," says one Crayola employee. "It's good to know I contribute a tiny bit towards that."
The sale is open to the public. All purchases at the sale must be made in cash, and please bring your own bag.
The United Way is grateful for their partnership with Crayola Canada and has recently launched a new project with Crayola and Fleming College. In 2019, 30,000 square feet of unused land on the lot adjacent to the Crayola building will be transformed into a community garden.
Some of the funds raised at this year's Crayola Sale will go towards the community garden project, which will have the capacity to provide fresh produce to hundreds of people in the City of Kawartha Lakes.