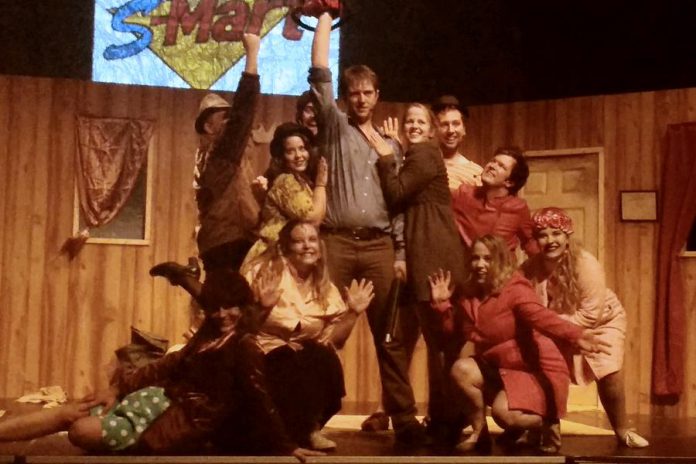 C'mon, c'mon and do the Necronomicon … again!
After a successful sell-out run last October, Killer Tree Productions returns to the Market Hall in downtown Peterborough with another round of Evil Dead The Musical for four performances from Thursday, October 11th to Saturday, October 13th.
Directed by Caitlin O'Connor and produced by Barb Mills, Evil Dead The Musical is an audience favorite and a perfect way to kick off the Halloween season.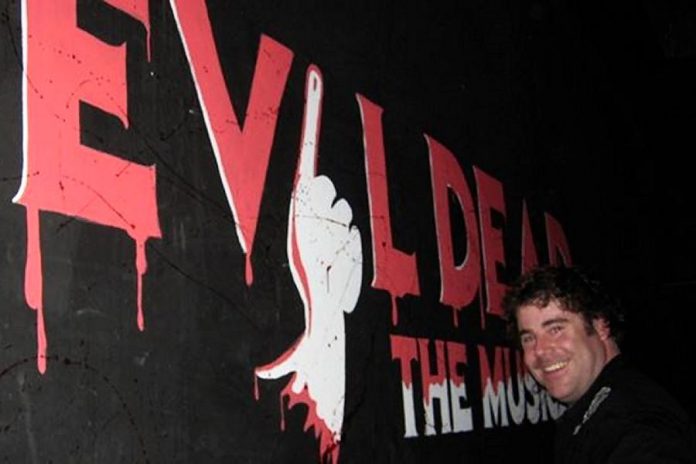 An unlikely international hit originating from the Canadian stage, Evil Dead The Musical has created a strong fan following all its own, much like the films that inspired it. A musical comedy retelling of Sam Raimi's classic horror films The Evil Dead (1981) and Evil Dead II (1987), starring Bruce Campbell as anti-hero Ash Williams, the stage show was originally developed as a class project by four Queen's University theatre students (Christopher Bond, Frank Cipolla, Melissa Morris, and George Reinblatt) who brought the show to Toronto's Randolph Theatre (formerly the Bathurst Street Theatre) in 2003.
After a successful debut, the musical moved to the Montreal Comedy Festival where it became a festival favorite. Word of mouth brought Evil Dead to New York in 2006 where it opened Off Broadway, giving it international exposure. Today, the show's popularity continues with theatre companies throughout the world producing this fan and furious show.
What makes Evil Dead The Musical resonate with fans of the films is the fact that, although it is a musical comedy, it stays absolutely true to the source material from the Evil Dead films.
Five college students — Ash Williams (Andrew Little), his girlfriend Linda (Sophie Robinson), best friend Scotty (Brandon Humphery), party girl Cheryl (Hilary Dumoulin), and Ash's sister Shelly (Megan O'Sullivan) — go for a spring break trip to an isolated cabin in the wood where they discover a tape recorder owned by the cabin's missing inhabitant, Professor Knosby (Adam Dusome). When they play the tape, they hear Knosby reciting passages from the fabled Necronomicon Ex-Mortis (a.k.a. "The Book of the Dead").
The incantations open up a floodgate of evil and what was supposed to be a fun holiday filled with friendship, togetherness, and premarital sex turns into a fight for survival as Ash and his friends battle for their souls against a Deadite army of Kandarian demons.
While this is all happening, on the other side of the woods the plotline from Evil Dead II is taking place. Professor Knosby's daughter Annie (Meisha Brown) and her fiancé Ed (Addison Wylie) meet a wacky hillbilly named Jake (Brandon Remmelgas) who guides them through the evil forest filled with killer trees to the cursed cabin in search for Annie's missing father — not knowing that a bloodbath is taking place at their destination.
Filled with big laughs and memorable musical numbers, Evil Dead The Musical also has romance, debauchery, good times, and demon killing. You'll laugh, sing, and even get covered in Deadite blood!
What makes Evil Dead The Musical interesting is that it is both a parody of the films and the entire musical theatre genre itself. Audiences already know what they are getting into, and the show doesn't try to be anything other than campy and over-the-top, filled with stupid puns and silly sight gags that poke fun at its own ridiculousness.
Although Evil Dead The Musical is a show that you can enjoy over and over again (this is my fifth time seeing it), I was interested to see where Killer Tree Productions would take the production a year after their first go around. While last year's show was tons of fun and got a great reaction from the audience, in many ways the company was still in its infancy and trying to find its legs.
With Killer Tree having a year to live with the show, as well as some dynamic recasting featuring some familiar faces, I came looking for something familiar but also something completely new. What I found was a production better and bolder than last year's. Killer Tree Productions is standing strong, and if you loved Evil Dead The Musical last year, you've seen nothing yet!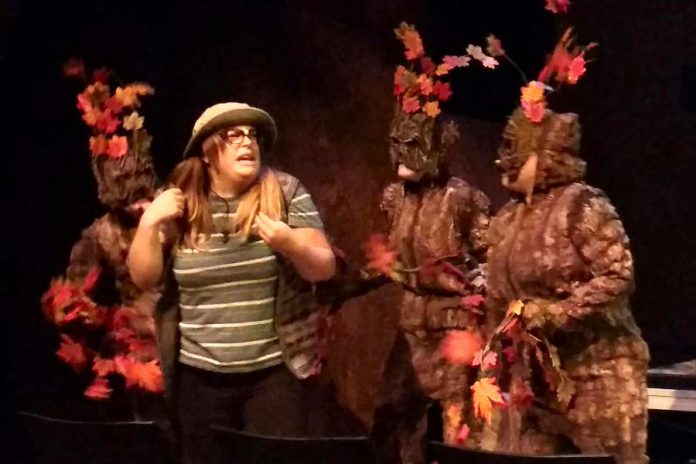 Over the past year, Andrew Little's roles seem to veer towards the macabre. Beyond his performance in Evil Dead last year, he also played Dracula and Lurch in The Addams Family. So it's great to see Andrew back on stage recreating the role of Ash Williams. Andrew embodies the spirit of Bruce Campbell's Ash, bringing all of the good-natured bravado to the stage. Having known the part now for a year, Andrew's performance is very tight this time around and he seems much more focused on stage. It's a fun role for an excellent actor.
The performer I was most interested in seeing was Sophie Robinson, who takes over the role of Linda this year. I first noticed Sophie in The Anne Shirley Theatre Company's 2015 production of Sweeney Todd, and she quickly became a favourite of mine. However, I didn't see Sophie in very many leading roles after Sweeney Todd. Sophie makes the perfect romantic lead with her big voice and sweet demeanor.
"Housewares Employee", her duet with Andrew, is not only one of the highlights of the show, but also showcases Sophie's comedic side that I had never seen before. I hope that we'll finally get to see more of Sophie on the local stage again. She is a star.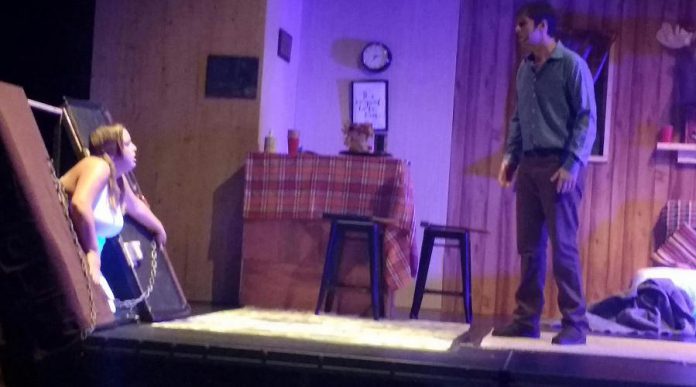 I knew the most difficult recasting for the current production of Evil Dead The Musical would be that of Ash's sister Cheryl. Last year, singer Lindsay Barr dominated the stage with her performance as Cheryl. This year, Meg O'Sullivan takes over the role in another long overdue return to the local stage. Meg doesn't recreate Lindsay's performance; instead, she finds her own take on Cheryl.
Cheryl is actually a fantastic role to showcase all the aspects of Meg's talents. Not only is it a role that demands a great deal of comic timing, it allows Meg to showcase her talents as a singer, a dancer, and a leading player. It's a big role for someone with big talent, and Meg once again makes Cheryl the audience favourite.
A special shout out goes to Brendan Remmelgas in the role of Jake. I've seen Brendan in a number of productions over the years, but Jake is possibly the greatest character he has ever taken on. He makes the character his own, and puts a completely different spin on him than the traditional Jake in other productions. Brendan is just hilarious with his foul-mouthed side remarks, and his performance of "Good Old Reliable Jake" is one of the biggest moments of the entire show.
The ensemble cast in this year's Evil Dead The Musical is tight: Brandon Humphery's off-colour jokes almost seem funny due to his perfectly delivered lines; Hillary Dumoulin creates her own personal spin on Shelly; Meisha Brown recreates a voluptuous Annie; and Addison Wylie says so much without saying anything at all in the role of Ed.
But Evil Dead The Musical is also fun for its unique production values. One of the favourite elements of the show are the ridiculous trees, this year played by Taylor Beatty, Robyn Kruk, and Caitlin O'Connor, who get much more stage time this year.
I'm also always a sucker for the singing macramé moose head, created by Sky Wylie and voiced by Addison Wylie. When that moose gets going I just can't contain myself. I think its one of the funniest things ever.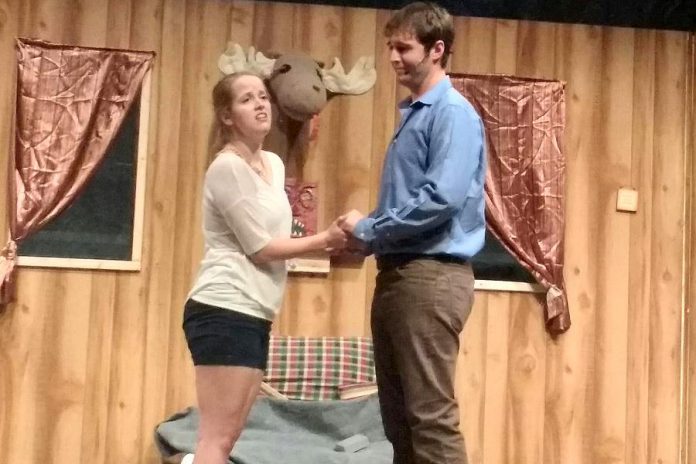 And that's the joy of this show: it's just very funny stuff. It's the kind of humour that I can get behind, and I find myself laughing every time.
Most audience members going into Evil Dead The Musical know this going in, but be warned that there is a "splatter zone" where audience members sitting in the first dozen rows will be doused with stage blood. It's one of the most popular features of the show. The company does encourage people to wear white to get the full effect of the blood bath.
Evil Dead The Musical is always a fun show, but this year Killer Tree Productions really has the show down pat. Filled with big performances, great songs, and lots of laughs, Evil Dead The Musical is a perfect Halloween tradition.
Evil Dead The Musical runs from Thursday October 11th to Saturday October 13th. Shows start at 8 pm, with a special midnight show on Friday October 12th. Tickets are $28 for regular admission, $38 for the Splatter Zone, $18 for students and $33 at the door the evening of the shows and are available in person at the Market Hall box office, by phone at 705-749-1146, or online at the Market Hall Box Office or online at markethall.org.