This month, food writer Eva Fisher finds locally made recreations of junk food favourites, discovers a new vegan holiday market in Peterborough, finds Cobourg's new Indian restaurant, browses The Monaghan Cafe's new dinner menu, and learns how to make healthy holiday appetizers with Tiny Greens.
---
Food trend: mass-produced snacks reinvented
Mass-produced snack foods: so craveable and yet often so disappointing. Local businesses are creating their own homemade versions of some of your favourite guilty pleasures that will have even the naysayers digging in.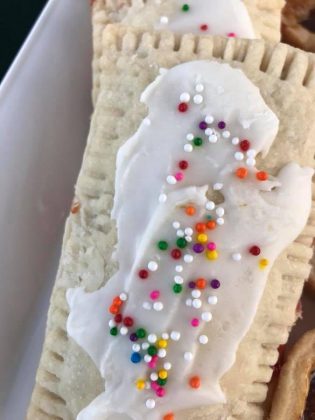 The Pastry Peddler (17 King St., Millbrook, 705-932-7333) celebrates Flaky Friday with its own version of the Passion Flakie, rotating the flavours every week.
The basic recipe is a puff pastry with cream and a flavoured filling. Past flavours have included lemon curd, raspberry, cherry and white chocolate, raspberry chocolate, and banana caramel.
Peterborough home baker Vegan Sweet Home (www.vegansweethome.com) has reinvented the Pop Tart. While not a weekly offering, Vegan Sweet Home offers its variation of the snack in both strawberry and s'more flavours.
Owner Courtney Vanden Anker says that the tarts bring people back to their childhood.
"I love how excited people get when I make them. Who doesn't want to feel like a kid again?"
Have you noticed any other local businesses reinventing junk food favourites?
Vegfestivus: Peterborough Vegfest offers a new holiday popup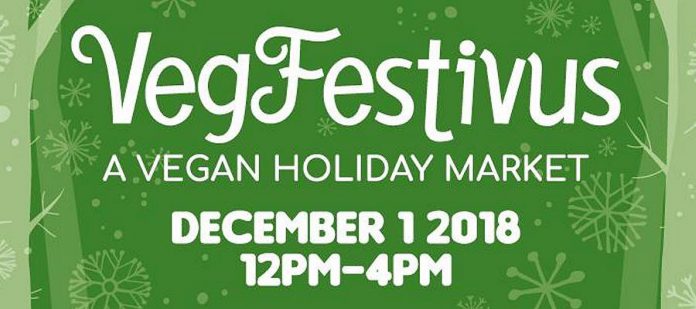 There's a new vegan holiday market coming to Peterborough.
Vegfestivus will take place on Saturday, December 1st from 12 pm to 4pm at Emmanuel United Church (534 George St. N., Peterborough) The cost of admission is $2.
Vegfestivus is organized by Peterborough Vegfest. Natalie Stephenson of Peterborough Vegfest says that, after the success of the festival in September, a holiday popup was a natural next step.
The market will offer a variety of gifts and festive food items from 25 different vendors, all of which are vegan and vegetarian friendly. This will include vegan nut cheeses, baked goods, preserves, sustainable clothing, crafts, bath and body products and more.
Natalie sums it up as "great gift ideas for a greener and more compassionate holiday season."
The emphasis is on local businesses, but Natalie says that there are still some vegan items that you just can't buy locally.
"There are still some gaps locally that businesses should jump into, because the demand is so high. I really feel that we need more people doing local vegan products."
The event is open to everybody.
"It's a great place to find a gift for someone in your life that is looking for compassionate choices, or if you're interested in treading lightly on the earth, there's something for you. There's something for everyone."
Natalie also points out that the vegan marketplace is a great place to find foods that are allergen friendly.
Taste of Agra: Indian food in Cobourg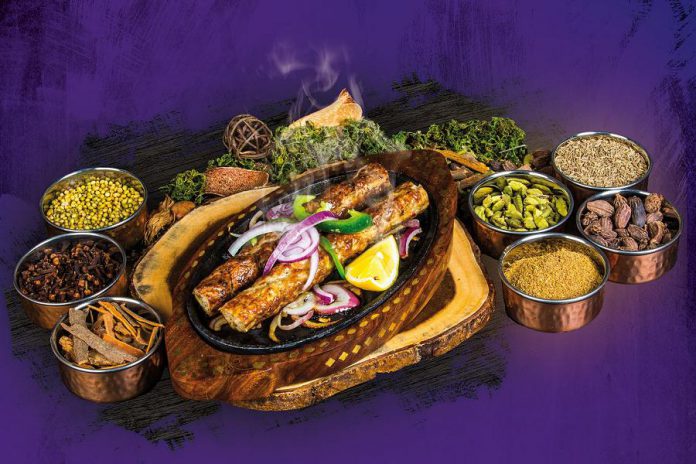 Cobourg now has an Indian restaurant: Taste of Agra (20 King St W, Cobourg, 905-372-1655) began its soft launch in late October and, since then, the crowds have been near constant.
Owner Rajah Kanapathippillai wanted to give Cobourg diners more options.
"There was no Indian restaurant in Cobourg and people love Indian food."
He says that the number one dish is butter chicken, but vindaloo shrimp is also very popular. Rajah's favourite dish is the lamb curry — with a side of naan of course. Vegetarian dishes are also available.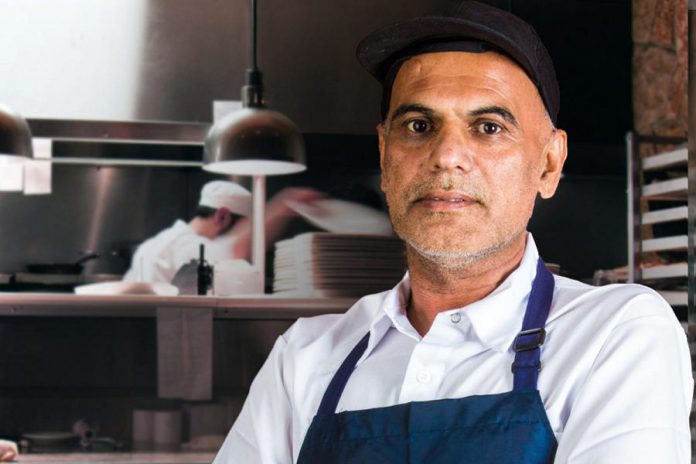 Rajah hired Chef S. Rahman, a veteran of Toronto and New York Indian restaurants with a total of almost 40 years' experience.
The restaurant has been appointed in authentic Indian style. Rajah often vacations in India, and he ordered the restaurant's décor directly.
"I just want people to come here and have it be comfortable and nice."
Learn more at www.tasteofagra.com/.
The Monaghan Cafe dinner menu is casual fine dining at its best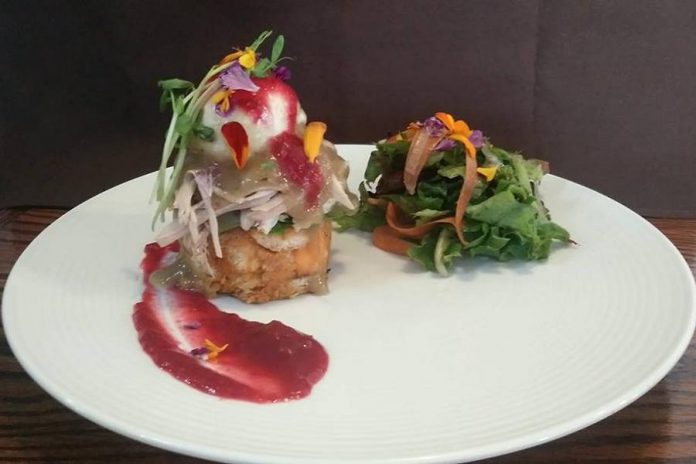 Beginning November 16th, The Monaghan Cafe (1017 Monaghan Rd, Peterborough, 705-743-4800) will offer a dinner menu.
Chef and owner Jeffrey Wilfong says the change is a response to customer requests, but also his previous tenure as chef at Ste. Anne's Spa in Grafton made him feel ready to expand.
"There has been really good feedback from our guests and it's my background doing casual fine dining, homestyle with a twist. So I obliged."
Jeffrey felt that it was important to offer local residents a place to gather in the evening.
"We want to be that little place in the neighbourhood, so people don't have to go downtown."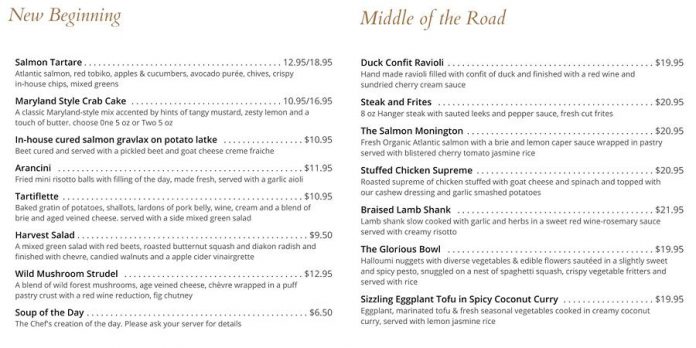 What can you expect from the new menu? Jeffrey describes it as "fresh, local, and everything is in season."
There is a braised lamb shank in a red wine rosemary sauce served with creamy risotto, or hand-made duck confit ravioli with a sundried cherry cream sauce.
Vegetarians can opt for a spicy coconut curry with eggplant and tofu, or "The Glorious Bowl," which contains halloumi cheese, spicy pesto, and spaghetti squash.
The menu also includes a variety of starters, such as a house-cured salmon gravlax on a potato latke served with a pickled beet and goat cheese crème fraiche.
The Monaghan Cafe is open Tuesday through Sunday. You can find them on Facebook at www.facebook.com/themonaghancafe
Healthy holiday appetizers, drinks, and desserts with Tiny Greens Plant Cafe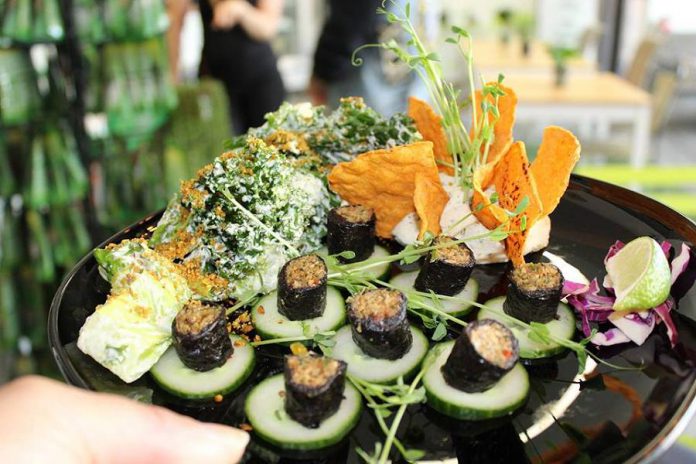 It can be difficult to eat healthfully over the holidays. After all, 'tis the season of cheese, chocolate, and egg nog.
However, Tiny Greens Plant Cafe (431 George St N, Peterborough, 705-874-7554) is offering a tasting workshop designed to offer some alternatives for the festive season.
Owner Tina Bromley says that the workshop is a great way to get some holiday inspiration in an interactive environment.
"It's going to be a lot of fun. It's all different plant-based, vegan, healthy appetizers geared toward the holiday season when you're entertaining."
Think vegan cheese platters, holiday tarts, kid-friendly fruit snacks, chocolate truffles, and superfood candy cane lattes. Many items are nut based.
As they learn, Tina encourages participants to taste their creations.
"Feel free to come hungry."
Although healthy options are the focus, Tina says that you can still expect incredible flavour.
"Even though it's a healthy take on the holidays, we always try to wow people with how delicious healthy eating can be."
Every participant will be sent home with an edible microgreen centrepiece — a perfect item for the holiday buffet table.
The workshop takes place Thursday, November 15th from 7 to 8:30 p.m. Tickets are $37 and are available through Eventbrite.