As part of an Ontario tour, acclaimed PEI singer-songwriter Irish Mythen is performing at the Market Hall in Peterborough on Wednesday, November 21st, with special guest opener Jory Nash.
As you might have assumed from her first name, Mythen was born in Ireland. In County Wexford in fact, with her full name being Jane Irish Theresa Monica Bernadette Mythen.
She went to school in Dublin but, as her father worked worked for Aer Lingus (the Irish airline) as an engineer, the family moved around a lot. When she was a teenager, the Mythen family moved to Abu Dhabi, the capital of the United Arab Emirates.
"I hated it," she says in a 2018 interview with The Irish World. "I hated being taken from free Ireland, where I could do anything I wanted, to be there which was so restricting."
To keep her busy, her parents got her a guitar, which she taught herself how to play. She soon she discovered she also had a talent for singing and songwriting. So much so, her parents took their 15-year-old daughter to a folk night at the Al Ain Palace Hotel.
"That was my first gig and the minute I got up on stage it was like electric," she recalls. "For me it was just incredible."
VIDEO: "Tullamore Blues" – Irish Mythen

Growing up, she was only allowed to listen to her parents' music — traditional Irish music, Irish folk musicians like Makem and Clancy, and American folk musicians like Bob Dylan, Joan Baez, and Peter Paul & Mary.
"At the time I thought I was stuck with my parents, but it turned out to be a blessing in disguise," Mythen tells Roger Levesque in a 2018 interview in the Edmonton Journal. "What really got me going were the live performances of Irish troubadours and bands, true and absolute entertainers. That's what really drew me to being the performer that I am."
Later she went to the "rock school" at the Ballyfermot College of Further Education in Dublin, where she learned the business and performance side of being a musician (but not to write or read music, which she still does entirely by ear).
VIDEO: "Jesus" – Irish Mythen

At the age of 19, she moved to Sweden from where she toured extensively across Europe, recording her debut album Republic of One in 1999. She then moved to Australia, where she recorded her EP Appreciate in 2003.
In 2006, she performed at The Stan Rogers Folk Festival in Canso, Nova Scotia, where she has played every year since. She recorded her second EP Fallen Me in 2006, and then her second album Sweet Necessity in Ontario in 2007. During this time, she lived in Nova Scotia and then New Brunswick before settling in Charlottetown in Prince Edward Island in 2007.
"I just fell right in love with it," she says. "Like it was this mini Ireland."
VIDEO: "Did You Ever" – Irish Mythen

In 2011, she released her third album Open Here, which was nominated in the Roots Traditional Recording of the Year award category at the 2012 East Coast Music Awards. Her latest album, the self-titled Irish Mythen, was released in 2014 and gained her recognition around the globe and accolades at home, winning the East Coast Music Association 2015 Roots Album of the Year and the 2016 PEI SOCAN Songwriter of the Year for the track "Gypsy Dancer".
Mythen's diminutive stature (she's only five feet tall) belies her powerful voice, aggressive guitar playing, and charismatic performances.
"I had no idea what to expect when this five foot nothing lady took the stage, all smiles and twinkling eyes and guitar," says Lisa Schwartz, director of the Philadelphia Folk Festival.
"Then, she opened her mouth and out flew a voice that came straight from the Heavens with all the power and the glory and the truth of someone destined to be a singer. I've been blessed with seeing and hearing a lot of talented musicians in my life, but I have never experienced anyone quite like Irish Mythen. She is a force of nature and a gift from Almighty Herself."
VIDEO: "Gypsy Dancer" – Irish Mythen

Mythen is sometimes compared to k.d. lang, but perhaps only because she also wears her hair short and is openly gay (she has given talks in colleges and universities about the challenges of being gay in the music business).
"Usually, if it happens, I get it pre show," she says of the lang comparison. "But I never get it post show. Being compared to a great artiste like that is never a bad thing, but there is the short hair and the lesbian issue and that kind of thing that they sometimes compare."
Those familiar with Mythen's music and those who have seen her perform recognize her as a great artist in her own right. She has a devoted following in Australia, and in Canada she has been voted the third most-requested artist to return to the Mariposa Folk Festival — after Joni Mitchell and Gordon Lightfoot.
Mythen's next album is planned for release in December 2018. The 12-track record will feature guest musicians including Catherine MacLellan and Joey Landreth, and songs on timely and controversial topics ranging from the Catholic church to immigration.
"There's no point in putting your hand up and saying you're a folk musician if you don't make people think, if you don't make people uncomfortable at times," she says.
"I like to make people hold the mirror up a little, but with great care. I don't see the tragedy of this time as the turmoil we're living in. The greatest tragedy is we keep repeating the same shit."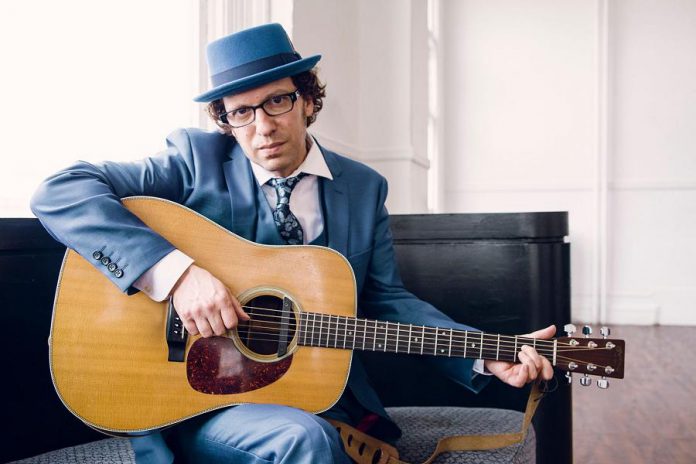 Opening for Mythen at her November 21st show is Toronto-based singer-songwriter and storyteller Jory Nash, who will perform his original blend of folk, jazz, blues, pop, and soul. The award-winning musician has recorded nine critically acclaimed albums over his 20-year career, with the latest being Wilderness Years released this past summer.
Tickets are $23 for general admission, or $28 for an assigned cabaret table seat, available at the Market Hall box office, by phone at 705-749-1146, or online at markethall.org.