For 15 years, the ReFrame Film Festival has brought critical awareness of social justice to Peterborough filmgoers in its annual celebration of documentary film and art.
According to the dynamic new team now leading the next era for the festival, resistance and youth will be strong themes in the near 70 films that will be shown during the four-day festival, which takes place at multiple venues in downtown Peterborough from January 24 to 27, 2019.
Sneak peeks
"The program this year is full of inspiring stories from near and far," says ReFrame's new Creative Director Amy Siegel.
Amy isn't giving away any secrets but can't conceal her excitement about the line-up of films that promises to promote action for positive change.
"We had a record number of 200 submissions this year and worked hard with an incredible programming committee to shape yet another thought-provoking season of films. Keep an eye out for some exciting post-film happenings at The Theatre on King, as well as experiential exhibits at other downtown locations as part of the 15-year anniversary celebration."
Festival Director Jay Adam — another new addition to the festival team who replaced festival co-founder Krista English after she departed on last year — concurs.
"We strive to engage the community in thoughtful dialogue about diversity, human rights, and environmental responsibility," he says. "This year, we'll be asking our audience to give us critical feedback about how we're doing, and where we should be heading, to help us make sure that the next 15 years are even more successful."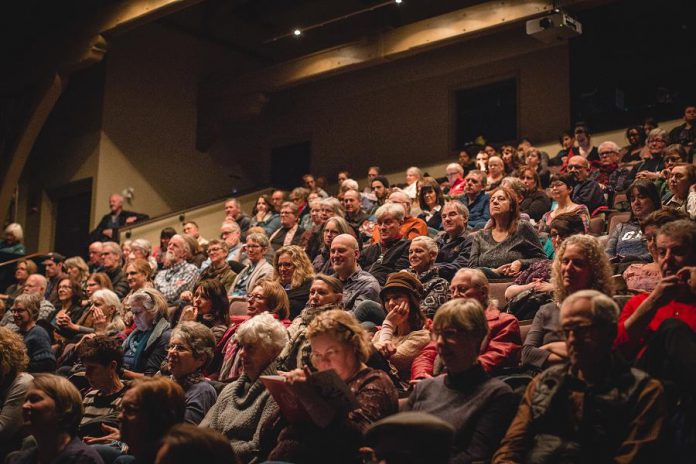 There will be many opportunities for filmgoers to have their say in surveys, online, and at ReFrame venues as part of this year's community art project.
Adam says he's looking forward to working with new and returning community partners this year and welcomes organizations and businesses out there to join in the collaboration.
"ReFrame is made by and for Peterborough — from the dozens of film sponsors that connect ReFrame stories, to great work being done in the community, to the generosity of our local business partners, and our amazing team of year-round volunteers."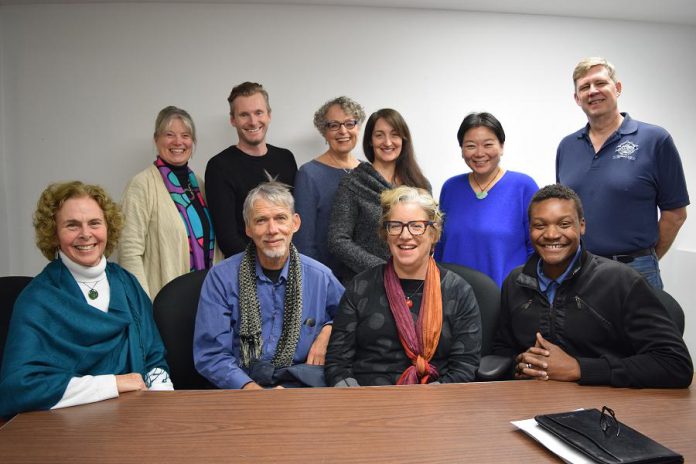 Chair of the board of directors Julia Harrison reflects on Reframe past, present and future.
"ReFrame has steadily grown from a grassroots organization to a major presence on the Peterborough arts calendar," she says. "Our 15th anniversary allows us a chance to reflect on all that the festival has contributed socially, culturally, artistically and economically to our community.
"Jay and Amy, our new staff team, working with a crew of dedicated volunteers and short term staff are ready to launch ReFrame into its next exciting chapter. Join us on the journey!"
Great news for ReFrame fans: the Festival Pass returns
In response to feedback from festival audiences, ReFrame will be bringing back the Festival Pass that includes all shows from Friday to Sunday, a change from having to buy tickets separately for evening features.
Festival Pass holders will receive discounted pricing on the Thursday evening opening presentation. For early bird pricing, visit reframefilmfestival.ca (a limited supply will be available online only).
Regular in-store ticket sales will open on December 3rd, 2018 in Peterborough at the GreenUP Store (378 Aylmer St. N., Peterborough, 705-745-3238) and Watson & Lou (383 Water St., Peterborough, 705-775-7568), in Lakefield at Happenstance Books and Yarn ()44 Queen St., Lakefield, 705-652-7535), and in Millbrook at Pastry Peddler (17 King St. E., Millbrook, 705-932-7333).
See you in January!
There are plenty of ways to get in on the fun for ReFrame 2019.
If you're a film lover who'd like to volunteer, email volunteers@reframefilmfestival.ca. Or if your organization would like to co-present a film as a Community Sponsor, email sponsors@reframefilmfestival.ca.
You can also kick off the giving season and support a local event by helping REACH for ReFrame through a one-time or monthly donation. ReFrame is a registered Canadian charity, so all donations over $25 are tax-deductible.
For full details on how to get involved, visit ReFrame's newly redesigned website at reframefilmfestival.ca, where you can also get ahead on stocking stuffers and grab your Festival Passes now to benefit from the early bird pricing,.
And don't miss out on raffle tickets, which will be available at ticket locations.
ReFrame is grateful for early support as it gets things up and running for a smooth festival. Watch for the full lineup of films and events early in the New Year.