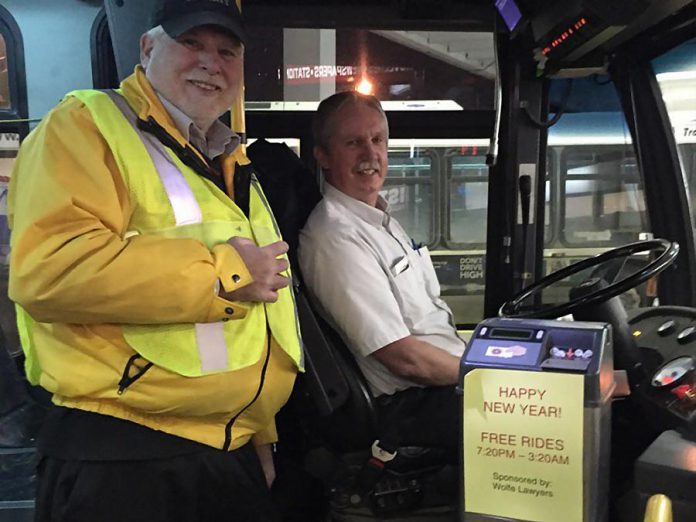 For the fourth year in a row, Wolfe Lawyers and the City of Peterborough are sponsoring free bus rides on Peterborough Transit on New Year's Eve.
You can ride for free on all 12 regular routes between 7:20 p.m. on Monday, December 31st and 3:20 a.m. on Tuesday, January 1st. The last bus will leave Peterborough's downtown terminal at 2:40 a.m.
"This service is for everyone," says Councillor Kemi Akapo, the city's chair of transportation. "If you are planning to drink, please plan ahead to drink responsibly and take free Peterborough Transit to get to and from New Year's festivities."
Handi-Van service will also run during the same hours. Handi-Van trip requests from eligible clients will be accepted until 12:20 a.m. and service will continue until 3:20 a.m. Bookings are accepted on a first come, first served basis. Riders wishing to travel during peak times are encouraged to reserve their trips in advance.
In addition to sponsoring free transit rides, this year Wolfe Lawyers is also sponsoring a free New Year's Eve Family Skate at the Evinrude Centre.
Both ice pads will be open on Monday, December 31st: the Atom Pad from 6 p.m. to 8 p.m. and the Leon's Pad from 6:15 p.m. to 8 p.m.
For hours and operations and route maps, visit www.peterborough.ca/transit. The information will also be available at the downtown transit terminal.