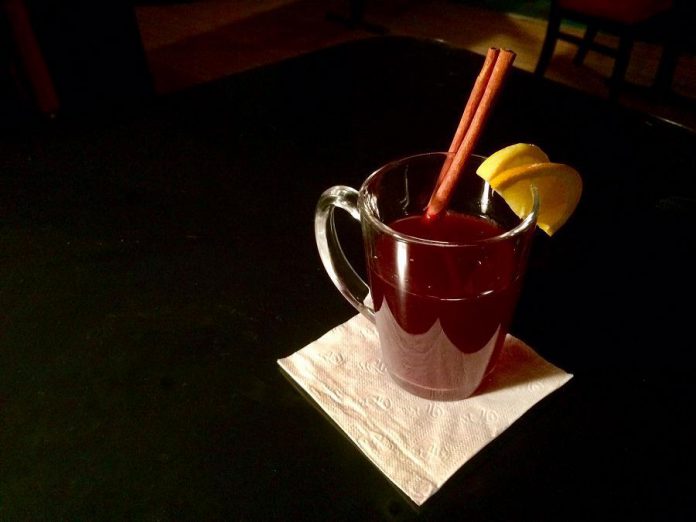 This month, food writer Eva Fisher beats the winter blues with some delicious seasonal treats from local businesses, discovers a living history dinner at Viamede Resort, takes stock on a community-building soup series from Nourish, and celebrates the opening of Nateure's Plate, Peterborough's newest vegan restaurant.
---
Local businesses get creative with festive food
For many of us, winter is a season of foodie decadence. Lovers of peppermint, nutmeg, cranberry and sweets will enjoy these decadent seasonal creations from local businesses.
Here are just some of the special seasonal offerings available in the Kawarthas:
The Publican House (300 Charlotte St, Peterborough, 705-874-5743)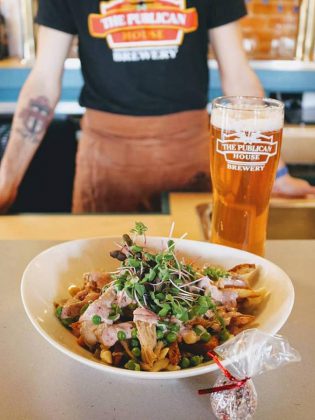 What is a Festive Hot Mess? Publican House chefs take toasted white bread and top it with shredded turkey, cheese curds, green peas, fries, gravy, and cranberry ranch dressing.
On the side, they offer an "everything" truffle — because every festive hot mess needs a little bit of sugar to keep him or her going.
The Publican House is also offering a limited run Cranberry Wheat Beer in their restaurant and their brewery store.
To get the cranberry taste, they infuse the beer with pressed cranberries hand picked in the Muskokas.
The mixture sits for just over a week to create a crisp, clean, and light cranberry taste. They expect to sell out within the next few weeks.
The Sapphire Room (137 Hunter St W, Peterborough, 705-749-0409)
Cocktail lovers will want to head to the Sapphire Room for some exciting winter seasonal offerings.
The most popular, according to owner Kerri Niemi, is the Silent Night. It's a blend of crème de menthe, crème de cacao, and eggnog with a peppermint kiss shaved over top and dropped in the bottom. The shaved mint chocolate has a delicious lingering effect on the palate.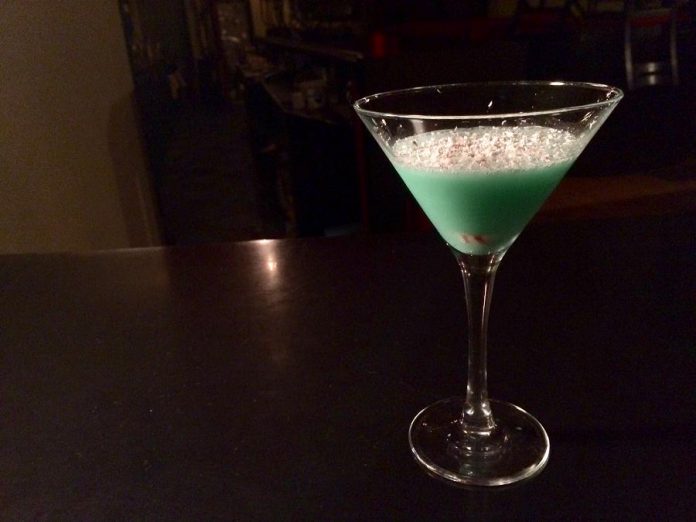 Kerri also recommends the berry mulled wine, which sits for 10 days with fruit and liqueurs.
"When you heat it up the cinnamon and the strawberries smell incredible, it entices everyone to drink it."
The Confederation Tea is warm and cozy with whisky (maple and regular), Drambuie, hot earl grey tea, cinnamon and clove.
Need to relax? Try the Winter Slumberland, made with aromatic lavender gin, maple syrup, grapefruits juice and soda.
Hard Winter Bread Company (Lakefield, 705-931-4922)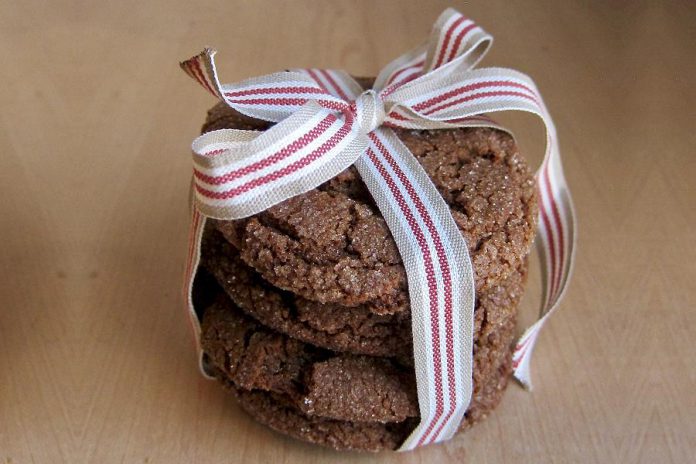 What could be more festive than crisp, buttery shortbread or spicy ginger cookies baked in a wood-fired oven?
Hard Winter Bread Company offers these and other treats, festively packaged, for a limited time over the holiday season.
Find them at the Peterborough Farmers' Market until December 22nd. You can preorder through their website (for pickup only) at hardwinterbreadco.com/order/.
The Monaghan Cafe (1017 Monaghan Rd, Peterborough, 705-743-4800)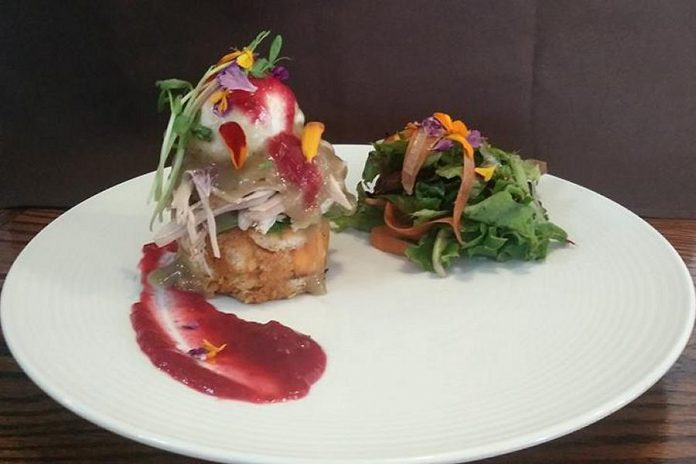 You may have had a taste of the Monaghan Cafe's turkey eggs benedict over Thanksgiving.
This popular menu item is back until Christmas, featuring sweet potato and bread stuffing base, spinach, fresh dark and white meat, a poached egg, turkey gravy and fresh cranberry sauce. T
The Monaghan Cafe is also offering a poached pear tart with homemade eggnog ice cream, available only until December 25th.
Kawartha Coffee Company (58 Bolton St, Bobcaygeon, 705-738-1500)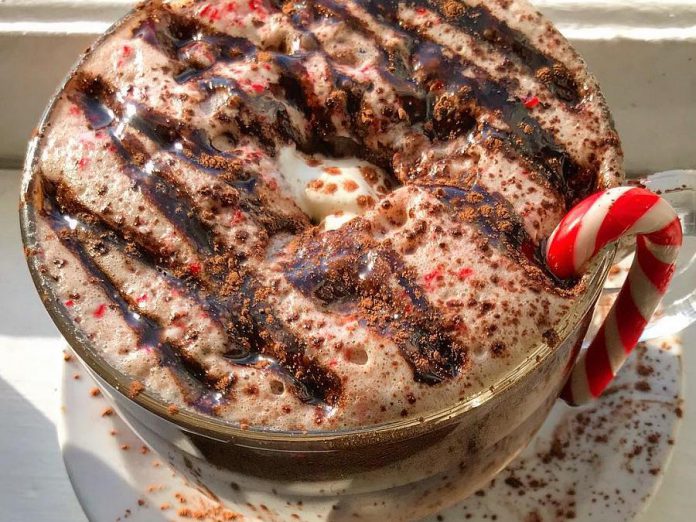 Head to Kawartha Coffee Company in Bobcaygeon for the Spiked Peppermint Mocha, a blend of espresso, vodka, schnapps and frothed Kawartha Dairy chocolate milk that is sure to keep you going well into the spring.
You don't have a sweet tooth? Kawartha Coffee Company also has a number of warm and cozy seasonal offerings, including a weekly classic roast beef dinner with all of the fixings, served every Sunday evening. Reservations are encouraged.
Viamede's Dark Winter's Feast transports visitors to January of 1877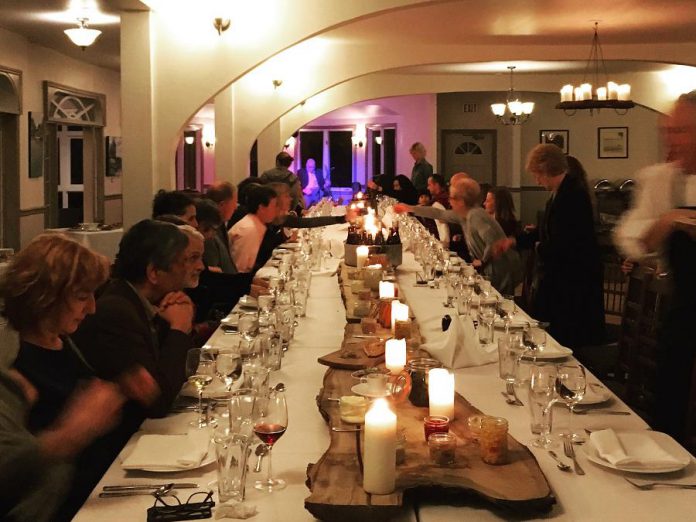 The fireplace crackles in the 19th century chapel, candles light the table, and a feast awaits you.
For those looking for a truly immersive dining experience, Viamede Resort will host Dark Winter's Feast on January 18th from 5 to 9 p.m.
Viamede chefs will prepare foods that would have been available to voyageurs exploring the Kawarthas in January of 1877. The dinner will be served family style by the hearth in Viamede's 19th century chapel.
General Manager Ben Samann says that our food is deeply entwined with our history.
"Human history is based on trade and food shortages and people suddenly having a taste for certain spices. Food is the history of people, and in order to understand the food from 150 years ago we have to understand the history."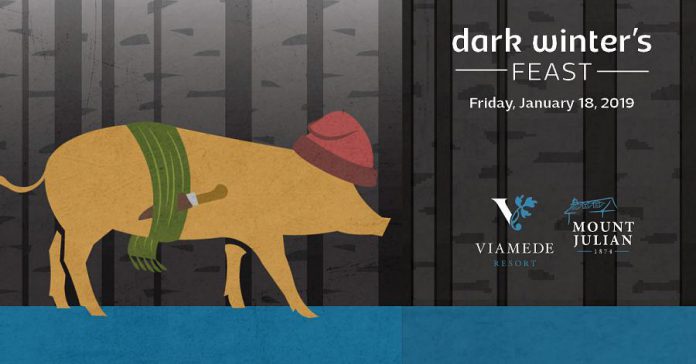 Warm clothing is encouraged, as the space will be warmed only by fire and candlelight.
This experience is only available to guests who are 19 or older. Call Viamede at 1-800-461-1946 to reserve your spot.
Soup/er series builds community one bowl at a time
A great soup recipe can work magic, turning a fridge full of nothing to eat into something delicious, healthy and warming.
Nourish's Soup/er series creates soup magic with residents of Curve Lake First Nation, Lakefield, and Havelock.
For this free four-week series, participants cook and share soup recipes. You are invited to take some of each soup home with you after the workshop.
Participants are also given $10 in Nourish dollars to use at farmers' markets or to purchase a JustFood Produce Box.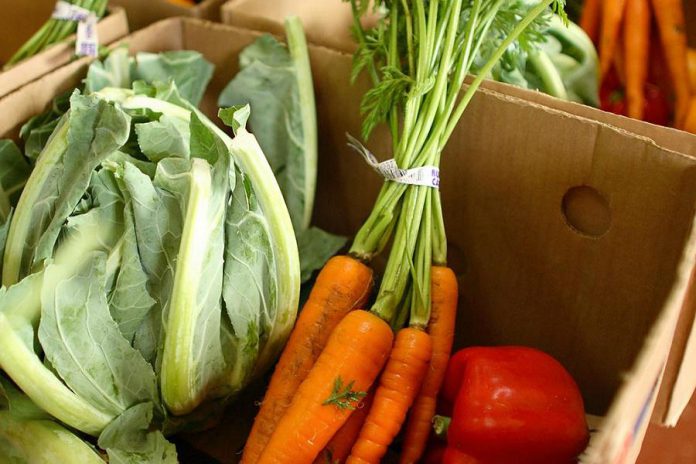 According to the Nourish website, "JustFood is a community-building program that works to provide respectful access to healthy affordable food for everyone."
JustFood produce boxes are available on the 2nd and 4th weeks of the month and feature a selection of fresh fruits and vegetables, often sourced from local farms.
Facilitator Janice McCue says that the workshop's purpose is to make use of readily available ingredients.
"The series will focus on using ingredients that are in our JustFood Box as well as other seasonal produce or staple we may have in our cupboards."
Lakefield's Soup/er series will be held on Fridays from January 11th to February 1st from 10 a.m. to 2 p.m. at St. John the Baptist (81 Queen St., Lakefield). You can register online at nourishproject.ca/souper-series or by emailing Janice at jmccue@ywcapeterborough.org.
If you are a resident of Curve Lake First Nation or Havelock, email Janice to be updated on scheduling.
Nateure's Plate is open for business in new vegan hub in downtown Peterborough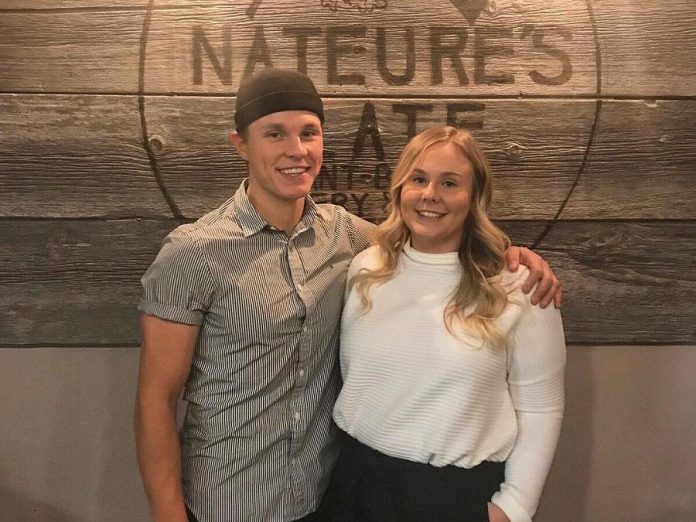 New vegan restaurant Nateure's Plate (182 Charlotte St., Peterborough) is now open.
Siblings Danielle and Nate White's new restaurant serves satisfying vegan comfort food, in the space previously occupied by Brio Gusto.
Danielle says that after a brief test run, they are excited to implement what they've learned and to finally launch.
"We are striving to create an exceptional dining experience, one in which is always adapting to be better," she writes on Instagram. "We couldn't be happier with our two test run nights and are ecstatic to be open to the public in a few short days. We appreciate you all so much; without you, our dream would be just that, a dream."
In their first week of operation (December 11th to 15th), the restaurant will be open for dinner only, from 5 to 10 p.m.. After that they will be open Tuesday through Thursday from 11 a.m. to 10 p.m., and Friday and Saturday from 11 a.m. to 11 p.m.
The Charlotte Street space will also be the new home of baker Vegan Sweet Home. In addition to selling their baked goods, Vegan Sweet Home will provide desserts and breads for Nateure's Plate.
You can find Nateure's Plate on Instagram @nateuresplate or at nateuresplate.com.