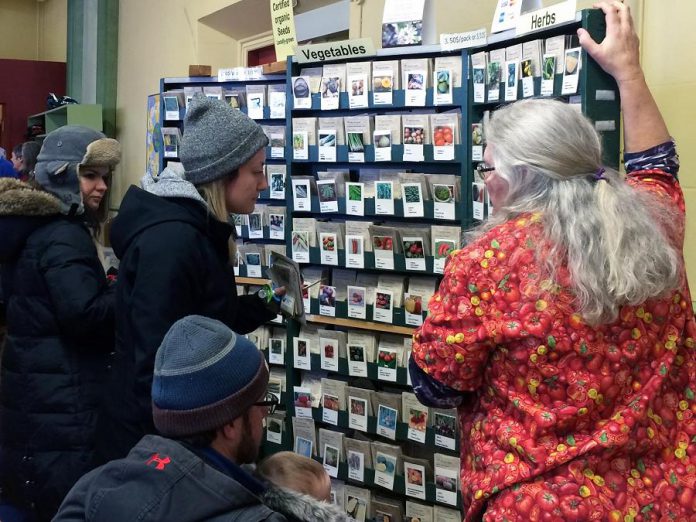 There have been so many snow days and ice storms over the past few weeks that it's hard to imagine spring is just around the corner. But this time of year is full of possibilities and is actually the perfect time to start planning for the upcoming growing season.
This is a great time to sort through the seeds you have, make up a garden plan, and thumb through seed catalogues to make a list of all the great things you are hoping to grow this season.
"The number one tip for growing a great garden is to start with great seeds," says Jillian Bishop, coordinator of Peterborough's Seedy Sunday, owner of Urban Tomato, and community food cultivator with Nourish. "Peterborough's local Seedy Sunday is the place to buy locally grown and adapted heirloom seeds for your garden."
On Sunday, March 10th from 12 to 5 p.m., Seedy Sunday Peterborough will host its 14th annual event at Emmanuel East United Church at 534 George Street North. For many, this popular event is the unofficial launch of spring and the best place to find local, heirloom, and unique seeds for your garden.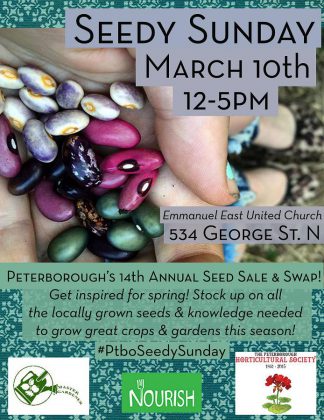 Why is it important to start with locally grown heirloom seeds when planning your garden? Heirlooms are seeds that have a history. They can be grown out, enjoyed, and — if the seeds are saved correctly — they will produce the same crop variety each year. Heirloom seeds represent a huge diversity of crops that can add colour, flavor, and history to your gardens. They are also adapted to our local environmental conditions, making it easier for you to grow productive, fantastic gardens.
In recent years, Seedy Sunday has grown considerably, tripling in size in only three short years with more than 30 vendors in attendance this year. Items for sale vary from heirloom seeds and composting and vermicomposting products, and you can even pre-order fruit trees and shrubs this year.
As always, many community groups will also be in attendance this year, such as Seeds of Diversity Canada, Nourish, Alderville Black Oak Savanna Ecology Centre, and GreenUP.
Seedy Sunday is a great place for gardeners of all skill and experience levels. So, whether you're new to gardening or a seasoned pro, there's something for everyone. This is the place to be to ask questions of growers, get advice from farmers, and get inspired for spring planting.
Seedy Sunday also offers a number of free workshops.
"We have four workshops scheduled," shares Bishop, "You can sign up for Basic Soil Biology and How to Grow Soil in Your Gardens, Growing Fruit Trees and Shrubs, Saving Tree and Native Plant Seeds, and Seed Rematriation — which is an overview of the origin of the Kenhteke Seed Sanctuary as it transitions from The Heirloom Seed Sanctuary."
GreenUP's Water Wise program will be hosting mini-talks throughout the event to discuss water around your home and how to use plants as solutions. GreenUP Ecology Park will be there to answer questions about native trees, shrubs, and wildflowers for your gardens.
Bishop also suggests that new growers may want to peruse the vendor websites ahead of time and make a list of what they might like to grow. Growers and vendors will be able to answer questions about your selections and help you get growing!
An insider tip from Bishop: "You don't need to spend lots of money or purchase lots of seeds to get started; a small number of seeds can get you started and, by visiting our famous Seed Exchange Area, you can usually find something unique to grow."
The Seedy Sunday Seed Exchange Area is a popular place to pick up some unique finds. If you have open pollinated seeds to swap, you can label your envelopes with the name of the plant, the date you harvested the seeds, the number of seeds inside, your name or the name of the grower, any growing information you can offer, and any stories you'd like to share.
If you don't have seeds to swap but would like to partake, you can purchase an envelope for a $1 donation. Over the next year, or maybe at Seedy Sunday this year, you can learn how to save your seeds and then bring some to trade next year.
VIDEO: Peterborough Seed Savers Collective

Want to learn even more about gardening? Nourish is hosting an urban agriculture series that can help new gardeners get ready for the upcoming growing season. This is a free five-part interactive learning series where participants will make basic garden plans, learn how to start seeds indoors, and find out about best practices for pest control, soil building, and succession planting, along with other tips for growing great gardens. For more information, visit nourishproject.ca.
If you are looking for a great place to grow this season, contact Nourish at growing@nourishproject.ca to find a community garden near you.
Seedy Sunday would like to acknowledge the support of Nourish, Peterborough and Area Master Gardeners, Peterborough Horticultural Society, and their many amazing volunteers who make Seedy Sunday possible each year.
Admission to Seedy Sunday is free and all members of the community are welcome. For a full list of vendors and community groups, visit www.urbantomato.ca. Visit the Seedy Sunday event page onthe Facebook for updates, to post your own wish lists, and share your excitement for the upcoming growing season.
If you would like further information about Seedy Sunday please contact, Jill Bishop at urbantomato@gmail.com.