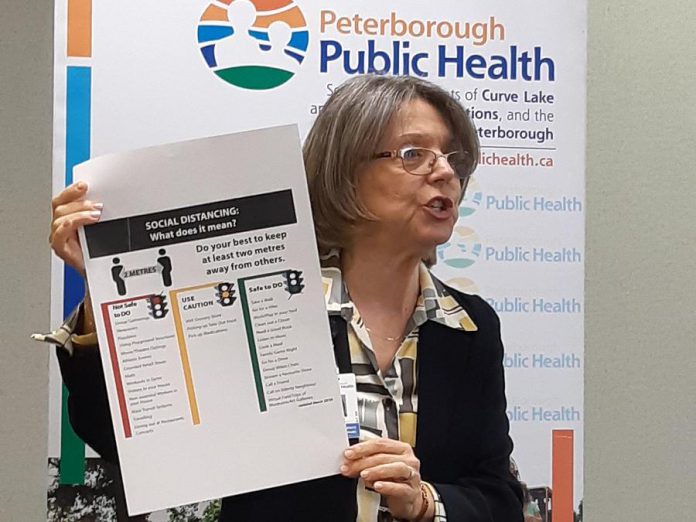 Peterborough Public Health reports no new cases of COVID-19 in the Peterborough area over the weekend.
Medical officer of health Dr. Rosana Salvaterra shared that news during her daily media briefing on Monday morning (March 23), noting the local count of positive cases holds steady at three. All three are self-isolating at home.
In addition, a total of 276 people in the city and county of Peterborough, Hiawatha and Curve Lake have been tested for COVID-19 to date.
Meanwhile, Peterborough Mayor Diane Therrien said that during a conference call on the weekend with MP Maryam Monsef, MPP Dave Smith, and County Warden J. Murray Jones, the prevailing concern was that not all people are self-isolating.
That, she added, must change and must change now.
"Peterborough is not taking this seriously enough," said Mayor Therrien.
The first death related to COVID-19 in the Kawarthas — which was also the first case of community transmission — was reported on Sunday (March 22) by the Haliburton, Kawartha, Pine Ridge District Health Unit.
A man in his 80s was admitted to Ross Memorial Hospital in Lindsay last Thursday (March 19) with a high fever and influenza-like illness. Tests were conducted and late on Saturday (March 21) it was confirmed the man tested positive for COVID-19. He passed away the following afternoon with both pneumonia and COVID-19 listed as the cause of death.
For the most recent information on COVID-19 in Ontario and the Peterborough area, visit ontario.ca/coronavirus or peterboroughpublichealth.ca.
Peterborough Regional Health Centre is also providing news, updates, information and resources on its website at prhc.on.ca/cms/covid-19-novel-coronavirus.