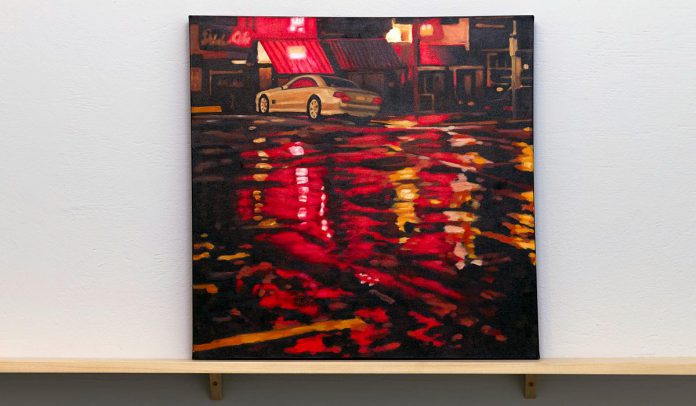 More people than ever will have an opportunity to collect stunning original art from artists in the Kawarthas region and beyond at this year's "It's All About ART" online auction in support of the Art Gallery of Peterborough and participating artists.
This is the second year the annual auction, which opens on Friday, November 5th and runs until Saturday, November 20th, has been held online due to the pandemic — which has some benefits over the Gallery's traditional in-person auction.
"The online auction is an interesting format and we have a broader reach so we can promote it quite far," notes Celeste Scopelites, Director of the Art Gallery of Peterborough.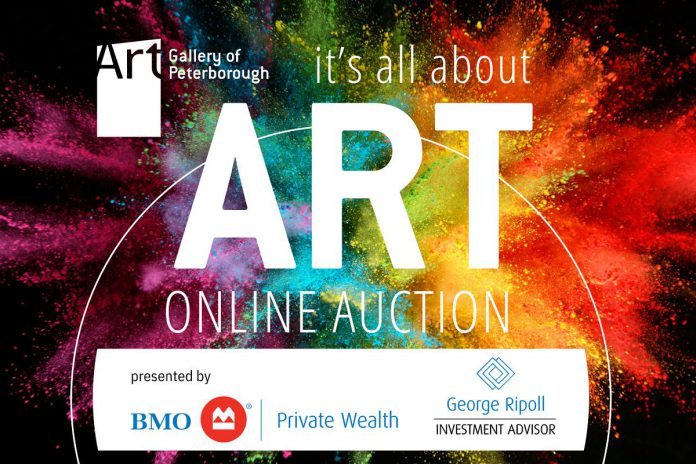 This year's online auction has expanded from last year's, according to Scopelites. It now includes over 50 artists, with no restriction on the size of artworks up for auction and with jewellery, ceramics, and sculptural pieces also included. Auction participants will find artworks in various sizes, mediums, and price ranges they can bid on.
In addition to works of art, the Gallery always includes unique art-related experiences on the auction block. For example, you can bid to win a behind-the-scenes tour with the Gallery's Curator Fynn Leitch. Another experience allows you to curate an exhibition from the Gallery's Permanent Collection.
"We've offered that for a couple of years and it's been very successful," Scopelites says. "It's an opportunity to get into the vault with our curator and to select a theme and a volume of artworks for that exhibition. It's a unique experience."
This year, glass and stone sculpture artist Christy Haldane is auctioning off a workshop in her studio. Haldane works with recycled window glass and other building materials, such as stone, to create minimalist, modern sculptures that consider humanity's effect on the environment.
Before bidding opens on November 5, you can preview some of this year's artworks on the Art Gallery of Peterborough's website at agp.on.ca/events-listing-page/its-all-about-art/, where images of the artworks are continually uploaded.
If you want to view the artworks in person to confirm your favourites, the Art Gallery of Peterborough is hosting a preview exhibition that opened on Thursday, October 21st. The Gallery is open by appointment between 11 a.m. and 5 p.m. Thursdays to Sundays. To book your preferred date and time to visit, call the Gallery at 705-743-9179. For more information, visit agp.on.ca/about/hours-admission/.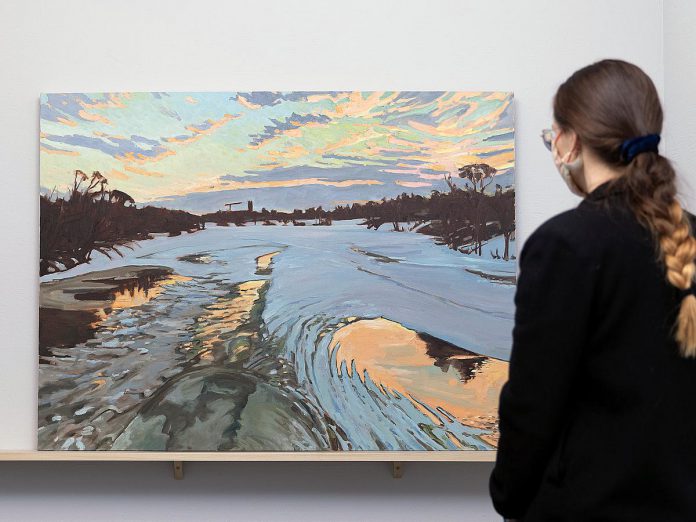 According to Scopelites, the final night of the online auction — bidding closes at 9 p.m. on November 20 — will be exciting as a flurry of bids are made during the last few minutes.
"It is an exciting moment, just like during a live auction," Scopelites says.
The auction is a major yearly fundraiser for the Art Gallery of Peterborough and also significantly supports the artists. Half of each auction item's hammer price goes to the artist with the other half supporting the Gallery's programming that brings inspiring and insightful contemporary art and education to the Peterborough community.
This year's auction fundraiser is especially important because of the impacts of the pandemic. Both artists and art organizations like the Art Gallery of Peterborough have endured challenges, including the cancellation of in-person programs and exhibits.
"It goes without saying that the arts sector has been badly hurt," says Scopelites. "Any way we can support programs and opportunities is welcomed, and it makes a huge difference. We need to have art around us."
The Art Gallery of Peterborough is also supported by the contributions of members and donors along with corporate sponsorships. George Ripoll of BMO Private Wealth is the Presenting Sponsor for this year's "It's All About ART" online auction, with LLF Lawyers the Event Sponsor and Ashburnham Realty, Electric City Real Estate (Linz Hunt & Company), and Slayer AI the Hosting Sponsors. The Auction Sponsors are Generation Solar, Sentry Health, and TD Wealth Management, with WeDesign providing in-kind support.
"Sponsorships helps us to do what we do here at the Gallery because, in spite of the pandemic, we've been offering so many free online programs and opportunities," Scopelites explains. "We really appreciate our sponsors' support as we go into this fundraiser."
Of course, an art auction is not possible without the talents and generosity of the many participating artists.
"We're thankful for the artists we have in our community and we really value the supportive relationship they have with the Art Gallery," Scopelites says.
To learn more about the "It's All About ART" online auction, including a link to the auction portal when it goes live, visit the Art Gallery of Peterborough's website at agp.on.ca/events-listing-page/its-all-about-art/. For updates, you can also follow the Gallery on Facebook, Instagram, and Twitter.
This story was created in partnership with the Art Gallery of Peterborough.