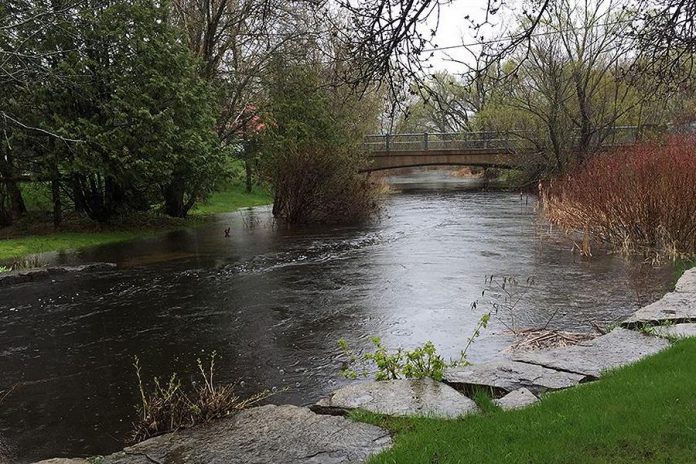 Otonabee Conservation has issued a flood watch for all waterbodies and watercourses in the Otonabee Region watershed. This includes much of Peterborough County and portions of Kawartha Lakes.
A slow-moving and moisture-laden Colorado low-pressure system is bringing widespread rainfall to the region starting overnight on Sunday (October 24) and continuing through Monday and Tuesday. Total local rainfall amounts of 30 to 50 mm are expected before the system leaves the region on Wednesday.
On Friday, another Colorado low-pressure system will again bring total local rainfall amounts of 30 to 50 mm over the weekend.
Advertisement - story continues below
During both rainfall events, localized amounts of more than 50 mm are possible if heavy downpours also occur.
The expected rainfall and heavy downpours, combined with already moderately elevated water levels and flows, may cause minor flooding in low-lying areas. As a minimum, water pooling on roads and in low-lying areas can be expected, as well as higher-than-normal water levels and flows — especially in the vicinity of culverts and bridges.
Otonabee Conservation is advising residents to be extremely cautious around all local lakes, rivers, streams, and creeks because shorelines and riverbanks will be slippery and could be undercut, and currents will be strong.
Road-side ditches, wetlands and other low-lying areas may experience unsafe ponding conditions. Dams and other water control and water conveyance structures are especially dangerous and should always be avoided.
The flood watch is in effect until Monday, November 1st unless updated.