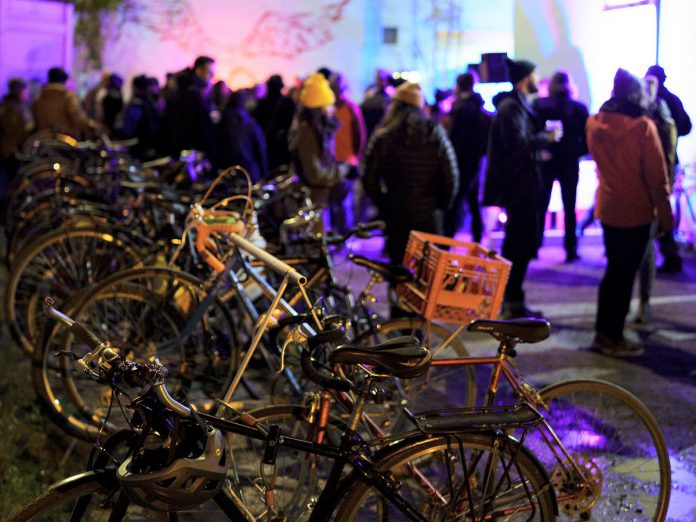 B!KE – Peterborough's Community Cycling Hub celebrated its 15-year anniversary on Friday (November 5) with a party and concert in the alley behind their location at 293 George Street North in downtown Peterborough.
As well, they welcomed their new executive director Mark Romeril and bid farewell to Tegan Moss, their outgoing executive director of 10 years.
The event ran from 8 to 11 p.m., with drinks donated by Publican House Brewery. Peterborough band Pop Machine began rocking the alleyway at around 9 p.m., playing a danceable mix of pop, rock, and funk.
Advertisement - story continues below
Romeril, excited for the event, saw it as a chance to meet some more of the community he'll be working with.
"It's been a long time since anything like this has really been organized by B!KE," he said.
Although Romeril is new to Peterborough, working with cycling, advocacy, and charity is his background. He previously had a fundraising role with the non-profit Cycle Toronto, where he worked for seven years.
"When I think of B!KE, a social enterprise is one way I'd describe it, a charity is another — a community space and a bike shop as well," Romeril said. "There's a lot of overlap in those things, but they do have different fits and feelings.
"Each of them comes together in a really special way that I think makes B!KE not only unique, but important for the community that we're in."
It's clear how B!KE sees itself is perfectly in line with his statement, with proof of this displayed on the vision, mission, and values board posted behind the bar for all partygoers to see.
Advertisement - story continues below
Vision:
People empowered to travel by bike
Mission:
Teach people to maintain, repair and ride bikes
Provide a workshop space and tools for bikes
Provide access to new and used bikes and parts
Advocate for people on bikes
Values:
Fun; inclusivity; self-reliance; sustainability; wellbeing.
Starting in 2006, B!KE has lived up to this mandate, partnering with organizations like Peterborough GreenUP, the City of Peterborough, the Peterborough Bicycle Advisory Committee, and more to work with schools and the community to teach cycling, safety and repairs, as well as hosting events such as glow rides.
They also offer a supervised workshop space with tools, parts, and volunteers willing to guide you along the process of repairing your bike.
Although B!KE is a non-profit, they do have a full bike shop, selling bikes and parts at all price ranges. There is something for everyone, and they can feel at ease knowing that they are supporting an organization that is focused on much more than just profit.
For more information about B!KE, visit communitybikeshop.org.