Greg Dempsey will be the Liberal candidate for Peterborough-Kawartha in the next provincial election, to be held no later than June 2, 2022.
Dempsey won the nomination after an online vote held Saturday (November 6), beating out his competitor Dane Bland.
"Greg is truly committed to improving life for those in Peterborough-Kawartha and brings a lifetime of experience advocating on behalf of Canadians to the table," says Ontario Liberal Party leader Steven Del Duca in a media release. "By electing Greg Dempsey as their MPP, families in Peterborough-Kawartha will have a strong fighter on their side."
Advertisement - story continues below
Dempsey, who was born and raised in Peterborough and graduated from Adam Scott CVI in 1999, holds a BA in economics and a BSc in computer science from Bishop's University in Quebec, a law degree from the University of Victoria, a certificate in International Indigenous Studies from Columbia University in New York, and a cum laude LLM in International Human Rights Law from Utrecht University in the Netherlands.
Since 2008, Dempsey served in the Canadian Foreign Service, representing Canada at the UN in New York, at the Human Rights Council in Geneva, and in Kabul, Afghanistan. Dempsey has also supported the Prime Minister Justin Trudeau's special advisor on LGBTQ2S+ issues.
He returned to Peterborough in 2019 to serve as communications director on former Peterborough-Kawartha MP Maryam Monsef's 2019 re-election campaign. Since 2020, he has worked with former Minister Ralph Goodale on Canada's response to the downing of flight PS752 in Iran.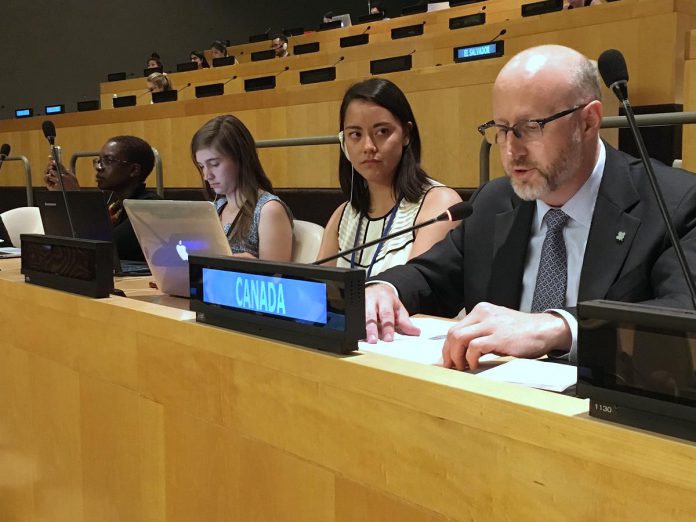 "From my roots in Peterborough, I've built a career bringing people together," Dempsey says. "I'm committed to electing a better, more caring provincial government — one that will take decisive action on the climate crisis, support the under-resourced, partner with Indigenous peoples, and restore our relationship with healthcare and education workers."
Dempsey will be vying against PC incumbent Dave Smith in the next provincial election. The Ontario NDP have not yet announced their nomination candidates for the Peterborough-Kawartha riding.