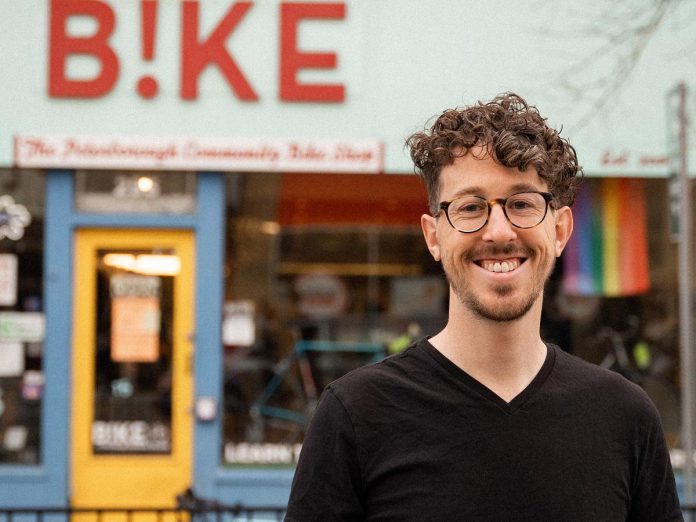 B!KE: The Peterborough Community Bike Shop has hired a new executive director, the charity's board announced on Tuesday (October 12).
Mark Romeril is a cycling enthusiast and bike mechanic with extensive education as well as work and volunteer experience in the cycling community. He most recently worked for Cycle Toronto where he held several positions over seven years, including membership manager and development manager.
"We are at a time in B!KE's history where we are poised to take on new projects," says B!KE board chair Jackie Donaldson in a media release. "Mark has the skills and experience — and the enthusiasm — to lead us through the next chapter of our development."
Advertisement - story continues below
At Cycle Toronto, Romeril also helped develop anti-oppression programming, and has "a strong commitment to equity, diversity, and inclusion" according to the media release.
"It is important that B!KE stay accessible and welcoming to everybody," Romeril says.
Romeril was also a volunteer instructor mechanic for almost a decade at DIY community bike projects across Ontario. He has a master's degree in urban planning from Ryerson University and worked hard to advocate for cycling access in the city of Toronto.
"I trained to be a planner because I've always had a deep interest in people and the communities they live in," Romeril says. "A big part of that is how people get around."
Although he lived and worked in Toronto until recently, Romeril grew up in Lindsay and is familiar with Peterborough
"I often came to Peterborough for the big city experience, like watching a movie on a big screen," he said. "I was here almost every weekend taking violin lessons."
Romeril's partner attended Trent University, and the couple has many friends in the area. They moved to Peterborough from Toronto last spring.
Advertisement - story continues below
"I know B!KE is very well loved and there are high expectations for how the organization is directed and cared for," Romeril says. "I hope to meet and exceed these expectations."
He begins his executive director role on Monday, October 18th.
Romeril replaces Tegan Moss, who had been executive director at B!KE since 2011. She has greatly increased B!KE's capacity for cycling education, including by launching in-school cycling programs, community bicycle repair and riding workshops, and Earn-A-Bike programs for youth and adults, and guided the organization to achieve charitable status.
Moss left B!KE to become the new executive director of Peterborough GreenUP in early September.
"The board wishes Tegan great success in her new endeavour and thanks her immensely for the decade of community, program, and bike building she brought to the organization," Donaldson says. "Through her strategic and community-focused leadership B!KE has become an established hub for cyclists of all interests, needs and abilities."
Located at 293 George Street North in downtown Peterborough, B!KE: the Peterborough Community Bike Shop supports cycling among all ages and abilities by offering a range of community programming, a teaching workshop for bike repair and maintenance, and sales of affordable bikes and bike parts.