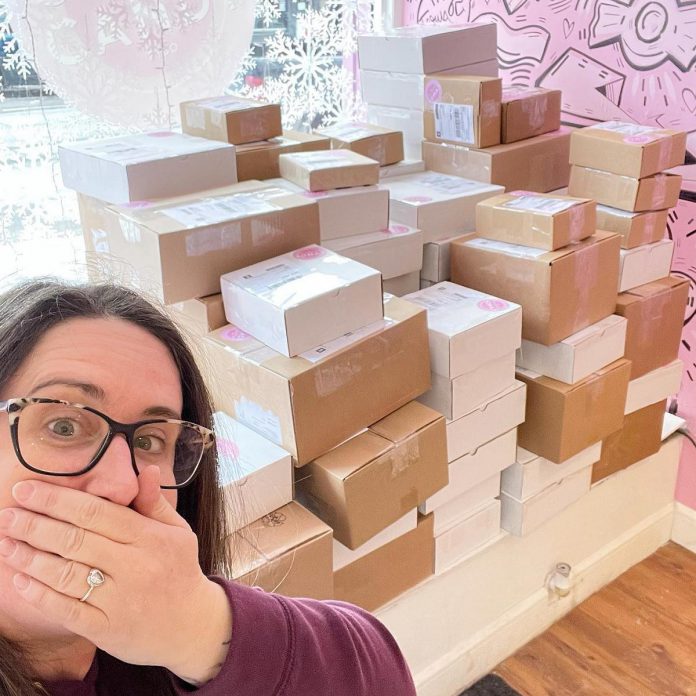 There seems to be something about candy that appeals to TikTok users, and a Peterborough business owner is very grateful.
Couture Candy Ptbo owner Lisa Couture had to temporarily close her retail shop at 386 George Street in downtown Peterborough on Monday (February 28) to deal with hundreds of online orders her candy shop received over the weekend.
According to Lisa, it all started when one of her TikTok videos went viral. Most of her videos attract several thousand views, but this one has now gained almost a million.
Advertisement - story continues below
In the video, Lisa packs the "second ridiculously huge order" for a customer named Becky, explaining each item in the order as she places it in a large box.
"Next day shipping, right across Canada," Lisa says at the end of the video.
Apparently, people were listening — and not only in Canada.
Tweet this quote
"We have had over 600K views on one post and over 60k visitors to our small shop online in 48 hours," Lisa writes in an email on Sunday.
"Because we are a small family and an even smaller small business (2.5 employees in the slowest retail season of the year), this has rocked our worlds in the best and craziest way possible. It is
something every small business wishes for but can never ever fully prepare for."
Lisa let her customers know she needed to close her retail shop on Monday to fulfill all the orders, and also to reorder, restock, and take a breather.
"And to be honest, there just isn't anything left to sell to in-store shoppers," she writes.
Local deliveries are continuing, and the store will reopen on Tuesday.
Advertisement - story continues below
Tweet this quote
Lisa opened her retail shop in October 2020 during the height of the pandemic, and the sudden popularity of her business is a much-needed boost.
"I'm buzzing … I'm grateful, I could cry, I haven't stopped smiling, I could dance, I want to sleep, I want to scream with joy from a mountain," Lisa writes in a Facebook post. "It's the best dream for my sweet little business."
This isn't the first local candy shop to benefit from TikTok. Apsley-based candy shop Tastely Box has also seen massive success on the popular platform, racking up millions of views on TikTok.
For more information about Couture Canada Ptbo, visit couturecandyptbo.ca and check them out on TikTok at www.tiktok.com/@couturecandyptbo.