Peterborough's Fleming College has suspended 13 programs, its signature Culinary Skills, Culinary Management, and Food and Nutrition Management offerings among them.
In a memo sent to staff on June 15 and obtained by kawarthaNOW, college president Maureen Adamson says the decision to cut the programs comes "after several years of enrolment decline in some programs, a global pandemic, and the ever-evolving demographics of learners."
"Upon examination of many factors such as enrolment demographics and financial sustainability of program delivery, several evidence-based decisions have been made," wrote Adamson, noting those decisions were made with the support of the college's board of governors.
Advertisement - content continues below
Besides the Culinary Skills, Culinary Management, and Food and Nutrition Management programs, other programs suspended are:
Business Administration (three-year advanced diploma)
Computer Engineering Technology (three-year advanced diploma)
Child and Youth Worker (three-year advanced diploma)
Geological Technician (two-year diploma)
Construction Engineering Technician (two-year diploma)
Community Pharmacy (one-year certificate)
Protection, Security and Investigations (two-year diploma)
Digital Image Design (one-year certificate)
Tourism and Travel (two-year diploma)
Integrated Design (two-year diploma)
Adamson noted that students enrolled in the suspended programs "will be able complete their studies in the normal amount of time for completion, adding "A plan will be created to support students who are not following the usual timing for program completion."
Moving forward, Adamson wrote, "The plan now includes a suite of new programs created to support labour market needs."
Those 10 new programs, and their planned rollout dates, are:
Marketing Management (fall 2023)
Health Care Administration Management (winter 2024)
Motive Power-Recreational/Sport Vehicle (winter 2024)
Mental Health and Addictions (winter 2024)
Project Management-Environmental (spring 2024)
Human Resources Management (fall 2024)
Spatial Data Analytics (fall 2024)
Geological Information Systems for Analytics (fall 2024)
Forestry Techniques (fall 2024)
Advertisement - content continues below
kawarthaNOW reached out to President Adamson for an interview, subsequently receiving an emailed statement from her.
In that statement, she notes "Further research and analysis revealed decreased local and regional high school completions, increased opportunities for applicants not directly out of high school, and the increased opportunities for international enrolment."
"These insights have informed and shaped a plan that has a stronger focus on graduate certificates, accelerated and hybrid options, and on one- and two-year programs."
"We are also suspending programs that have consistently performed below the established threshold that was determined by the Program Efficacy Review Tool we developed several years ago to measure a program's performance relative to established targets."
While Fleming College's highly regarded array of culinary program offerings hasn't been entirely gutted — Cook Apprentice, basic and advanced, remains in place — the suspension of the Culinary Skills, Culinary Management, and Food and Nutrition Management programs arguably marks the end of an era for the college.
While the programs could be re-instated by the college at some point in the future, it's anyone's guess at this point if and when that could happen.
Advertisement - content continues below
Tweet this quote
That does little to placate Mai Dong, the co-owner of Rare Restaurant and Bar in downtown Peterborough. A June 2022 graduate of Fleming's Culinary Management program, the sous chef received the college's Alumna of Distinction Award this past June in recognition of her significant contributions to her field and community.
"I was shocked — I feel like I've lost a family," says Dong of her reaction to the program's suspension.
"I was really confused as to why all of a sudden the program was suspended. It's such a good program. I know that a lot of internationals, Vietnamese specifically, they would love that program."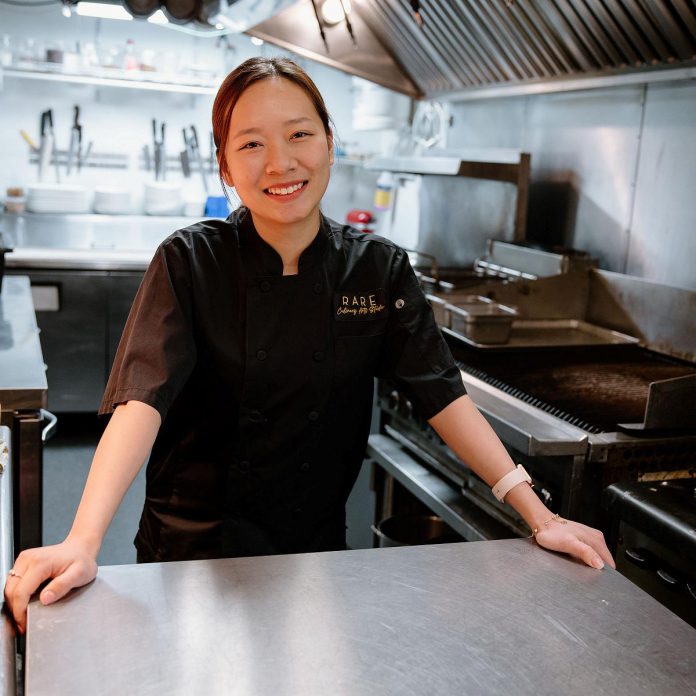 That said, Dong notes the pandemic held up the documentation required of international students. She says that may have been a factor in possible lower enrolment.
"I know last year there was supposed to be something like 80 students coming from different countries but couldn't get their visas to come into the country."
Speaking to her own experience in the program, Dong says it was, and, remains "everything to me."
"I love cooking but my passion was 'I've got to be a chef when I grow up.' That program showed me what a professional kitchen looks like and how much I love to work in that environment."
Advertisement - content continues below
Of note, the Culinary Management program also produced the college's 2022 Alumnus of Distinction Award recipient in Tyler Scott, who with his wife Kassy owns and operates Rare Escape, offering guided outdoor culinary experiences. The couple previously operated Rare Restaurant.
Meanwhile, the fate of Fleming's on-campus bistro, Fulford's, remains unknown.
Overseen by faculty of the Culinary Skills and Culinary Management programs, Fulford's has long provided students of both programs with invaluable practical experience in a working restaurant/kitchen setting.
Also not addressed in President Adamson's memo to staff or her emailed statement is what the program suspensions will mean, both short-term and long-term, for faculty affiliated with those programs.