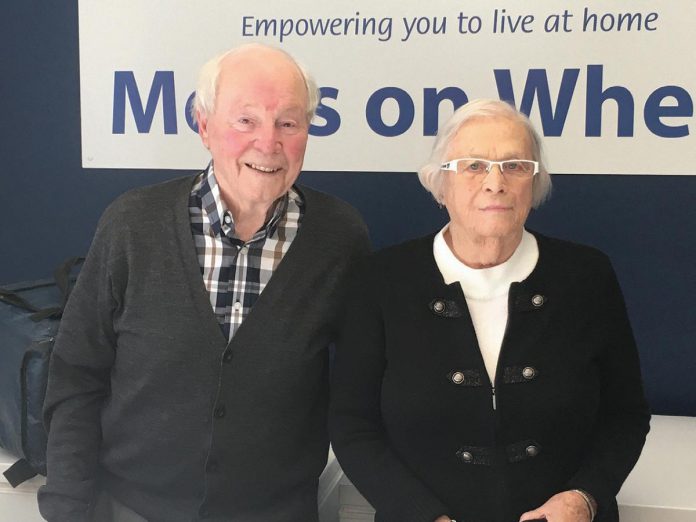 A life well lived is a life well worth remembering.
Ernie Ferguson has been blessed with the former, and, at age 95, is equally fortunate to still have extraordinarily clear memories of his life journey.
To be clear, Ferguson struggles at times to connect the dots but there are a lot of dots; countless episodes and interactions that, when recalled with any level of clarity, provide a most welcome glimpse of a Peterborough that was slower, simpler and, arguably, more content.
The logical step for Ferguson was to get down in writing his memories so they will survive his passing. At the urging of his daughter Cindi, who had gifted him with a book titled Dad, Share Your Life With Me for his 90th birthday, Ernie began that process on January 1, 2022.
Advertisement - content continues below
Tweet this quote
The result is Thanks for the Memories, a collection of wide-ranging reminisces, committed to paper "with guidance from Mona," Ferguson's wife who died peacefully in 2022, just days shy of her 91st birthday.
"After Mona passed away, the kids said it was more important than anything that I write the story of my life," recalls Ferguson. "It's all just stuff that came into my head. It's not really in any good form."
Regardless of that critical self-assessment of the end product, Ferguson is clearly proud of his 70-page collection of memories, and is equally delighted to share it with anyone who wants to come along for the ride. As for the dedication to Mona, well, that was a no-brainer.
"I was unsure of a title, but one morning I woke up and to my mind came 'Thanks for the Memories,'" marvels Ferguson, adding "That was my Mona communicating with me. She was thanking me for the memories."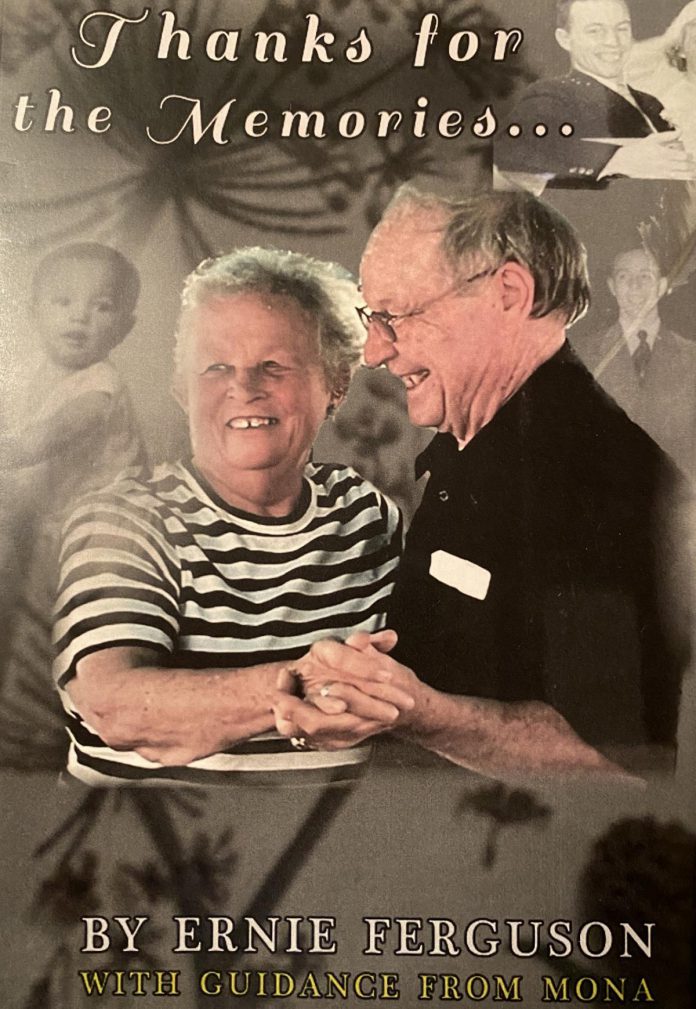 A turning point for Ferguson on his way to adding author to his list of many life accomplishments was his receipt of Dying To Be Me, Anita Moorjani's memoir that tells the story of her cancer fight and a subsequent near-death experience that was followed by a complete recovery. Reading that book proved to be nothing short of an epiphany for Ferguson.
"When she (Mona) passed away, it was a wonderful experience," says Ferguson. "I know people say it was sad, but it wasn't anything like that. It was a happy experience. People ask me 'Do you miss her?' I don't really. She's here. If I'm wondering about something, I get the answer from Mona. People ask 'How do she communicate with you?' Well, it just comes into my head. That's just the way it is."
Tweet this quote
There are several dates embedded in Ferguson's memory but one — January 31, 1948 — has always been, and remains, special on a level all the other dates can't compete with. It was the date he met Mona Peirson, who he would eventually marry.
"I invited Mona out on her 17th birthday," recalls Ferguson, noting the occasion was a dance at the old Brock Street Arena featuring The Tommy Dorsey Swing Band.
"I was 20 (years old). Four of us guys bought tickets and asked girls to go. I can't remember much about them. All I remember is Mona. She was the first girl I ever asked out. My mom and dad (Ruth and Ernie Ferguson) had a skating club at the Peterborough curling rink. When I was looking for a date, I saw Mona there and thought 'That's my date.'"
Advertisement - content continues below
Ferguson chose wisely, his first intuition leading to 74 years of being rarely apart from Mona, if ever.
Married on May 12, 1951 at George Street United Church, the couple had two children early on — Heather Jane and Clarinda (Cindy) Catherine. In January 1970, the couple welcomed Marcus Charles, whom they adopted and brought to Peterborough from Ottawa.
He didn't know it at the time, but Ferguson's work life was predetermined in March 1941 when he was in Grade 8 at King George Public School.
Tweet this quote
"Dad worked at Goodyear in Hamilton when he got married but he only stayed there for six months … he said all they did was work and drink," says Ferguson, who was born in the Steel City.
"The family moved to Peterborough and Dad delivered for Lansfields Cleaners on Louis Street. One day, Ivan Lillico, who owned Lillico Motors where dad bought his vehicles, said 'You're working for Lansfields and he is making all kinds of money but you're doing all the work. You should start your own business.'"
After accepting Lillico's offer of space at a building he owned on Water Street, the couple opened Ferguson Cleaners, a laundry and dry cleaning business. Young Ernie worked there along with his brother Wayne and sister Arlene, alongside a host of longtime loyal employees.
Tweet this quote
When, in 1959, Ferguson's dad decided to incorporate the business, he brought Ernie and Wayne in as partners. Ten years later, when Twin Cleaners on Monaghan Road went up for sale, the brothers bought the business, which Wayne ran. With time, the laundry and dry cleaning 'empire' grew with four buildings — the last being at 128 Hunter Street East, today home to Ashburnham Ale House.
The last day of 1990 saw Ferguson sell the business, freeing up time for him and Mona to do what they did for years and still loved to do — volunteer.
"Mona started volunteering with her mother at the old Civic Hospital; she took a cart around and sold books and treats and stuff," says Ferguson. "Next thing you know she's volunteering with Community Care (Meals On Wheels) and then got into volunteering with the Food For Kids program. It's something we loved to do together."
At age 88, Mona marked an incredible 50 years as a Community Care volunteer. Her husband, by comparison, was a newbie, helping out for 29 years following his retirement from the dry cleaning business.
"Mona was that kind of person … I just went along for the ride," says Ferguson, deflecting, as he habitually does, attention from himself.
Advertisement - content continues below
Tweet this quote
Asked for one nugget that close to 96 years of life has taught him, Ferguson answers quickly.
"Everybody gets a soul and that soul communicates with you all the time," he says, adding "I know a lot of people will have some trouble with that, but that's what Mona and I learned."
"You put a tulip bulb in the ground and it grows and becomes a beautiful flower. If our maker, our creator, could do that for a tulip bulb, he could do the same thing for a human being. We had all we needed to live our life. We just had to pay attention and listen. Whatever we needed to do, it came to us. We didn't have to think about it. It's as simple as that."
"Mona and I communicate all the time. Whatever is in my head, I get an answer from Mona. I don't understand it. All I know is if I'm trying to figure out something, the next thing I know is I have the answer. That's my Mona helping me out."
Advertisement - content continues below
Tweet this quote
Clearly, this article serves only to scratch the service of Ferguson's long and fruitful life — a full and vibrant life that continues, as evidenced by a recent get-together with family and friends at Swiss Chalet to celebrate the much anticipated 'launch' of Thanks for the Memories.
"I thought 'Isn't it a shame? I'm going to die and take my memories with me.' Well, here we are, able to share them with others."
For a copy of Thanks for the Memories, those interested can message Ferguson via his Facebook page.