Spring is finally really here, we have the maple syrup run ended and the tulips are in full bloom. The new crops of spinach, arugula, fiddleheads, wild leeks and asparagus are on their way.
If you are a woods walker you may have already notices the broad, smooth, light green with purple tinge leaves of the wild leek arriving in brilliant green patches in the damp forest bottoms. Wild leeks are one of my favourite of all the early vegetables. The leaves are very tender in early spring and the bulb is edible all year round.
My next favourite is the long delicate spear of asparagus also part of the lily family. The Ontario asparagus season is short lived, May to the first couple weeks of June (but who knows with this weather) so learn how to celebrate this vegetable by methods other then steam.
Asparagus packs in lots of nutrients and health benefits it contains vitamin K, A & C it has positive effects on your heart, lowers cholesterol and has anti inflammatory properties You can find this great green vegetable in the stores all year but it's from Peru, Mexico and Californi. Nothing is as good as the asparagus grown close to home.
Here is a great way to enjoy asparagus it works as a side dish, appetizer or part of an Antipasto plate
Prosciutto wrapped Asparagus with Lemon zest and Black pepper
Ingredients
1 bunch of Ontario Asparagus
7 slices of Prosciutto or Serrano Ham
1 fresh lemon washed
2 Tbsp Olive oil
Fresh cracked black pepper
Method
Wash and snap asparagus, it will break at the top of the woody stem
Wrap each stem with half a slice of Prosciutto spread wrapped asparagus on a baking sheet or tray
Sprinkle zest of 1 lemon and then squeeze the fresh lemon over the tray
Pour about 2 tbsp of olive oil over the asparagus
Grill on a hot BBQ or place in a 400 degree oven until prosciutto is crisp and the asparagus is cooked about 10 minutes turning a couple times, you want the asparagus to be tender and bright green be careful not to over cook
When the asparagus is removed from the oven or grill sprinkle cracked black pepper and remaining ½ of the lemon juice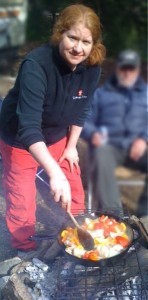 **If you have unwrapped asparagus follow the same method and enjoy grilled or roasted, you may want to sprinkle with some sea salt as you won't have the prosciutto to add the saltyness**
Elaine McCarthy is the Co-ordinator of the PC Cooking School at the Great Canadian Superstore at Lansdowne Place. She is a food entrepreneur and a former partner of BE Catering and the author of our kawarthaCHOW column.
Be sure to check our column about the PC Cooking School and facility rental!
PC Cooking School