This week, if you wanted to start a heated discussion in Peterborough, all you had to say is "AstroTurf". Whether you call it AstroTurf or artificial grass, I call it a boondoggle and here's why.

Last year, the Kawartha Pine Ridge District School Board (KPRDSB) decided to close Peterborough Collegiate and Vocational School (PCVS). Without getting too deep into the details, they did so because of declining enrolment in Peterborough schools (even though PCVS was at 90% capacity — higher than any other school in Peterborough). They closed the school and, although they said it wasn't to save money, declining enrolment equates to a reduced budget. As horrible as it sounds, a student = dollar signs. The more students, the more money they get. So really, regardless of the spin, it was to save money.
In order to "save" special programs and to move the majority of displaced students to TASSS, the school board spent roughly $2 million on renovations to modernize the facility. Of course, to the folks over at the school board, "modernize" meant installing things like a dark room for developing film — film that 90% of the free world doesn't use anymore. Keep in mind, for the sake of my point, that the $2 million they spent came from a publicly funded budget.
So here we are in November, after the board has spent a cool couple of million on renos, and our city council approves the partial funding of artificial turf fields at TASSS. Through the agreement that council approved on Tuesday night, they will provide $1.325 million to help pay for the fake grass on the fields. Who's paying the other $1.375 million to get Rogers Centre quality fields? Well, the public school board of course. Combine both amounts, and the true taxpayer burden is almost $3 million for plastic grass.
CHEX's segment on the funding controversy, featuring an interview with Paul Forget
When I read on Twitter that they had approved it, my head almost exploded. I had read the plans online leading up to Tuesday's meeting and, using common sense, I thought "No one in their right mind will approve such an irresponsible expense". Boy, was I wrong. Apparently, common sense isn't so common in council chambers.
Immediately, Peterborough tweeters exploded in anger over the decision. In fact, over the last few days, I only read one positive tweet regarding the approval. Paul Forget (@paulforget) was at the head of the backlash and called for people who disagreed with the decision to immediately reach out to council members and the mayor to voice their dissatisfaction. Paul posted a link to contact info for councillors and KPRDSB board members. Paul's message was so resonant that he was interviewed for a piece on CHEX Newswatch's Thursday night broadcast.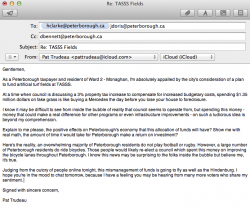 After I took a minute to collect my thoughts, I proceeded to write an email to my councillors, Henry Clarke and Jack Doris, and to our Mayor. In it, I was very clear of my concerns and asked for real-world math on how this was a good investment.
I also asked for the reasoning on why we would invest in something that such a small percentage of residents would use, when we could do something like improve Peterborough's bike paths instead.
No more than nine hours later, I received a response from Mayor Bennett via email. Some would say that he should be credited for such a prompt response. However, it's important to remember that, although a response may be prompt, if it avoids the questions being asked, then more time should have been taken to respond.

Mayor Bennett didn't really answer my concerns or say anything of substance. What he did do is liken the decision of these football fields to our emergency services and roads. He wrote "Not everyone uses our museum or sidewalks or roads or arenas or library or police or fire services". He later goes on to say "While you may not at this time make use of the renewed facility at TAS perhaps you will see the benefit over the next 25 years."
Thanks Mayor … I guess instead of answers, I get a rain check.
A few hours later, Henry Clarke responded in a much more wordy email. In the email, Henry mentioned that the city had been looking for opportunities to develop new fields for the last 6-8 years. Interesting, since this decision was to renovate existing fields and not develop new ones. He went on to explain the downside of having turf fields, because they become damaged from use and can only be used for a small period of time throughout the year. So, by the sounds of things, we're going to slowly become Thneedville, complete with plastic trees and concrete yards, because grass is just SUCH an inconvenience and bad for sports.
Then, near the end of the email (keeping in mind that email stands for "electronic mail", which operates over the internet), Councillor Clarke let me know that if I "didn't have access to the Internet" (?), he would send me some studies so that I could be better informed.
So two responses and both of them duds. In true stereotypical fashion, I received the vanilla responses that I expected: responses that had a lot of words and no real answers. The worst part of both emails was that they were copied-and-pasted to others who I'm sure made different points and asked different questions. Sometimes it's easier to create an image of being transparent and engaged than actually to be either of those things.
The problem with the investment of the fields isn't the investment — it's the timing. This decision comes on the heels of the city tabling a 3% property tax increase in 2013 to deal with a ballooning budget. It comes the same year as PCVS closed its doors and we spent millions to keep TASSS's open. It comes at a time when our economy is stalled and our unemployment stats go up and down on a monthly basis like a yo-yo.
If this decision had been made in a growing economy where real job growth was happening and the city had a surplus budget, I'd be all in. If we've got a pile of cash, yeah, let's spend it and make Peterborough awesome. However, no amount of political rhetoric will make this decision a smart one at present.
If you live in Peterborough and agree with an ounce of what I've said, you owe it to yourself and to our community to follow Paul Forget's lead and contact your council members to voice your concern.