Christensen Fine Art
"]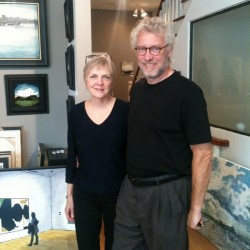 The sun is pouring through the windows at Christensen Fine Art. The beautiful work of gallery artist Melanie Brown is illuminated by the warm, afternoon light. It's a rare autumn day when the temperature skyrockets and everyone is suddenly wearing shorts again. "I remember my mother telling me the day I was born was a hot one, just like today," says Lori Christensen. "I have a photo of her wearing this thin, cotton shift dress."
Along with the balmy weather, the day evokes a feeling of significance, bordering on remarkable. Lori's reminiscing prompts the obvious question. I ask her and she smiles and nods towards her husband and partner, Peer. "It's my birthday," Peer tells me, as we enter the second floor studio at 432 George Street North. Despite feeling a bit tired (Peer paints in his studio at night, sometimes until 3:00 am), he's happy about turning 59. "I'm working on five different pieces and I feel really good. I'd just like some tea."
Peer Christensen has every reason to celebrate. An acclaimed artist whose body of work spans more than 30 years, his contributions to the art world are numerous. He shows at several Toronto galleries, exhibits annually at the Toronto Outdoor Art Exhibition and the Toronto Artist Project. Peer has taken part in both solo and group shows at the Art Gallery of Peterborough and is represented by the Art Gallery of Hamilton art rental and sales program. The Toronto Reference Library recently purchased a major work.
"We've run a successful business for 26 years," Peer says. "We feel very fortunate to have experienced that kind of longevity. Since we amalgamated our business and home into one location seven years ago, we're enjoying a very simple, urban lifestyle. We love the downtown and are very proud to say we work and live here."
Before moving to Peterborough, the Christensens were living what can best be described as an idyllic lifestyle in Victoria, BC. "We lived in a cabin and we had a woodstove for heat," Lori tells me. "I even used to bake bread," she laughs. "Now all we have to do is walk out our front door and we can have dinner at any restaurant we like. Everything is so accessible to us. We often go days without driving the car."
After relocating to Peterborough, the Christensens established the Williamson House Gallery, one of Peterborough's first commercial galleries, in 1986. Later, they combined two successful ventures, Hunter West Gallery and Starving Artist Frame Outlet, to create one enterprise — Christensen Fine Art.
Consolidating their home and business into one operation has also benefitted clients of Christensen Fine Art. "All of Peer's expertise is in one location," Lori explains. "The gallery, restoration and framing aspects of the business are on the main floor. Peer's studio is located upstairs and then we have our living area on the third floor." This allows people access to Peer and all of his know-how, whether they've got questions about paintings or they're seeking advice about framing and restoration, which are integral aspects of their business. More than 35 years ago, Peer apprenticed at a shop in Victoria providing him with the expertise required in running a successful gallery business.
"With Peer's help and guidance, customers can choose custom-made frames suitable for a wide range of individual styles and budgets," Lori says. "We carry high-end exquisite, imported mouldings as well as discontinued lines that we offer at discount rates. It just depends on what you're looking for."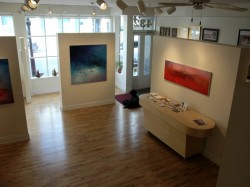 While the savings they're able to pass on is another added-value benefit to customers, it's the expert advice the Christensens offer in framing and restoration that has become the hallmark of this specialized business.
"I work in conjunction with a conservator in Toronto for all of the art restoration we provide," Peer explains. "People can come into the gallery and we'll offer them a free consultation, as well as yearly conservation clinics."
A showcase for ongoing exhibits of contemporary Canadian painters, the gallery at Christensen Fine Art reflects an atmosphere that's relaxed and unpretentious. Providing this forum for people to experience and enjoy the beauty of art is important to Peer and Lori and the staff at Christensen Fine Art.
"We really love working with other artists. For us, they're the most interesting people in the world."
We couldn't agree more.
[/tab] [tab title="
Contact Christensen Fine Art
"]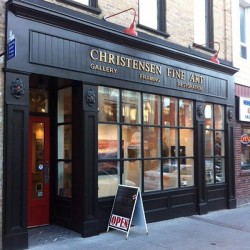 Christensen Fine Art
432 George Street North
Peterborough, Ontario
K9H 3R5
Telephone: 705-876-9623
Hours
Monday to Friday: 10 am – 5:30 pm
Saturday: 10 am – 4 pm
[/tab] [tab title="Location Map"] [/tab] [/tabs]