[tabs style="1″] [tab title="
About Jamie
"]
Before joining TD Bank Group sixteen years ago, Jamie Tompkins was a drummer.
"While attending Wilfrid Laurier University in Waterloo I performed throughout Ontario in a rock group, recorded with several groups and played in a Celtic band," says Tompkins, who hails from Ottawa.

While he says he never went to band camp, Tompkins admits he is musically inclined and grew up playing the piano, as well as a number of instruments.
"My father is from the Rock," says Tompkins. "Kitchen parties were common practice in my neighbourhood when I was growing up. I guess my enjoyment of music stems from a lot of different things. But most of all, it's something I've always loved and wanted to share with people."
A strong proponent of the arts and music community in Peterborough, Tompkins' philanthropic involvement has been part of several organizations and projects. He provides board representation for Little Lake MusicFest and, when the Market Hall was undergoing its restoration, TD donated a large sum of money to support the renovations. At the time, Tompkins was Branch Manager of TD Bank in Peterborough Square. He and his colleague Anthony Kellner (Manager, Commercial Banking) presented a cheque for $50,000 to the campaign.
"Market Hall is an anchor for arts and culture in our community," says Tompkins. "It symbolizes the potential and growth for future generations of artists and musicians and that's something that is very meaningful for me. I've always believed we have to dedicate our efforts to helping young people develop and reach their potential."
Tompkins has given his time to Junior Achievement, Big Brothers and Sisters, and Little Lake Musicfest. Jamie was recently appointed to the Chamber of Commerce board.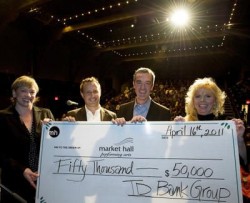 "The festival is a great draw for tourism to this region. We're getting some really incredible musicians coming to play here," Tompkins says. "We're working on getting someone who is pretty spectacular but I'm not allowed to tell you who that is," he laughs.
Invested in his community, Tompkins recently made the move from Branch Manager to Investment Advisor because he wanted to build on the relationships he formed over the past ten years in Peterborough.
"I've experienced big city life," he says from his office, which is still located in Peterborough Square. "When I decided to make a career move, there were several reasons for my decision, but knowing my wife Stephanie [Branch Manager for TD in Port Hope] and I could raise our children in a great community that has so much to offer was top of the list."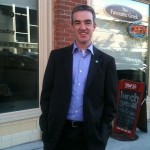 From the natural beauty of the Kawarthas to the many trails he loves to run along, Tompkins says Peterborough is an ideal place to live.
"How many cities this size have both a university and a college, a downtown full of restaurants and café, all within walking distance?"
In addition to his love of music and life in the Kawarthas, Tompkins says there is nothing as rewarding as helping people establish financial goals and achieve them.
"One of the biggest advantages to working with people one on one is I can help them create an infrastructure that's right for them. So many people are afraid to look at their financials because they're afraid of what they might see," Tompkins explains.
"Nine times out of ten, people are relieved once I've broken it down for them and they get a true picture of where their money is going and how I can help. That's the part of my job I really love."
[/tab] [tab title="
Location Map
"] [/tab] [/tabs]
TD Waterhouse Private Investment Advice is a division of TD Waterhouse Canada Inc., a subsidiary of The Toronto-Dominion Bank. TD Waterhouse Canada Inc. – Member of the Canadian Investor Protection Fund. ® / The TD logo and other trade-marks are the property of The Toronto-Dominion Bank or a wholly-owned subsidiary, in Canada and/or in other countries.