June 5th marks the end of the 2012-2013 membership year for the Women's Business Network of Peterborough (WBN). To celebrate another fantastic networking year, the organization is hosting a great evening of laughter, fun, and music.

For the first time in many years, the evening is also open to all women in business — not just members of WBN.
Proudly sponsored by Darling Insurance, the celebration will include a cocktail hour with live entertainment, a three-course dinner, and a keynote presentation by award-winning speaker and storyteller Paul Huschilt. Paul will present his Seven Humour Habits for Workplace Wellness, an imaginative and hilarious quest to conquer stress.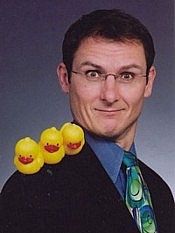 Seven Humour Habits
uses laughter, interaction, personal reflection and creativity to inspire people to be their best at work, at home, and everywhere in between. Paul will share his techniques about how to get the most out of life, deal with change, build on the strengths of relationships, and laugh at just about anything.
Watch a video of Paul in action
.
With 15 years of professional speaking experience, Paul understands how to promote learning and excite every audience. His words and unique tools have taken him around the globe, presenting for large corporations, associations, and his favourite charities. He works in English and French … and occasionally in Japanese!
Paul's presentation is a fitting end to a year of wonderful keynote speakers at WBN. The year began with an inspiring and entertaining talk by one of Canada's most prominent women, Pamela Wallin, who encouraged WBN members to "Just say YES!" when opportunities arise and to never let challenges hold them back from growth. Other speakers during the year were estate planning expert Linda Willcox Whetung, networking master Colleen Clarke, Moxie Trades president Marissa McTasney, and renowned humourist Deborah Kimmett.
Speakers in previous years have included customer experience and business catalyst Toni Newman, communications expert Elaine Stirling, Company of Women founder Anne Day, wine and food columnist Shari Darling, and Green Party of Canada leader Elizabeth May.
WBN's 50th anniversary celebration in 2011 included talks by international roots music star and mother of five Natalie McMaster, former Chatelaine editor and author of My Mother's Daughter Rona Maynard, and entrepreneurial maven and founder of Nadja Foods, Nadja Piatka.
The quality of the speakers over the years reflects WBN's commitment to supporting Peterborough-area women in business.
For over 50 years, the organization has offered women a place to connect with valuable business contacts, opportunities for professional and personal growth, and a supportive and empowering community of like-minded women — all at an affordable price.
WBN believes in its vision to strengthen the community by supporting, empowering, and inspiring women in business. The diverse membership includes women of all ages and backgrounds, and they pride themselves on providing a welcoming and friendly environment.
The year-end finale is always a popular event so, to register as a guest, visit www.womensbusinessnetwork.net soon. You can also find out more information if you're interested in joining WBN.
Paul Huschilt in Action