Chef Brad Watt and his wife Katie opened Rare Grill House in the spring of 2007, fulfilling a life-long dream of returning to Peterborough to open a restaurant.
In its early days, Rare was a traditional steakhouse icon amidst the diverse local restaurant community. During their first year, Brad and Katie gained the trust of the community and Rare became one Peterborough's culinary hotspots.
Rare's menu goes beyond steak to reflect Chef Brad's take on the ethical eating trend: whole animal eating as a sustainable practice. The premise of this culinary wave is to purchase the entire animal, which is raised naturally on nearby farms, and use most of its parts — leaving little of the animal to waste.
Within the restaurant's second year of operation, Chef Brad introduced ethical eating into the restaurant slowly, beginning with "Off-cut Thursdays" where he would feature a dish using lesser-known cuts of meat and certain organs.
Today, the feature board offers daily delicacies and these specials sell out consistently.
One of the favourites is a culinary masterpiece known as the "60-mile-an-hour pig", with meat from the hocks (ankles) wrapped around meat from the jowls prepared in a torchon style — pressed together and rolled — then sliced and pan-fried and dressed with maple-poached apples.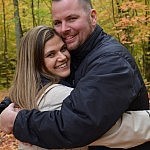 Patrons are excited about Chef Brad's creativity in the kitchen and trust his instincts and experience.
The extremely knowledgeable staff take the skepticism out of the feature dishes by thoroughly explaining the flavours and the experience of the food.
Not sure you are ready to venture into the "unusuals" quite yet?
No need to worry — the regular menu offers palate-pleasing appetizers, including fragrant soups and delicate salads, and more mainstream favourites like juicy steaks and burgers, local organic chicken, local Linwood Acres Trout, and a vegetarian option.
The atmosphere at Rare exudes sophistication without stuffiness, offering diners both class and comfort. Reservations are recommended.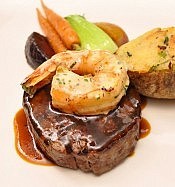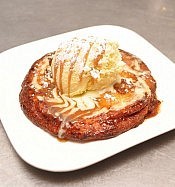 Rare Grill House photos by Julie Gagne Photography (www.gagnephoto.com)