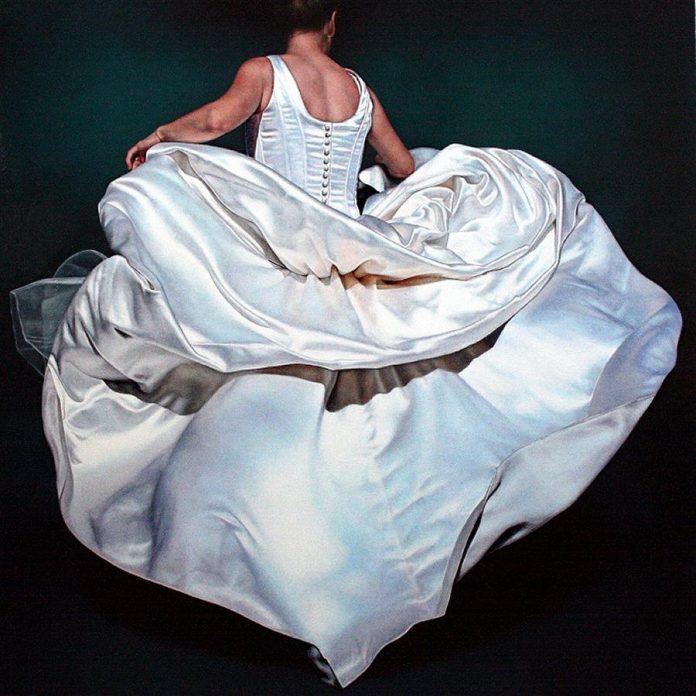 Artist Spotlight: Anne-Marie Kornachuk
Anne-Marie Kornachuk may be less in the local limelight these days, since the time when she was the Director of the Art School of Peterborough and had shows at the now defunct Russell Gallery.
As a successful commercial artist, her exquisite oil paintings are more often seen south of the border in places like New York, Cincinnati, and Los Angeles.
A little closer to home, in Lakefield, she is represented by the Trias Gallery in Oakville and has shown work at the Art Gallery of Peterborough.

Anne-Marie's successful career as a painter began with the frustrated desire to be a photographer. When she left a fine arts program at the University of Manitoba to return home to Montreal to study at Concordia, it was initially in photography. It was less than an ideal fit.
"I discovered really quickly that they — the photographers — really hated it if you were sloppy with the chemicals," she explains. "I don't enjoy the process in the sense that it takes too long for me. You have to take the picture, and then develop the film, and then develop the photographs. It was all fussy and neat and clean, and this was just not me at all. I wanted to have an idea and be able to do it right away. So, I focussed on drawing a lot of the time, and then I moved over to painting. That's how it happened. I dropped out of photography very quickly."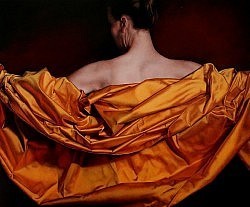 You might think this indicates a lack of patience on her part, but that would be far from the truth. Anne-Marie is meticulous in her painting technique and works for 100 hours or more with a magnifying glass on each piece. Her desire to shape and manipulate an image is in tune with her chosen medium.
She does work exclusively from photographs, and has trained her husband Dave to take the pictures that are the basis of her work — but that is where the similarities end. Although her work is very realistic, it is not the stuff of photography.
When she works with her ideas for paintings, there is something both very specific with regards to the subject matter and something quite fleeting and ephemeral about what she wishes to capture and express. This is the brilliance of her work. She takes a moment that may be quite subtle or understated in its drama and amplifies it in such a way that it not only takes you into, but beyond, the frame.
"I have a really hard time with things that are overly dramatic," she says. "And I don't like over-the-top emotion or something that comes across as sentimental. Except if it's horses. With horses, it's OK."
Anne-Marie's passion for equestrian pursuits and horses has often been the subject matter of her paintings and she spends much of her free time training and having fun with her horse at her home in Lakefield.

Her most recent series though is inspired by the not-so-overt drama of fabric. There is a seeming contradiction in the precision of her modelling — posing herself because she can't explain it to anyone — and that what she captures hangs in the miracle of a moment.
Her work is painstaking in its detail and she works hard on her craft every day. Her home and her studio are both her refuge and her laboratory.
"I allow my husband to visit with me occasionally," she says, with a beaming smile.
She's both happy in her work and dedicated to its realization.
"Everything is difficult," she says. "If you choose the thing that you don't like to do, it's still going to be difficult — and in fact it'll probably be a lot more difficult. I've made a lot of sacrifices to do this, and it's still difficult, but on the other hand I just think: 'I've got to make this work.'"
For inquiries regarding Anne-Marie's work, visit her website at www.annemariekornachuk.com, email annemariekornachuk@gmail.com, or call 705-652-3562.
---
Kalmplex Issues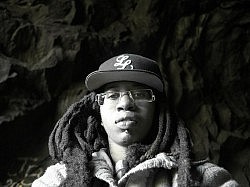 While brother Beau traveled across Ontario touring "Beneath Springhill: The Maurice Ruddick Story", Lisa Dixon brought in multi-faceted Toronto artist Kalmplex to feature on the walls of her much loved café for Black History Month.
Kalmplex boasts many talents, including multimedia artist, musician, poet, playwright, documentarian and vegan chef, and counts graffiti, videography, photography, painting and DJing as mediums.
In this offering of spray paintings, the historical and contemporary African/black context of the "stud" is explored.
Historically, "studs" were slaves that sired children so that plantation owners could sell their offspring to other plantations.
In the modern context, "stud" is used in the queer black community to refer to someone who is good looking, strong, and seen as a sex symbol.
One of the pieces seems to suggest via some text on the "Roxborough Estate" that there might be a connection between these two contexts: a link between the legacy of black oppression and modern stereotypes and labels.
These are issues no doubt close to home for Kalmplex, having been born and raised in Toronto to Jamaican and Ghanain parents. You can definitely see the influence of graffiti art and urban tropes in these images. The focus on being "checked out" in these pieces ranges from being implicit to overt.
The series of paintings will remain on display into March.
Black Honey (221 Hunter St. W., Peterborough) is open Monday to Thursday from 8 a.m. – 10 p.m., Friday from 8 a.m. – 11 p.m., Saturday from 10 a.m. – 11 p.m., and Sunday from 10 a.m. – 6 p.m. Weekend brunch is served from 10 a.m. – 3 p.m. on Saturdays and Sundays. For more information, call 705-750-0024 or visit www.blackhoneydesserts.com.
For all things Kalmplex: follow @kalmplex on Twitter, visit www.kalmplex.com, or email dreadedstar@gmail.com.
---
Fairhaven's Artist of the Month: Ron Ward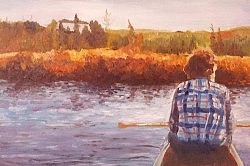 Since settling in the Kawarthas in 1975, Ron Ward has been quite successful commercially in employing his artistic skills to logo design, posters, and illustration.
One of his most recognizable commissioned designs is the logo for Peterborough's The Wolf radio station.
Early in his career, he even created designs for carpets — but his enduring love is for creating fine art.
Ron's work includes painting in watercolours, acrylics, and oils, and sculpture in various mediums. Recently, he's been more attracted to painting with oils because of the freedom he enjoys in using them.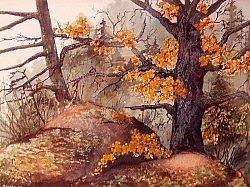 "I started doing watercolours," Ron explains. "Over the years, I tightened up quite a lot. It has become labour intensive and too tight for what I was after.
"So I thought I'd switch to oil paints to loosen up a bit," he adds. "I really enjoy working with oil paints."
Despite Ron's admonitions about getting "too tight", I'm particularly fond of the beautiful watercolour painting featuring an oak tree on display at Fairhaven's Link Gallery. The craftsmanship in this piece is excellent, and I love the quiet majesty of it.
This is not to say that his pieces rendered in oil do not possess considerable charm and skill. His love of the outdoors, camping, and canoeing transmit faithfully.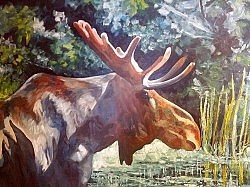 I can well identify with a peaceful moment of rest and contemplation while out paddling, or the grandeur of a bull moose at Opeongo Mountain Resort just east of Algonquin Park.
His works and illustrations have been used by The Friends of Algonquin Park and he has successfully his paintings and sculptures at art shows throughout eastern Ontario.
Ron's paintings are on display for show and sale throughout March at Fairhaven's Link Gallery. Sales of the work support the Fairhaven Foundation.
Fairhaven (881 Dutton Rd., Peterborough) is pleased to welcome visitors to the gallery. For more information, please call Leisa Peacock at 705-743-0881 ext. 261 or Jaimie Bondy at 705-743-0881 ext. 214.