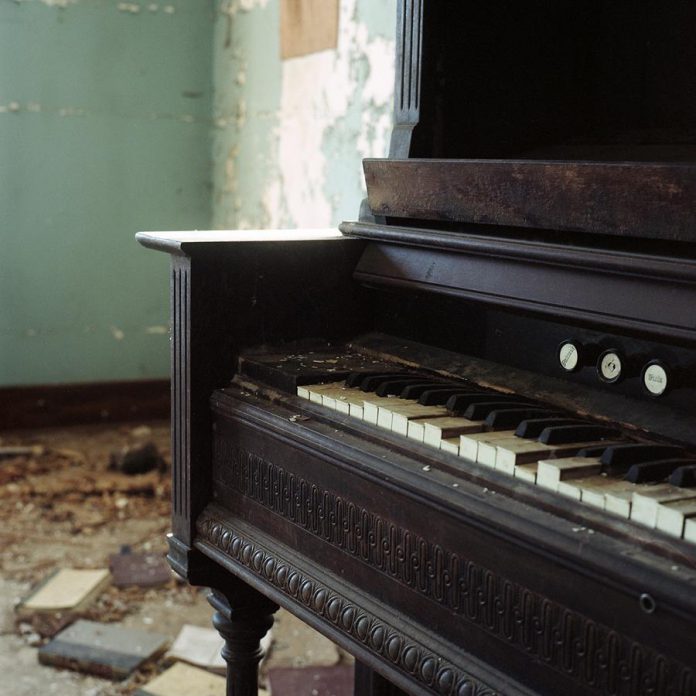 The Peterborough Darkroom Project "On Film" for SPARK
If you've been in Peterborough for any amount of time, chances are you've caught a glimpse of something from the Balsillie Collection of Roy Studio Images. These historic photographs of Peterborough and the surrounding area adorn the walls of institutions, businesses, and restaurants all over the city.
A group of dedicated local photographers have banded together to carry on the legacy of the darkroom that produced them. Last year, this intrepid group of film enthusiasts raised the necessary funds to revive the historic darkroom used by three generations of Roy family photographers and thus The Darkroom Project was born.
The old Roy Studio space adjacent to Gallery in the Attic is now once again dedicated to the processing and production of hand-made images using traditional film technology.
This collective of photographers is committed to keeping this tradition alive through the creation of this publicly accessible membership-based facility dedicated to creating and exhibiting film photography. Their diverse entry into the 2014 SPARK Photo Festival marks their first-ever group exhibition and an exciting new era for film photography in Peterborough. In this range of photographs — taken in black and white, colour, or with expired kodachrome — the nod to history is certainly notable.
Alan Gaunt's entries include a careworn nostalgic image of the town clock and a more contemporary look at headlights streaming past Cox Terrace, a National Historic Site of Canada. A more recent history of habitation is suggested in colour photographs from Julie Douglas of items seemingly abandoned in a now-derelict living space. The old piano is particularly provocative of a forgotten time when once its broken keys were whole and perhaps it filled an apartment with music.
The group exhibition includes entries from several venerated members of Peterborough's artistic community including John Marris, George John Horton, Kate E. MacNeil, Paul Oldham, Robert Hailman, and Lester Alfonso.
New age traveller John Marris goes to considerable lengths this month with an eclectic selection of images for not only the group exhibition but also a solo exhibition as well. John continues the historic theme with images documenting his early days of alternative education wandering the canals and old industrial areas of Birmingham, England. His truancy from high school in the 1980s seems not to have affected John's academic rigour, as he's recently completed his Ph.D. at Trent University. Along with prints developed from the original 35mm negatives of his teenage years, he explores his current photographic interests using several vintage SLR cameras for a close examination of everyday objects.
In his solo show the Bender Frame Project, John revisits his journey to the Pyrenees some 15 years ago when he spent the summer living with others in these simple shelters. Constructed of flexible branches bent and woven together to form strong dome shapes, the frames are then covered with canvas, or any sort of tarpaulin, to provide effective shelters. For the project, he reconstructed and photographed a bender frame at a friend's nearby farm through several seasons of weathering.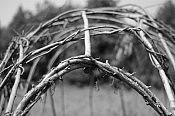 No doubt his fellow UK compatriot Andy Goldsworthy is an excellent source of inspiration. I well remember discovering his works and being captivated by the 2001 documentary Rivers and Tides. John brings an additional element to his work here though as the thread of human habitation also works its way through many pieces on display at Gallery in the Attic.
I couldn't say why, but these images of the exposed frame bring William Golding's The Inheritors to mind. A brilliant reconstruction of the life of a band of Neanderthals, I rather wish the book got as much attention as the one about boys gone wild on a deserted island. Perhaps it is something about the mystery of the origins of the bender that leads me to this association. There's a sense of that in how John has captured these scenes that makes you wonder 'Who might have lived here?' Dr. Marris must have transmitted his cultural knowledge somehow.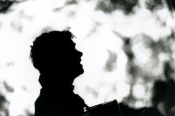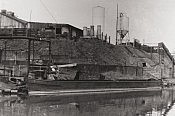 Also showing off their education are Prince of Wales students Rhys Climenhage, Jack Piper, Frankie Murray, and Sarah Jordan. Under the guidance of instructor and professional photographer Wayne Eardley, the student photographers strut their stuff with their chosen theme of … (shudder) "Winter". Much more than simply digital shutter bugs, these students are learning the benefits of film photography: where frames are precious and developing the photographer's art of seeing is paramount. Even if you don't find yourself warming to their theme right now, the results are well worth a look.
The opening reception for these shows is at Gallery in the Attic on Friday, April 4th from 7 to 10 p.m. They remain on display throughout April. Gallery in the Attic is open Tuesday to Saturday from noon until 5 p.m.
Gallery in the Attic and the old Roy Studio Darkroom (home to the Darkroom Project) is located upstairs at 140 ½ Hunter Street West in Peterborough. If you're interested in becoming a darkroom member, or want more information about the project, please contact Administrator Elizabeth Fennell at info@thedarkroomproject.ca or call 705-740-1162.
---
"Capturing Stories" and Coming of Age at the John Howard Society of Peterborough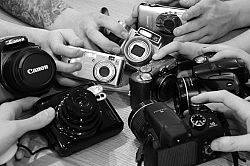 There seems be to be a great deal about photography that has to do with learning: learning to see, learning to appreciate, learning the necessary technical and attitudinal skills that it takes to truly capture more than just a picture.
The importance of the discipline required to elevate mere pictures to the art form of photography is heightened in an age when taking and sharing images is so simple and ubiquitous.
For the students of the Quantum Program at the John Howard Society of Peterborough, photography has also been an exceptional opportunity for them to explore stories about their lives and the community they live in, and to show it from their perspective.
John Marris continues to show his dedication and commitment to all forms of education and learning in guiding these students through the critical reflection necessary to capture and select images as part of an exhibition.
Each of the five students involved selected their three favourite pictures from photographs they learned to take that "say something" about the experience of being a young person in Peterborough. The results can certainly hold insights and an education in themselves about the ideas we may have about how young people see the world and their community.
The professionally printed and framed photographs will be on display in the entrance hall of the John Howard Society building throughout April for the duration of the SPARK photo festival. The opening reception is on Thursday, April 3rd from 4 to 6 p.m.
The John Howard Society of Peterborough is located at 305 Stewart Street in Peterborough (705-743-8331 or www.jhsptbo.com. Opening hours are Monday to Wednesday from 8:30 a.m. to 6:30 p.m., and Thursday and Friday from 8:30 a.m. to 4:30 p.m.
For more information or details, please email Meredith McEvoy at meredith@jhsptbo.com or John Marris at johnmarris@hotmail.com.
---
"Mystical Obsession" at the Impresario Artisan Market Gallery in Cobourg
If you have yet to visit Rebecca Baptista's beautiful gallery, shop, and event venue in downtown Cobourg, now might be a good time to pay a visit.
In her first gallery show, mixed media artist Loretta Kaltenhauser presents works that certainly stimulate the eye — and perhaps the spirit — of those who observe them. Her passion for putting something mystical and elemental into her work is quite literally palpable in the runic textures created by layers of paint, glaze, metal foils, and found objects.
Contrary to the usual "look, don't touch" imperative implicit in most artwork, Loretta invites viewers to explore their tactile sense of her work also.
Not to be outdone by the beautiful landscape paintings of her husband John Kaltenhauser, Loretta has found her own distinctive style in her mixed media work.

The Impresario Artisan Market is located at 37 King Street West in Cobourg (289-252-0709 or www.impresariomarket.ca). The opening reception for the show takes place on Saturday, April 5th from 4 to 6 p.m. The exhibition will run from April 1st to 31st. Regular hours are Tuesday to Saturday from 10 a.m. to 4 p.m. (closed Sunday and Monday).