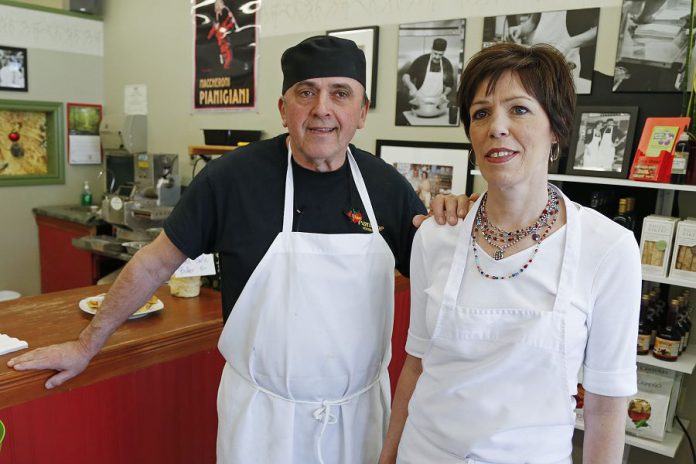 Paul Leroux knows he wouldn't be here today if it weren't for the cardiac care he received at the Peterborough Regional Health Centre (PRHC). He wants others to realize how important donations are to ensuring the hospital has the equipment and technology it needs to continue to provide excellent care.
Paul and his wife Suzanne are owners of The Pasta Shop, a well-known establishment on Sherbrooke Street in downtown Peterborough that serves hand-made pasta, gourmet sauces, and prepared meals. Like many small business owners, Paul and Suzanne have worked very hard to get their business off the ground. After six straight years of working 18- to 20-hour days, they finally decided to take a well-deserved vacation in July 2011. Paul loves being outdoors and being close to the water, so they decided to begin their vacation with a trip to the beach.
As Paul carried the beach equipment out to the car, he realized something was very wrong.
"The gear felt much heavier than it should have and I was out of breath," Paul recalls. "At first, I thought it was just because I was in my late fifties and overweight."
Seeing her husband's condition, Suzanne feared it was more serious and convinced him to go to the emergency room at PRHC. He did, and the doctors at PRHC confirmed Paul was having a heart attack. They diagnosed that one of his coronary arteries was completely blocked and that he needed to undergo a procedure to insert four stents in his heart.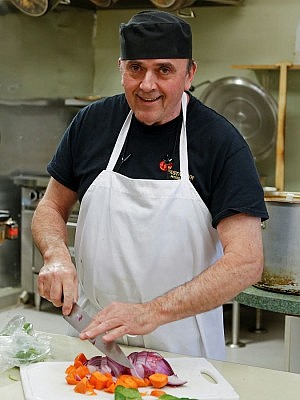 Paul's heart doctor at PRHC was Dr. John Reesor and, from the beginning, Paul knew that Dr. Reesor not only cared about him as a patient, but as a person too.
"When I was in ER, he came by with a pen and paper and asked me to tell him all about myself," Paul says. "Dr. Reesor spent time with me, learning about my life and my physical well-being. I never felt rushed when I saw him. He always made the time."
At the time of Paul's heart attack, the cardiac stenting procedure wasn't available in Peterborough and Paul had to travel to Toronto General Hospital to receive treatment. He was transferred by ambulance to Toronto, accompanied by a PRHC nurse, where he received his first stent.
Six weeks later, he had to travel back to Toronto for three more stents to be inserted.
He remembers wishing that the procedure had been available in Peterborough.
"I can tell you that having to travel to Toronto for those treatments was awful," he recalls. "Suzanne had to stay home to run the shop. All those hours on the road and all the highway traffic added stress to my life that I really didn't need."
Today, thanks to generous donations from the community to the PRHC Foundation, the hospital offers the cardiac stenting procedure right here in Peterborough.
But Paul's heart condition wasn't the only health problem uncovered during that first trip to the emergency room at PRHC. While doctors were investigating Paul's heart attack, they also discovered he was seriously diabetic. His blood sugar level was 28.
"They gave me an insulin shot immediately and put me in the Intensive Care Unit for six days until I was stabilized," he says.
Between the heart attack and the diabetes diagnosis, Paul realized he had to make some basic changes to his lifestyle.
"It was a lot to take in, but maybe it saved my life", he explains. "I told myself, 'Listen buddy, you'd better smarten up or you're going to die.'"
Paul credits both PRHC's Diabetes Clinic and Dr. Reesor for helping him to manage his diabetes and to adopt a healthier lifestyle.
"I got good help from the diabetes clinic and Dr. Reesor taught me to take better care of myself," he says. "I lost 62 pounds and I've gone from needing three insulin shots a day down to none. I now close the Pasta Shop every year for a holiday, and I rely on my three staff to make my job easier."

Since his heart attack, Paul has returned to PRHC for kidney stones and a hip replacement. He says that he's received wonderful care each time.
"The doctors at PRHC are just incredible," Paul says. "Thanks to the professional doctors right here in Peterborough, I'm doing great. I'm 60 years old and haven't felt this good in years."
Paul is grateful that he's on the road to good health thanks to the treatment, support and guidance he received at PRHC. He wants everyone to know how important donors are to ensuring great care at the hospital, by funding advanced equipment and technology. Every year, thousands of patients and their loved ones arrive at PRHC seeking answers, treatment, relief from pain, and comfort in the face of a health crisis.
"Supporting the hospital is my way to give back for the great care I received," he says. "I hope everyone joins me in donating to the PRHC Foundation this holiday season."
There are several ways you can donate to the PRHC Foundation, including a one-time donation, memorial giving, monthly giving, and more. Visit the PRHC Foundation website at www.prhcfoundation.ca to find out more.
All photos courtesy of the Peterborough Regional Health Centre Foundation.