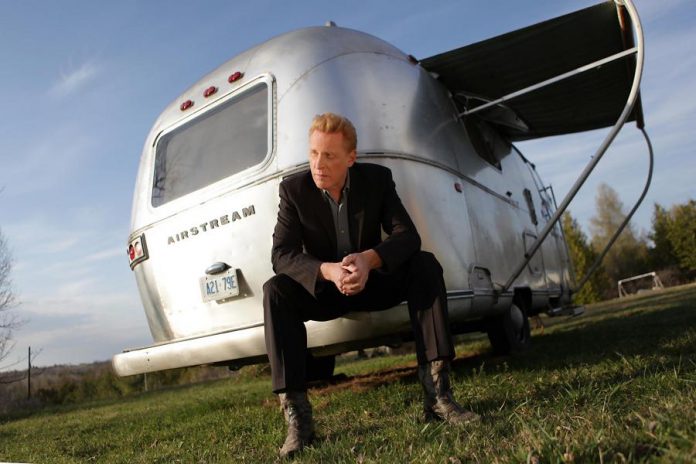 Russell deCarle is returning to Peterborough, along with guitarist Steve Briggs and accordion maestro Denis Keldie. The Russell deCarle Trio will grace the stage in the Nexicom Studio at Showplace Performance Centre on Friday, March 20th.
The former co-founder and frontman for renowned country band Prairie Oyster is no stranger to Peterborough, and not just because he's lived a short drive from the city for about 20 years. Russell's history here goes back to the early 1970s, and Peterborough has always meant a lot to him.
"I first played in Peterborough with a band called the King City Slickers," Russell tells me. "It was sort of a bluegrass/country group."
The King City Slickers had been playing at the Grenadier Room (at the former Queen's Hotel at Aylmer and Charlotte) and they went to a matinee at the Trent Inn.
That's where they met Dennis Delorme (who went on to be the pedal steel player in Prairie Oyster), Cris Cuddy, and Jim "JP Hovercraft" Price, who were playing with their band Heavenly Jukebox.
"Peterborough is really where Prairie Oyster started," Russell says.
Russell, along with Keith Glass of the King City Slickers, formed Prairie Oyster in 1974. Over the next few decades, it became one of Canada's most-loved, best-selling, and most-decorated country bands.
The band played from 1974 to 1978 and, after a four-year hiatus, reunited in 1982. Between 1986 and 1996, Prairie Oyster garnered six Juno Awards and 11 Canadian Country Music Awards.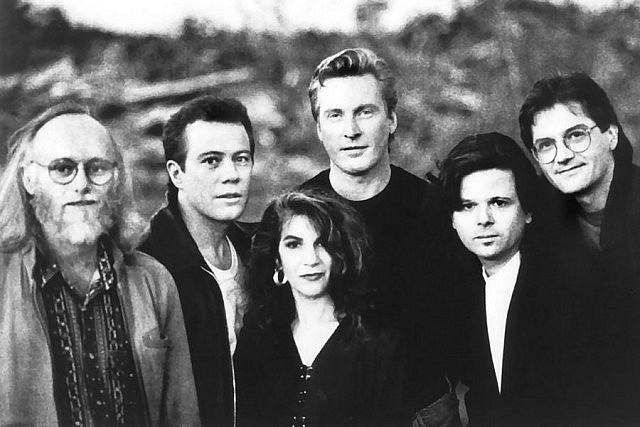 It was also in Peterborough, circa 1974, where Russell first met his good friend Willie P. Bennett, the legendary folk singer-songwriter who passed away in 2008.
"I was playing at The American House [now the Red Dog] and Willie P. came to see us after his gig at the Hangman [at Peter Robinson]", Russell recalls. "I remember seeing him leaning on the juke box there. I had heard of him and his music, but that was the first time we met."
It was the first encounter in what would be a long and fruitful connection.
"After that, we went on to become best pals," he says. "We wrote songs together and played together. We were great friends."
Some of the tunes that Russell and Willie P. co-wrote include "Goodbye, So Long, Hello", which ended up being recorded by Prairie Oyster and won the Canadian Country Music Association's 1990 Single of the Year.
---
"Goodbye, So Long, Hello" – Prairie Oyster
---
Another tune they co-wrote, "One Way Track", ended up winning SOCAN Song of the Year for 2008.
---
"One Way Track" – Prairie Oyster
---
After 35 years playing in Prairie Oyster, Russell continued his musical career as a solo artist. He has appeared on CBC television's Songwriters Circle, opened for Merle Haggard on his cross-Canada tour, travelled coast-to-coast with the Bluebird North Songwriters' Tour, and was featured on Stuart McLean's Vinyl Café. In 2010, he released his first solo record, Under the Big Big Sky.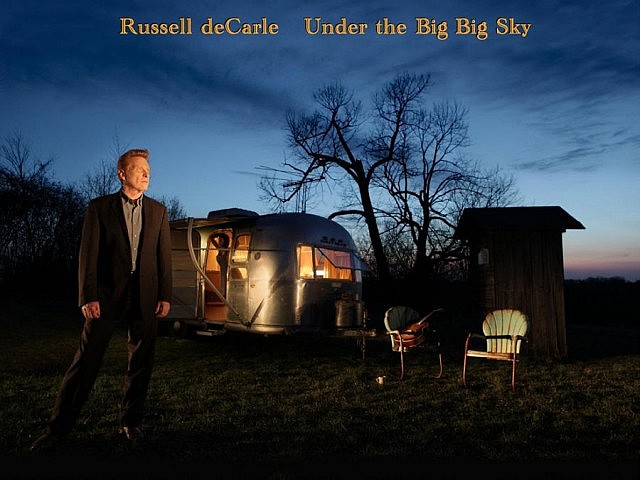 His latest musical incarnation is the Russell deCarle Trio. While Russell played bass for many years in Prairie Oyster, in his trio he plays rhythm guitar — something he's really been enjoying.
"I get to drive this groove machine [with the guitar]," he says. "It's pretty fun!"
The rest of the "groove machine" are bandmates Steve Briggs (guitar and vocals) and Denis Keldie (piano, accordion, and vocals).

Steve Briggs is best known as a member of the western swing band The Bebop Cowboys, and he also performs and records with other musicians. Denis Keldie, a master of the Hammond B3 organ and the accordion, has recorded and performed with many artists including Etta James, Natalie McMaster, Jeff Healey, and Colin James.
Last July, they released Russell deCarle Trio – Live at Loud Mouse Studios, which features 15 obscure cover tunes performed by the trio that were recorded live off the floor.
"I was getting people all the time after shows asking the names of the tunes we played and if they were on records," Russell explains. "So I thought it was a good idea to record them for posterity, but also as a good representation of what we do."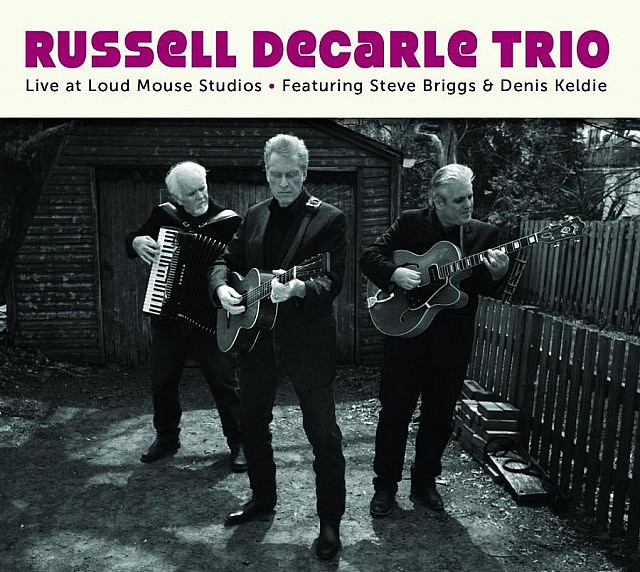 Russell wears his musical influences on his sleeve, as he loves paying tribute to tunes that have inspired and influenced him.
"All the stuff that I grew up listening to certainly informs me today and my playing," he says.
I ask Russell what his three desert island discs would be. He thinks about it for a few moments before replying.
"One would have to be Ray Charles' album Modern Sounds in Country and Western Music [released in 1962]," he says. "One guy I've been listening to a lot and can't get enough of is Arthur Alexander — the album would be The Greatest [a compilation album released in 1989]. He was a huge influence on The Beatles and The Rolling Stones. The last would be a Smash Records compilation of Charlie Rich's stuff [The Complete Smash Sessions, released in 1992]. It's an amazing collection of songs."
Make sure you welcome Russell back to Peterborough by heading out to Showplace Performance Centre on Friday, March 20th at 8 p.m. Tickets are $29, available at the Showplace box office.
---
"Ruby Ann" – Russell deCarle Trio