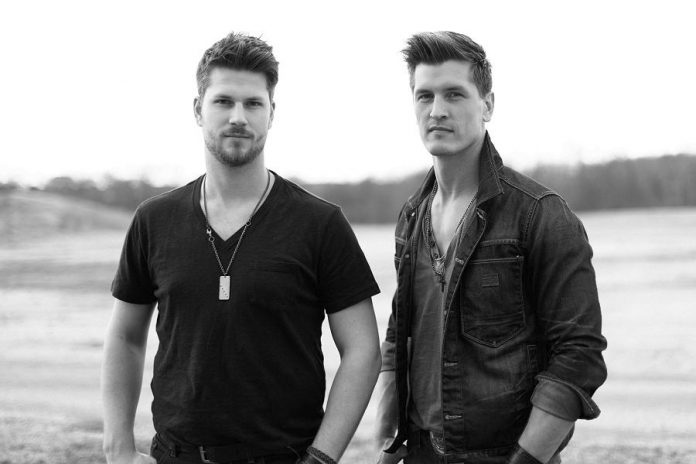 If you still require proof the summer that is will all too soon be the summer that was, the dawning of Peterborough Musicfest's final presentation of its 19-concert schedule provides all the evidence you need.
It seems like only yesterday that Serena Ryder opened the concert series' 30th anniversary season. At the time, August 24 and the series finale featuring High Valley was a distant thought. But now here we are, with the critically acclaimed country music brother duo of Brad and Curtis Rempel set to take to the Fred Anderson Stage.
Born and raised in a Mennonite community in Blumenort, Albert, the Rempel boys — with third brother Bryan originally in the mix — were destined to remain together in some form. As Brad told Gayle Thompson of www.theboot.com just this past June, family was, and remains, at the centre of the brothers' universe.
"We love getting together," Brad says. "We grew up singing a lot together, singing in church and every Christmas."
"When I was four years old, our family made a little gospel record at our church. Our dad was pulling the engine out of a tractor on the farm and the phone rang, and it was some scam artist, basically, from Nashville, saying, 'Hey, I saw your boys on MP3.com and for $60,000, if you wire me the money, I can turn them into big stars.' Dad always says, 'If he would have seen the tractor I was working on, he never would have asked me for $60,000.'"
"But it got the wheels turning," Brad admits. "Mom and Dad mortgaged their farmland and flew us down here (Nashville) and spent a lot of money on helping us record and stuff."
That investment paid off handsomely in 2007 with the release of Broken Borders, High Valley's debut album, which claimed Album of the Year and Country Song of the Year ("Back To You") Covenant Award honours from the Gospel Music Association (GMA) of Canada.
Three years later, that early momentum morphed into something even more special as High Valley's follow-up self-titled album garnered a 2012 Juno Award nomination for Country Album of the Year as well as an astounding five GMA awards.
Just two years later, the busy brothers released their third studio album, Love Is A Long Road, with the single "Have I Told You I Love You Lately" charting well. But it remains 2014's County Line that has made High Valley a household name in country music circles.
With Bryan having departed the group to focus on family, leaving the duo of Brad and Curtis to carry on, County Line produced six Top Ten country radio singles, including "Make You Mine", which was awarded gold record certification by Music Canada. It didn't hurt matters that the single features the talents of Ricky Skaggs.
---
"Make You Mine" – High Valley
---
"One could argue the picture this duo paints is too familiar but their arrangement (of Make You Mine) makes this an urgent listen," wrote music critic Billy Dukes for www.tasteofcountry.com. "It's fun that touches your soul and that is very rare on country radio."
"The first time we ever played it live, it was special and we knew that we had something," Brad says of the single.
"Now we feel that we can do what we've always done but somehow people are calling it progressive, or they're calling it throwback, or they're calling it the new sound, or whatever. To us, it's just what we've always done but yet it's brand new at the same time, and that's what makes us the most excited about it."
"If we were doing something that was making people excited but it didn't feel like what we had always done, it would be a little bit of a letdown. This feels like we've taken all those years and what we've done to bring it to 2016. It just feels right."
Anchored by the strong reception to "Make You Mine", County Line was nominated for a 2012 Juno Award in the Country Album of the Year and also won High Valley a Canadian Country Music Association (CCMA) award as Group or Duo of the Year. The latter marked the brothers' ninth CCMA award nomination since 2010 and second win, the first coming in 2013 as Interactive Artist of the Year.
High Valley arrives in Peterborough on the tail end of an extensive tour that has featured numerous dates in Canada and across the border. Prior to kicking off that journey, Brad expressed the brothers' anxiousness to get out there.
"We're very excited. People were already starting to sing Make You Mine back to us. We were like, 'Man, this is the real deal.'"
---
"County Line" – High Valley
---
Peterborough Musicfest has presented 19 free-admission concerts during its milestone 30th anniversary season.
Overseen by general manager Tracey Randall and staff, a board of directors, and numerous volunteers, Peterborough Musicfest's stated mission is to "provide diverse, affordable live music to enrich cultural and economic prosperity in our community."
For more information on this concert and/or the 2016 season, visit www.ptbomusicfest.ca or phone the Peterborough Musicfest office at 705-755-1111.
---